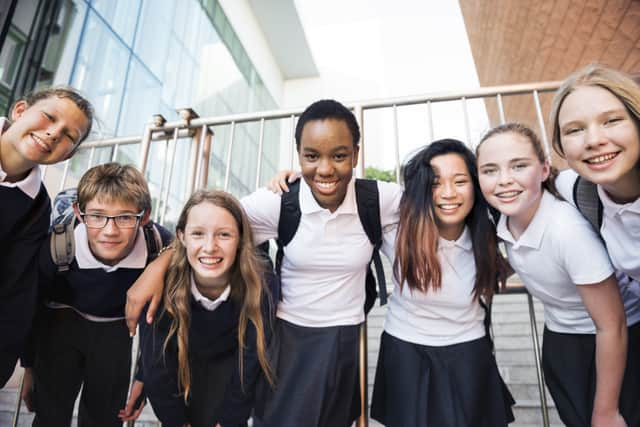 This article contains affiliate links. We may earn a small commission on items purchased through this article, but that does not affect our editorial judgement.
Don't worry though, we've pulled together a guide below with some of the best uniform pieces to take the stress out of preparing your little ones for going back to the classroom.
You'll find everything you need for dressing them from head to toe.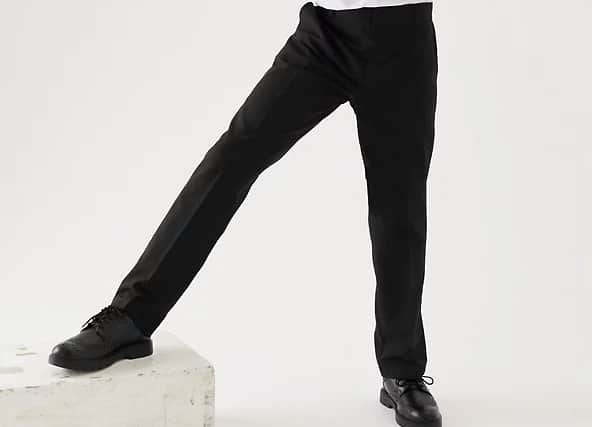 These trousers are great because not only are they available in four different colours so they can easily be matched to your child's school dress code, they are also grow proof as they have an adjustable hem line.
In a convenient two pack, these regular fit kids trousers have a classic leg shape for a flattering fit and adjustable waist for extra comfort.
These school trousers are also crease resistant and also come with stain and weather repellent technology
Made with recycled polyester and sustainable viscose. Good for you, good for your kids and good for the environment.
Available in black, grey, charcoal or navy, and priced at £11 to £17, depending on age.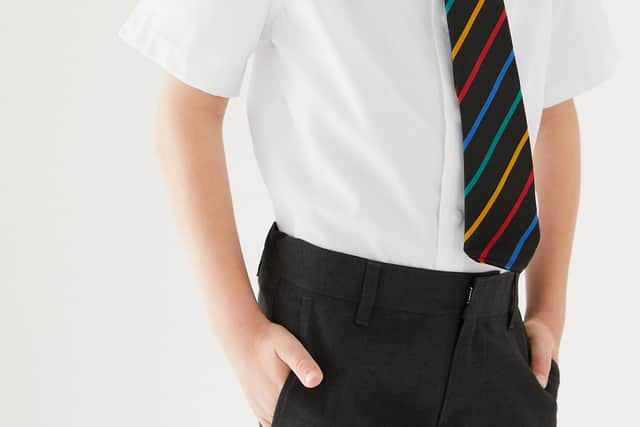 This handy three pack of white shirts comes with handy additions like hidden rip tape behind the button placket and concealed labels for extra comfort.
Cut to a classic regular fit which provides a smart and comfortable wear.
Easy to iron fabric means it only takes a quick press for a crisp finish too so there's less for you to do to get them back to school ready.
Priced at £9 to £18, depending on age.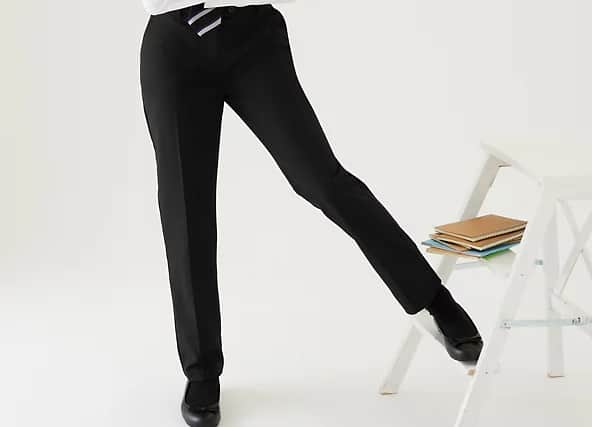 This two pack of trousers is perfect for busy school days.
They are cut to a regular fit with a modern slim leg. An adjustable waist and grow-proof hems will keep them comfy for longer, you just simply have to unpick and press the hems for an extra few centimeters of material.
This means they will last longer; kinder to you and your purse and kinder to the environment.
Designed with a durable water and stain-repellent finish to help stop stains from forming, and crease-resistant fabric to keep them looking smart from the first lesson to the last.
Made with recycled polyester and sustainable viscose.
Available in black, grey and navy.
Priced at £11 to £17, depending on age.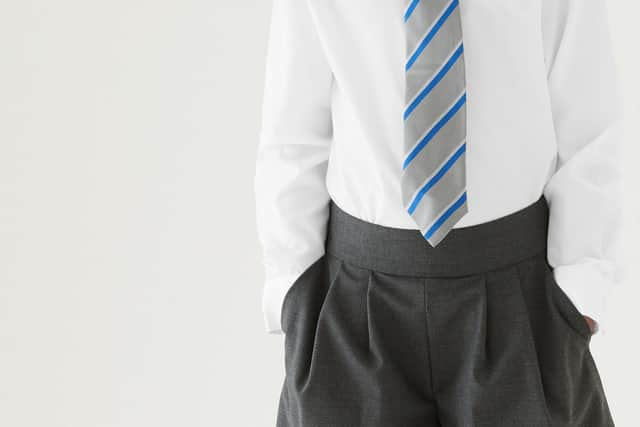 Available in white, grey, cream and blue. Also available in slim fit, additional length and plus fit.
This three pack of regular fit school shirts are the ultimate school time staple.
Each shirt is designed with time saving easy to Iron technology, so all you need to do is give them a quick press and they are ready to go.
For the younger sizes (up to 8 years), they come with expandicuff elastic in the cuff that makes it easier for children to dress and undress on their own.
Priced at £10 to £19, depending on age.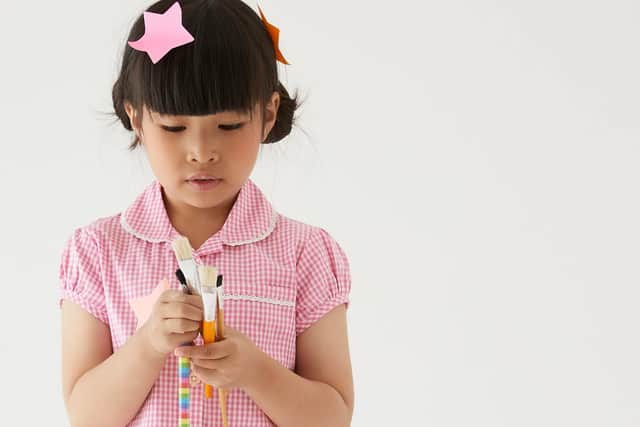 These cute gingham dresses are a school staple for summer school days. They are made from a cotton-rich fabric for added comfort throughout the day.
They feature a smart button-up front and flared skirt with two handy pockets.
Easy-to-iron finish means they just needs a quick press and they are ready to go. All of the cotton used to make this two pack of dresses are sustainably sourced.
Available in mid blue, light blue, yellow, red, pink, lilac, navy and green.
Priced at £12 to £16, depending on age.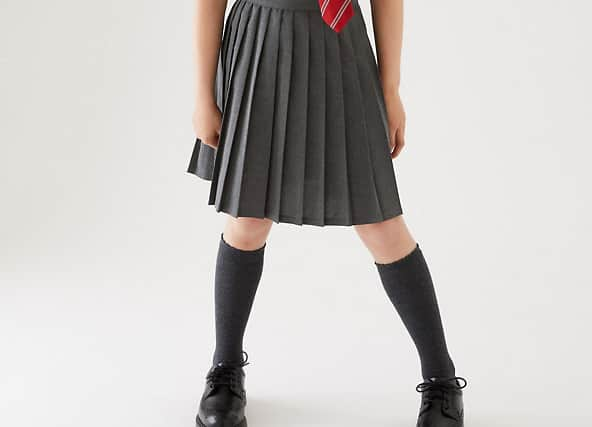 This skirt comes with a pull on soft waistband to make dressing for school easier, quicker and more comfortable for both parents and children.
A stain and weatherproof finish repels water and stains and crease resistant material helps creases fall out easily.
In addition, created with permanent pleat technology to make sure pleats stay put wash after wash so you don't have to worry about your little one looking smart day after day.
Made with recycled polyester and sustainable viscose.
This skirt is part of a range of school uniform specially designed for children with sensory issues or those who just need a little extra help when dressing, but it can also be handy for any child.
They are no fiddly zips or buttons and itchy internal labels have been removed to make dressing easier.
Available in grey or black.
Priced at £9 to £14, depending on price.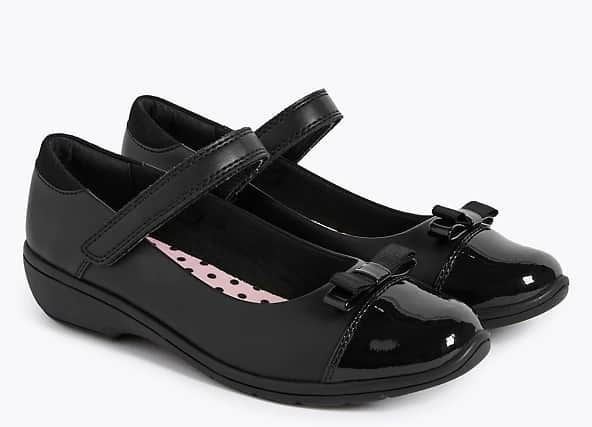 These shoes provide both comfort and style so your child will be happy to wear them from Monday to Friday.
They have been crafted from leather for a soft and comfortable fit, with a scuff resistant finish to ensure a classic style and incredible durability.
A riptape fastening, elegant bow and with a patent toe cap for scuff protection make these kids' school shoes a fashionable choice that they'll love to wear.
Available in standard, narrow and wide fit. Priced at £30 to £34, depending on fit and size.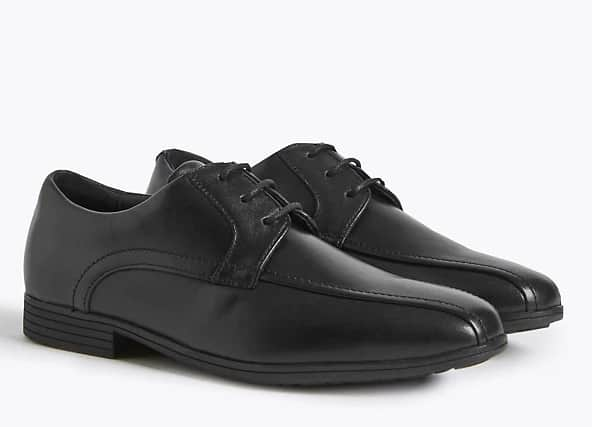 A timeless pick for school shoes, this lace-up style has been designed to stand up to the test of the playground with their quality leather composition and non-marking sole.
These are shoes they'll want to wear all through the school week.
Available in standard, narrow and wide fit. Priced at £30 to £34, depending on fit and size.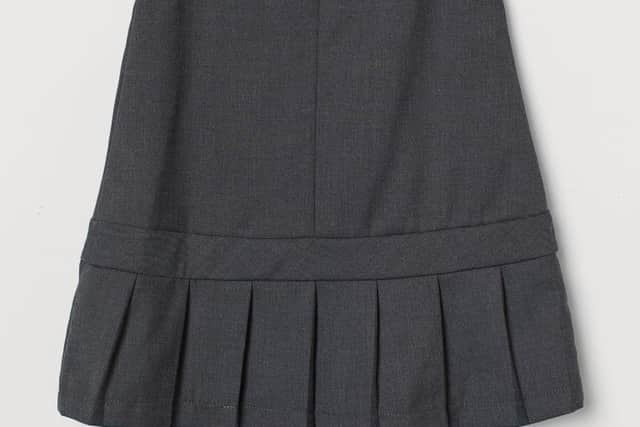 This dark grey marl dress is a classic school pinafore, suitable for keeping them cool during summer learning but can also be pared with a cardigan and tights for winter too if desired.
It has been woven in a sturdy viscose blend with a concealed zip at the back and seam at the hem with a pleated section below.
Lined for comfort and style.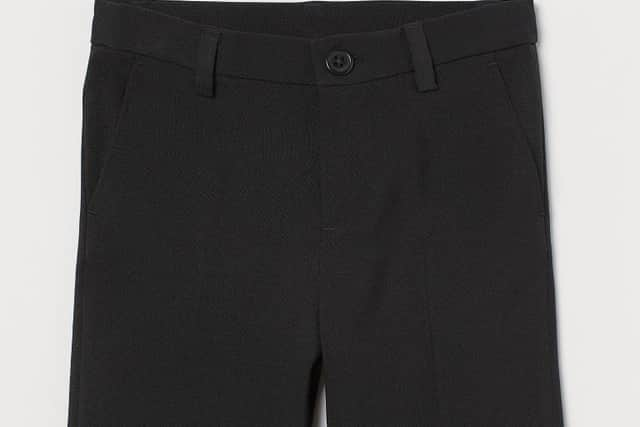 Keep them looking smart even when the weather warms up with these shorts.
They feature a concealed hook-and-eye fastening, zip fly, side pockets, a fake welt back pocket and legs with creases.
Available in dark blue or black.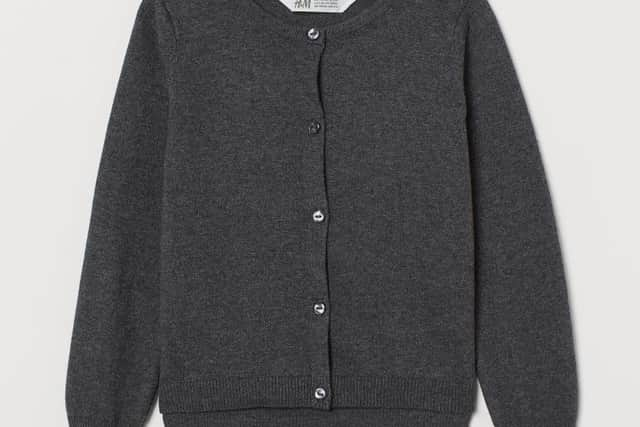 A soft and simple cardigan, perfect for those cooler days when the little ones need something extra to feel warm.
This one is made of fine-knit cotton and has long sleeves, buttons down the front and short slits in the sides. Ribbing around the neckline, cuffs and hem gives this a flattering finish.
Available in dark grey marl, dark blue and dark red.
Made from 100 per cent cotton that's kind and soft on delicate skin, this two pack of school polo shirts will keep kids comfortable from the start of the school day to the end of it.
Available in red, sky blue, white or yellow so they can be easily matched to your child's school colours.
Priced at £3 to £5, depending on age.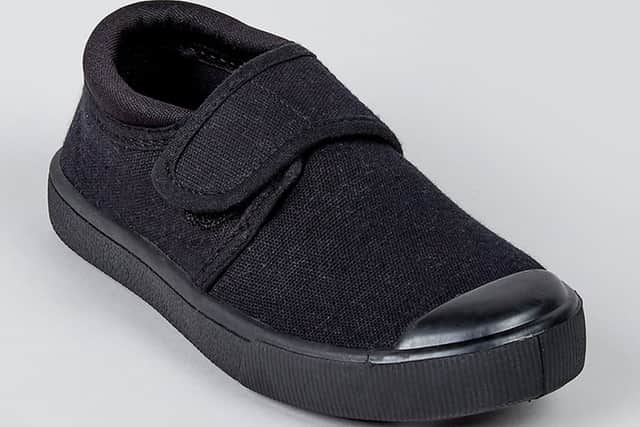 Every child needs a pair of plimsoles for after school sport activities and PE lessons.
These have a riptape strap fastening for easy on-off, and also an extra secure fit.
Priced at £3.50 or £4, depending on size.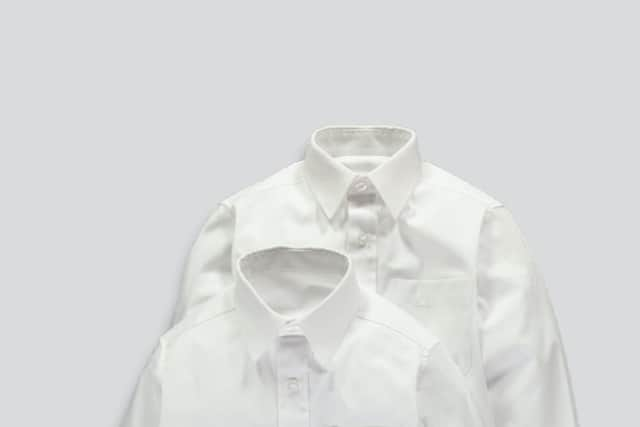 Boys and girls would both benefit from having a long sleeved shirt in their school wardrobe, for the days when it's not quite as warm.
Get kids ready for the new term with this practical two pack of white long sleeve school shirts, in a generous fit so they will last them as they grow during the year.
With a chest pocket and adjustable cuffs for a smart finish, they're made from minimum iron fabric to make everyone's life easier.
Sizes 6-8 years have riptape fastenings instead of buttons.
Priced at £5.50 to £7.50, depending on age.