Who is hosting The Oscars 2023? What you need to know about Jimmy Kimmel & list of past Academy Awards hosts
This year will mark the third time American talk show host and comedian Jimmy Kimmel will host The Oscars at the Dolby Theatre.
Hollywood's best and brightest come together to receive the biggest accolade stars of the film industry can receive - an Academy Award. Each year The Oscars goes viral, not just for moments like the Will Smith and Chris Rock slapping incident, but also for its host, who offers levity and sometimes hilarious rants - for those who remember the exploits of Ricky Gervais.
But who is hosting The Oscars in 2023? It is none other than popular American talk show host and comedian Jimmy Kimmel. This will mark the third occasion the 55-year-old has hosted the Academy Awards, having previously featured in the role in 2017 and 2018.
Highly regarded for his ability to captivate audiences, Kimmel is a popular choice as the mouthpiece among award ceremony organisers. He has also previously hosted the Emmy Awards in 2012, 2016 and 2020.
Viewers of The Oscars will recognise Jimmy Kimmel from his popular late-night programme Jimmy Kimmel Live! on ABC. The show first aired in January 2003 and has been going strong overseas ever since.
Not only has the Academy Awards host also been named as one of TIME magazine's 'World's 100 Most Influential People', but Kimmel also does a lot of charity work. He has supported the likes of GEANCO, Aid Still Required, Hillsides, Jamie Oliver Food Foundation, as well as Boys & Girls Club of America.
Jimmy Kimmel joins a laundry list of huge names that have hosted The Oscars. Below is a quick rundown of those who have had the opportunity to present The Academy Awards in previous years.
List of past hosts of The Oscars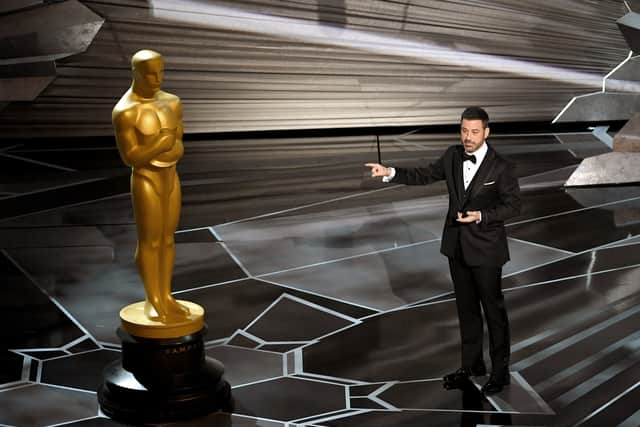 Chris Rock
Neil Patrick Harris
Ellen DeGeneres 
Seth MacFarlane
Billy Crystal
James Franco
Anne Hathaway
Steve Martin 
Alec Baldwin
Hugh Jackman 
Jon Stewart
Steve Martin
Whoopi Goldberg
David Letterman
Whoopi Goldberg
Chevy Chase
Goldie Hawn
Paul Hogan
Alan Alda
Jane Fonda, 
Robin Williams
Jack Lemmon
Johnny Carson
Liza Minnelli
Dudley Moore
Richard Pryor
Walter Matthau
Bob Hope 
Warren Beatty
Ellen Burstyn
Richard Pryor
Goldie Hawn
Gene Kelly
George Segal
Robert Shaw
Sammy Davis Jr
Shirley MacLaine
Frank Sinatra
John Huston
Burt Reynolds
David Niven
Diana Ross
Carol Burnett
Michael Caine
Charlton Heston
Rock Hudson
Helen Hayes
Alan King,
Sammy Davis Jr
Tony Randall
Mort Sahl
Laurence Olivier
Jerry Lewis
James Stewart
Rosalind Russell
Donald Duck
Celeste Holm
Claudette Colbert
Joseph L. Mankiewicz
Thelma Ritter
Donald O'Connor
Fredric March
Conrad Nagal
Danny Kaye
Fred Astaire
Paul Douglas
Robert Montgomery
Agnes Moorehead
Dick Powell
Jack Benny
James Stewart
Jack Benny
Bob Burns
George Jessel
Frank Capra
Irvin S. Cobb
Will Rogers
Lionel Barrymore
Lawrence Grant 
William C. deMille
Douglas Fairbanks
Comments
 0 comments
Want to join the conversation? Please or to comment on this article.