Where is Nicola Bulley? Latest on missing mum as police search abandoned house and parents tell of 'dread'
Nicola Bulley vanished while walking her dog almost a week ago, leaving the country baffled and concerned - full timeline of events in her disappearance.
The parents of missing Nicola Bulley have spoken of their 'dread' that they will never see their daughter again as the search for the Lancashire mother-of-two continues into its seventh day. The last sighting of the 45-year-old, who was walking her dog in St Michael's by the River Wyre when she went missing, was on the morning of January 27 - almost a week ago.
Nicola's phone, which was connected to a work call, was found on a bench shortly afterwards, as was her dog which was running loose nearby in "an agitated state". Nicola was reported to be in good spirits just before she went missing, and had apparently just organised an exciting spa trip with her sister.
The mum-of-two's family have said they are living in "perpetual Hell", with Nicola's parents expressing concerns that "someone has got" their daughter. But although Lancashire Police are keeping an open mind, they have said they are still treating the case as a missing person inquiry as there is "nothing to suggest" any third-party involvement.
Supt Sally Riley issued a warning to members of the local community, some of whom have launched their own search for Nicola. She said: "We appreciate there is also a great deal of concern in the local community, and we appreciate people wanting to help.
"However, parts of the riverbank are treacherous, and we would ask that nobody puts themselves in danger and that the police and partner agencies' efforts to find Nicola are not compromised."
Where is Nicola Bulley? What we know so far and full timeline
Nicola is last seen walking her dog, a brown-coloured Spaniel named Willow, next to the River Wyre in St Michael's - a village in Lancashire. The last confirmed sighting of her was at around 9.15am on Friday, January 27. It is understood she dropped her two little girls off at school before setting off on her walk.
Shortly afterwards, Nicola's dog was discovered running loose between the river and a bench. Her phone was found on the bench, connected to a Teams work conference, as was her dog's harness and lead. Fellow staff told The Telegraph that Nicola had logged onto the meeting at 9.01am, was muted and didn't have her camera on.
That weekend (Saturday, January 28 - Sunday, January 29) the huge search for Nicola continues with police deploying drones, search dogs, underwater search teams and other resources. The local community, joined by husband Paul, also join in the search. 
A police press conference is held on Monday, January 30. Chief Inspector Chris Barton, of Lancashire Police, tells reporters that the force is following a number of lines of inquiry and keeping "an open mind". Nicola's husband, Paul Ansell, says he and his family are living in "perpetual Hell".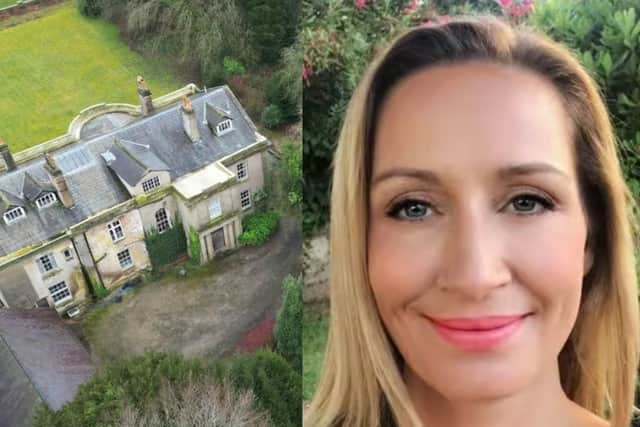 On Tuesday, January 31 a key witness came forward police had been searching for - a man with a "small, fluffy white dog" who had seen Nicola on her walk. It is understood the witness spoke with officers that evening.
On Wednesday, February 1, police began searching an old abandoned house next to the River Wyre. The house is said to be directly opposite the bench where Nicola went missing, over a 10ft garden wall.
Nicola's elderly parents, Ernest and Dot, told The Mirror they "dread" to think they will never see their daughter again, and that they worry "someone has taken her" as there was no sign of her slipping or falling by the river.
On Thursday, February 2, Nicola's family shed further light on how they are coping, with Paul revealing that Nicola's two daughters believe their mummy is "lost".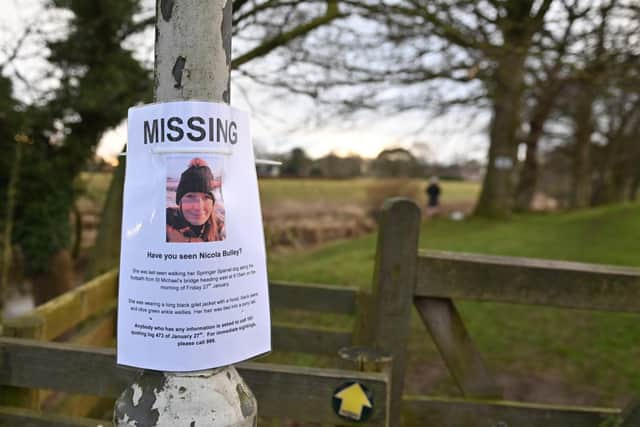 Who is Nicola Bulley?
Nicola Bulley is a mum-of-two who lives with her family in Inskip, a ten minute drive from where she went missing in St Michael's. She is 45-years-old, originally from Chelmsford, Essex and works as a mortgage advisor for Exclusively Mortgages.
Police said that Nicola speaks with an Essex accent. She is described as white and 5ft 3ins tall, with light brown, shoulder-length hair.
At the time of her disappearance, Nicola was wearing a long black gilet jacket, black jeans and olive green ankle wellington boots.
Comments
 0 comments
Want to join the conversation? Please or to comment on this article.