What's on Netflix UK in April 2023: new films and TV shows including Chupa and The Last Kingdom
Here's a list of new Netflix shows and films set to be released throughout April.
As we enter the month of April, popular streaming platform Netflix is set to roll out a slew of new original series and exclusive movies for viewers to enjoy throughout the month. Each week, Netflix adds new video to the streaming platform, and it can be difficult to discover exactly what you're looking for.
As viewers try to find what's interesting on Netflix, they often find themselves scrolling through endless pages of content, trying to decide what to watch. But fear not, as we have got you covered.
From a new stand-up comedy special, Mo'Nique: My Name is Mo'Nique, to Lewis Capaldi's Netflix original documentary, here's everything you need to know about all the new releases that are coming to Netflix in April.
What's coming to Netflix in April 2023?
Lewis Capaldi: How I'm Feeling Now (2023) Documentary
The new Netflix documentary will be out in April and follows the singer over several years with exclusive, never-before-seen footage. The documentary has been directed by BAFTA winner Joe Pearlman (Bros: After the Screaming Stops).
Netflix said: "The film captures Capaldi's defining year, struggling to balance the familiarity of home, normality, and all he's ever known, with life as one of the biggest stars on the planet, gleaning an intimate portrait of his unique character, hopes and fears in his own words.
"Digging beneath the popular clichés surrounding the most unlikely of popstars reveals a deeply thoughtful and self-reflective young man at a unique crossroads in his life as he carries the weight of trying to eclipse the success of his record-breaking debut album."
Beef Season 1 
This new comedy-drama, which stars Ali Wong and Steven Yeun, is about a road rage incident that brings two strangers together. Amy Lau (Wong) is a self-made businesswoman with a picture-perfect life, while Danny Cho (Yeun) is a failed contractor with a chip on his shoulder. Their rivalry drives them throughout the 10-episode series as their lives and relationships become entangled in numerous ways.
Chupa 
The movie Chupa, follows a young protagonist who visits Mexico to meet his family and befriends a baby chupacabra - a creature from South American folklore - which he names Chupa.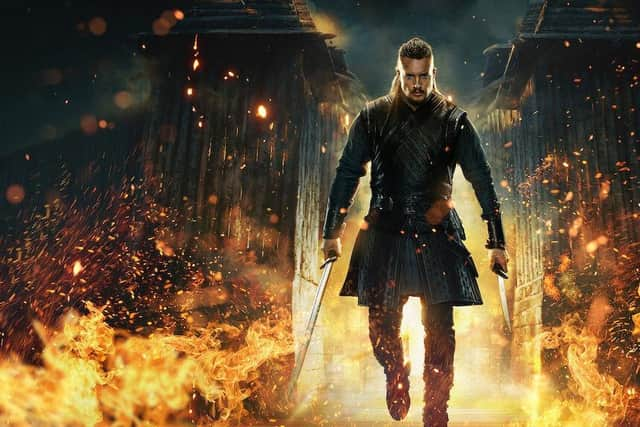 The Last Kingdom - Seven Kings Must Die (Original movie)
The events in the movie continue directly after the conclusion of Season 5. Uhtred came perilously close to failing in his attempt to reclaim his family's castle in that episode. Even though he and his soldiers were outnumbered, Uhtred's daughter rushed to their aid.
Bebbanburg appeared doomed to burn even before Uhtred entered the city, but the weather changed, bringing storm clouds and rain that put out the fires. King Edward was not pleased to learn that Uhtred, despite his promise to submit, intended to keep Bebbanburg neutral in the event of conflict between Alba and Wessex. It seems the film will begin at that point.
Every new film and TV show coming to Netflix in April 2023
Surviving R. Kelly: Part III (Season 3)
Surviving R. Kelly: Part III (Season 3)
Lewis Capaldi: How I'm Feeling Now
IRL – In Real Love (Season 1)
Kings of Mulberry Street: Let Love Reign
Thicker Than Water (Season 1)
Transatlantic (Limited Series)
American Manhunt: The Boston Marathon Bombing (Limited Series)
Smother-in-Law (Season 2)
Alex Schwazer: Running for my Truth
The Boss Baby: Back in the Crib (Season 2)
The Last Kingdom: Seven Kings Must Die
Longest Third Date (2023)
Mighty Morphin Power Rangers: Once & Always (2023)
The Marked Heart (Season 2)
Ex-Addicts Club (Season 1)
The Diplomat (Season 1) Netflix Original
Tooth Pari: When Love Bites (Season 1)
A Tourist's Guide to Love (2023)
Indian Matchmaking (Season 3)
Rough Diamonds (Season 1)
Welcome to Eden (Season 2)
Ada Twist, Scientist (Season 4)
John Mulaney: Baby J (2023)
Love After Music (Season 1)
The Good Bad Mother (Season 1)
Firefly Lane (Season 2 – Part 2)
King of Collectibles: The Goldin Touch (Season 1)
Comments
 0 comments
Want to join the conversation? Please or to comment on this article.