Watch the shocking moment a huge billboard outside UK Burger King went up in flames
 "The whole billboard was lit up by the fire - it was like something you'd see in a film."
This is the shocking moment a 200 sq ft high street billboard outside a UK Burger King went up in flames. The huge sign, positioned next to a Burger King in Middlesbrough, was given the 'flame grilled' treatment, much like one of the chain's burgers.
And it sported a Doritos tortilla chip ad before being left charred - alluding to a collaboration between the two brands. Locals were left stunned by the flames, with hundreds gathering to take pictures and videos which have spilled onto social media.
One resident said: "It's certainly not something I expected to see on the way home. The whole billboard was lit up by the fire. It's like something you'd see in a film rather than just walking down the street in Middlesbrough."
From the moment the advertisement board took light, it was burnt entirely within two minutes. The controlled fire took place shortly after dusk, with professionals on the scene to ensure safety for people in the area as well as clear up the remains.
Another local, who witnessed the flames go up, said: "It seemed as though there was more to this than meets the eye. I feel like the fact it's gone up in smoke next to a Burger King must mean there's something coming between the two companies."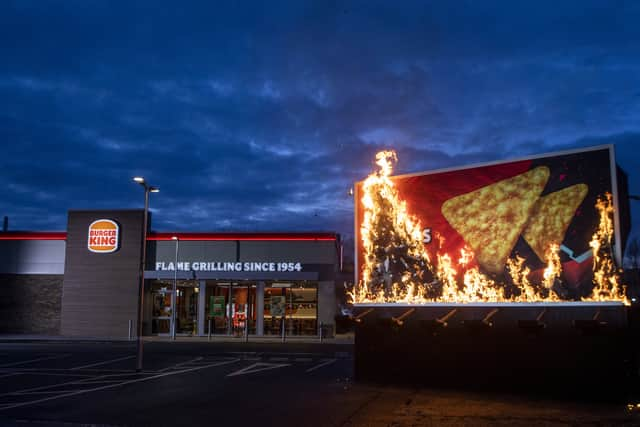 A spokesperson from the snack brand, which is set to team up to launch flame grilled Whopper Doritos, said: "People often say there's no smoke without fire and a few onlookers started to put two-and-two together. We wanted to make a statement and it's certainly grabbed people's attention as we've seen on social media.
"Our collaboration is something only few would expect, and we look forward to many more being surprised in the coming days following the launch of our Flame Grilled Whopper chips, as they taste so similar to the real thing. The triangle Whopper is here."
Comments
 0 comments
Want to join the conversation? Please or to comment on this article.