Warwick Castle: I took a Halloween trip to the history-filled Haunted Castle
Warwick Castle's Halloween attraction The Haunted Castle is a spooky treat
As a child of the 80s, my formative Halloweens were simple - you dressed up as skeletons, witches and wizards with the little ones as black cats, you went trick or treating down your road (and nowhere else) and if you were lucky you ended up at someone's house to eat sweets and play apple bobbing.
Halloween started when it got dark on October 31, and for most of us would have been over by about 9pm. It's why I instinctively bridle against the recent Americanised costume trend and the Halloween 'season' that now seems to last the whole month.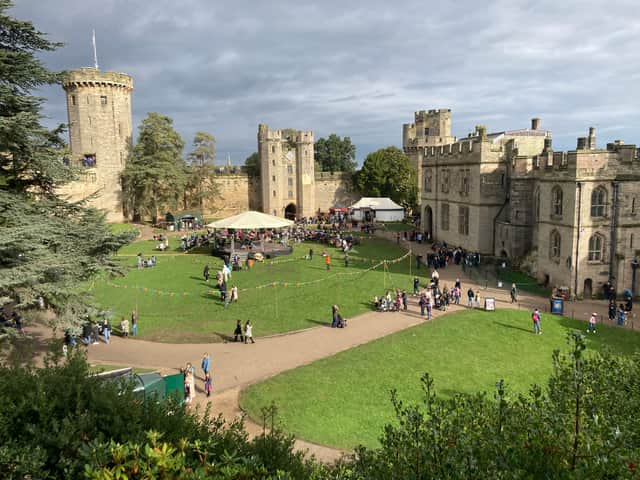 But having said that, having children can soften you towards many things. The genuine and pure excitement they have is rather lovely (I am honestly looking forward to going trick or treating with them next week, although I fear the amount of sugar they will consume) and so, fired by this enthusiasm, it came about that we jumped in the car at the weekend to head to one of the most impressive castles in the country to see what frights it had to offer, accompanied - of course - by a four-year-old witch and a six-year-old, erm, skeleton jester.
Warwick Castle is almost too impressive to look at. It's the fictional castle you would draw as a child, with medieval ramparts and battlements and towers, but also has Tudor and Stuart great rooms of state. This week is the Haunted Castle programme; it's been running for several years and sees large areas turned over to ghosts, cobwebs, spiders, pumpkins and other spooky accessories.
The wonderful - and simultaneously frustrating! - thing about a day at Warwick is that there is so much to do. We were there for more than six hours and didn't manage everything, and we weren't even there for the Castle After Dark which is aimed at over-10s and so wasn't quite right for our two.
We started by ignoring the instant pleas for a trip to Zog's Playland, as we wanted to see some 'proper' castle first and experience walking through the evocative entrance as soon as possible. And we were glad we did, as the Great Hall is magical even though not decked out for Halloween. The sight of suits of armour is enough to make your mind race about what these walls must have witnessed over the centuries.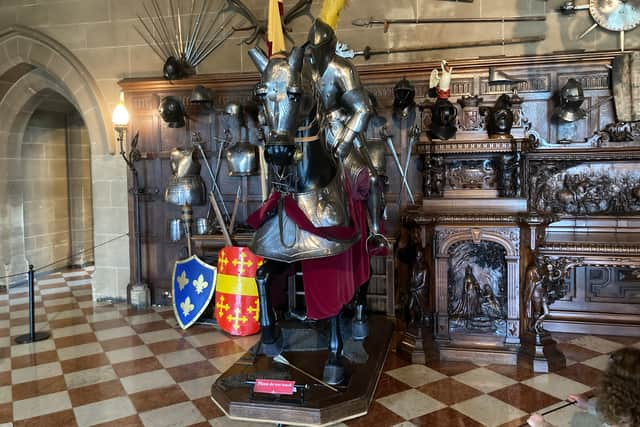 After that we queued up to join the Junior Ghost Hunt - several rooms turned over to a trail in which we encountered ghosts from various castle eras; a Viking, a Georgian and a knight - which was convincing enough to give our four-year-old (and some other little ones) the willies. The older children loved it though - getting to shout instructions at ghosts was not what they had anticipated but they enjoyed it nonetheless.
Following that we had some lunch by the Dead Centre Stage in the courtyard - the brightly-coloured undead led kids doing routines to the Macarena and Shake It Off; file under "it shouldn't work but it does". We walked over the Time Tower to climb the stairs and watch some short films on the history of the castle and its owners, and then walked along the battlements and up a spiral staircase to the top of the 14th century Guy's Tower - a view worth lingering over while you catch your breath.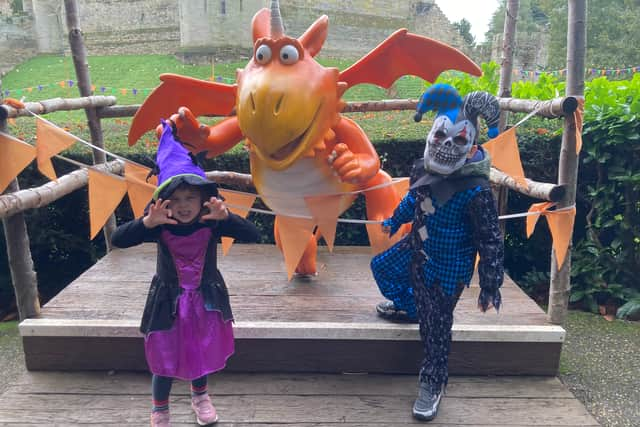 After that it was time to relent and let the kids play in the Zog-themed park, which had a popular zipwire and some good slides, before the Haunted Hollows Halloween trail, which saw us walk through an eerie garden, past bright green water, have a conversation with a grave-digger and dodge cobwebs and spiders, while surrounded by skeletons. It was a hit with the kids, as was the next-door Horrible Histories maze, which saw time jumbled up and us stumbling from the Victorians to the Vikings, all the while stamping a card 'passport'. Great fun. 
A walk round the edge of the castle to see the mill-turned-electricity-generator, which had been mentioned in the Time Tower, saw some wonderful peace by the River Avon, which though muddy after Storm Babet's recent rain looked resplendent under a blue sky. It also took us towards The Falconer's Quest, which bills itself as the UK's biggest birds of prey show. Is it a big show or are the birds big? Well, both: as well as a barn owl and a peregrine falcon there were bald eagles and sea eagles and a truly magnificent - and huge - condor. The eagles' sweeps over the crowd were thrilling - looking into the eye of a bird of prey when it hurtles towards you only a few feet off the ground is a memorable sight indeed. After the show we walked around to the Witches of Warwick, a good-hearted stage show that resembled a mini-pantomime with a bit of song and dance, some audience participation and nobody taking themselves too seriously.
And at that point it was time for us to make our way home, while having a nose at the Conservatory and its immaculate ornate gardens and peacocks, back to the car, stopping off for an end-of-day shared portion of chips. Had we had more time, we could have tried the Cure of the Kingmaker maze, or the Halloween Scare School; as we returned to the car park we looked longingly at the Knights' - currently named Frights' - Village which has lodge accommodation, perfect for a second day in the castle.
We'll certainly be back, and perhaps even my cynical soul is accepting that there are advantages to stretching out Halloween…!
Comments
 0 comments
Want to join the conversation? Please or to comment on this article.