Apple WWDC 2023: Everything announced at keynote including first look at VR headset
Apple made some huge announcements at the WWDC 2023 keynote speech including the Apple Vision Pro and new MacBook Air
Apple began its yearly developer conference with an exciting keynote speech showing tech fans what to expect soon. WWDC 2023 brought iOS updates, new computer technology and most excitingly the reveal of Apple's new mixed-reality headset.
If you missed the announcements and wanted to watch the event for yourself, it is still available on the Apple YouTube channel. Here's everything announced at the Apple WWDC 2023 keynote:
Apple WWDC 2023 announcements
Apple AR/VR headset
Apple have announced their mixed-reality headset, the Apple Vision Pro. The headset will allow users to blend digital content into their day to day living, including watching movies and making video calls.
The Apple Vision Pro will allow users to control the device with their hands, eyes and voice to interact with a variety of apps. The headset aims to revolutionise how we interact with Apple devices whilst also making it feel familiar and user friendly.
New interactive windows include shadows and shading making them feel part of your normal space. The mixed reality means although you have the option to use the headset in the environment you're in, you can fully immerse yourself into environments in a similar way to VR.
The headset will include Apple Arcade games and 3D movies, with Disney boss Bob Igor announcing that Disney+ will be available on the device from day one. The Apple Vision Pro will cost $3,499 (£2,816) with live demonstrations involved when the device officially launches.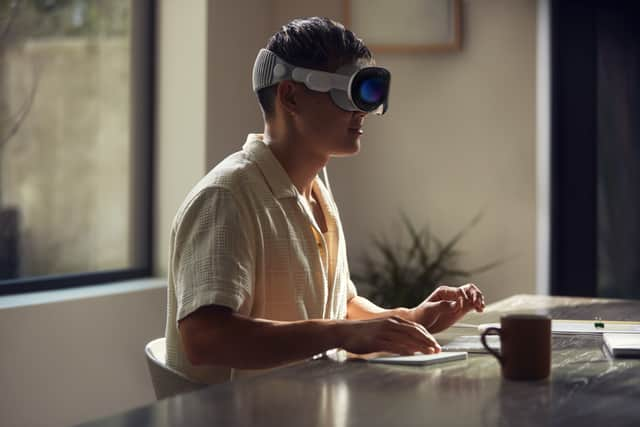 MacBook Air
Apple has announced a new 15-inch MacBook Air, which is a refreshed edition of the previous 13-inch version. The new laptop is 11.5 inches thin and will be one of the thinnest laptops of its size.
The laptop will feature a 1080p camera and 6 speakers which all will be run by the M2 chip. The MacBook Air will cost $1,299 (£1046) and will be available from next week.
Mac Studio
Mac Studio will be upgraded with the M2 Max Chip to offer users up to a 25% boost compared to the original M1 Max. Apple also announced it will upgrade to the new M2 Ultra chip that features a 30% boost of the M1.
The new upgraded chip will allow faster video editing, rendering and improved 8K streaming. The chip will also be able to support up to 6 displays making it perfect for hard working creatives.
The Mac Studio will start at $1,999 (£1,610) and will start shipping on June 14.
Death Standing Directors Cut
Apple have announced a new focus on gaming on Mac, during the WWDC keynote, it was announced Death Standing Directors Cut would be available on the Mac Store soon. The games director Hideo Kojima also revealed his team were working to bring more games to Mac in the future.
New software updates announced at WWDC 2023
iOS 17
Apple announced the next iOS update for iPhones with many improvements coming to the devices communication apps. iOS 17 updates include search filters within messages, swipe to reply and live voicemail features.
Stickers also received an update, giving them better integration within messaging. Apple also announced its new feature Name Drop which offers an easier way to share contact information through AirDrop.
A new app called Journal will be released later this year and will integrate with recent images, events and locations to help personalise your memories. Apple also announced StandBy mode which effectively turns your iPhone device into a digital clock with an option to keep it always on when the phone is charging and turned sideways.
Standby mode will offer different options to personalise your device, including clocks, app notifications and more.
iPadOS 17
The iPad will also receive a new update with better widgets and interactivity, as well as more options for customisation. Widgets on the home screen will offer additional features that will allow users to check boxes and scroll rather than having to click into the device and individual apps.
The update will allow users to customise their lock screen with more widgets, images and live activities. iPadOS 17 will also have an improved PDF feature that will allow users to fill in fields and edit information and will be fully integrated within the notes app to allow collaboration of PDFs between devices.
MacOS Sonoma
The MacOS Sonoma update is the first update for the new MacOS and will improve screensavers and update widgets. The update will be similar to iPadOS 17 where you can now interact with widgets even further through your Mac.
Widgets can be placed anyway on the desktop and will automatically adjust to the colour and fade into the background. MacOS will also add a new Game Mode which will optimise gaming on your Mac device.
The new Metal 3 will make it easier for developers to port their games over to Mac, meaning that a host of new games could be coming soon.
tvOS 17
Apple TV will be getting some improvements to its homepage. The device will be getting a Facetime app which will allow users to take calls using their TV screens and iPhone cameras.
WatchOS 10
Like many of the other software updates, WatchOS 10 comes with new improvements to widget interactivity. A new feature called Smart Stack will allow users to flip quickly through widgets and interact with the ones they need.
New watch faces were also announced including a new Snoopy watch face.
Comments
 0 comments
Want to join the conversation? Please or to comment on this article.