Viral TikTok hack shows how to make your bathroom look bigger - how to do it
The TikTok hack has received over 15 millions views - here's what the experts say
DIY TikToker @shanicelashaystyle has gone viral for her budget bathroom hack that claims to make small bathrooms look bigger and more luxurious. The hack has amassed over 15 million views, and over 860k likes.
The video shows Shanice styling a 'double shower curtain', adding another shower rod and set of curtains at ceiling height to the outside of the over-bath shower. This hack aims to create the illusion of a spa-like shower space.
Other DIY creators have also followed suit with Katie Lewis of @k8newyork receiving over 98,000 views for her recent take on the shower upgrade hack. The hashtag #doubleshowercurtain now has also now gained almost 500,000 views on the app.
As the trend continues to gain popularity, bathroom interior expert at Bathroom Deal, Warren Kinloch has shared his thoughts on the trend and advice on how best to apply it in your home.
Kinloch said: "I love the idea of lifting a shower curtain pole towards the ceiling to create the illusion of more space in a bathroom. This is an excellent budget-friendly solution to make a small bathroom appear larger and more spa-like. Incorporating floor to ceiling shower-curtains on each side of the pole, will elevate the whole room by creating a wall of fabric that draws the eye upwards.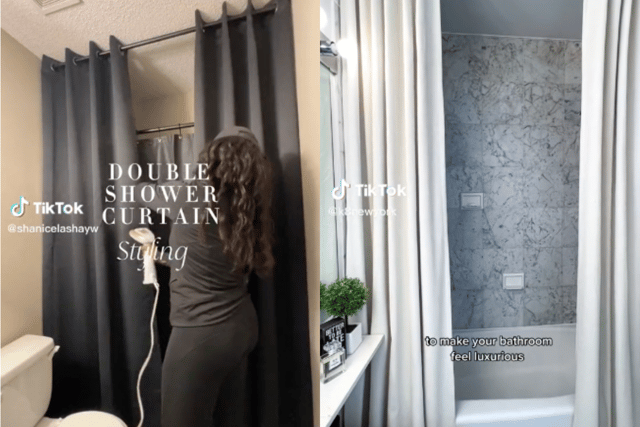 "For a really modern look, I would recommend using a neutral-toned shower-curtain. Shades of white, beige, or grey are always a classic choice and can help create a calming and serene atmosphere in the bathroom. If you're feeling daring, you can always choose a curtain with a subtle pattern or texture too. The key to making this design element work is to ensure that the shower-curtains are hung at the same height and look to be flush against the wall to create a seamless appearance."
Comments
 0 comments
Want to join the conversation? Please or to comment on this article.