UK Weather: Temperatures to soar to 'mid-20s' this week as Met Office warn of 'very warm' weather ahead
The Met Office has issued the latest weather forecasts for the week ahead.
The UK is set to have a sweltering start to the summer as temperatures are likely to be 'above average' due to high pressure, bringing largely settled conditions. According to the Met Office, this week will be mainly dry and warm, with highs of 24°C, despite a wet start for eastern and central Scotland, including some parts of Northern Ireland.
Meteorologist Craig Snell, in a daily Met Office weather update, said outbreaks of rain will hit north of Scotland on Tuesday, but England and Wales will see the 'lion share' of sunshine as the week progresses. He said: "The rest of the week is mainly going to be dry and settled.
"There will be a little bit of rain from time to time in the north and the best of sunshine in the south. By Thursday (May 25), we could potentially be approaching the mid 20s across the southern half of the UK."
According to the Met Office's long-range weather forecast from May 26 to June 4, temperatures are also expected to be "above average" for most of the UK. It said: "Northern regions may see more clouds at times, with weakening bands of rain possible.
"Temperatures should be above for most. Feeling warm away from windward eastern coasts, perhaps very warm to the south. Into early June, with the focus of high pressure shifting north, there is an increased chance of more unsettled conditions in the south of the UK…temperatures staying above normal, and perhaps, locally very warm."
UK 5-day weather forecast
Early low clouds in the east will clear through Monday morning. A few showers will affect parts of southern Scotland and northern England, easing later. Otherwise, it will be a fine and dry day with warm sunny spells.
Overnight, a dry night with light winds and clear spells will then follow, allowing temperatures to fall away, leading to a chilly night for many. Cloud thickening across Scotland later.
Rather cloudy across Scotland with a little light rain or drizzle in the west. Otherwise it will be a dry day with sunny spells, a little cooler than on Monday.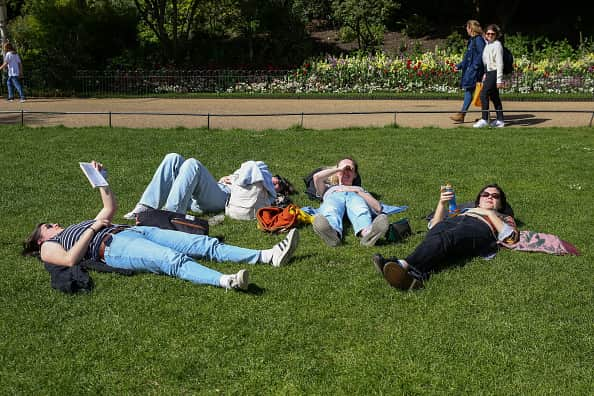 Outlook for Wednesday (May 24) to Friday (May 26)
Remaining largely settled this week with further warm sunny spells. Cloudier in the northwest on Wednesday with patchy rain. Chilly overnight with some fog patches but these clearing by day.
Comments
 0 comments
Want to join the conversation? Please or to comment on this article.