Tesco launch new 'premium' Clubcard meal deal with Yo Sushi and Itsu mains for £5
Tesco has launched a new 'premium' meal deal with Yo Sushi and Itsu items
Tesco has launched a brand-new premium meal deal offering items from well-known brands such as Itsu, YO! Sushi and Pollen & Grace. The new £5 deal will sit alongside the supermarkets' iconic regular meal deal, but it will only be available for Clubcard customers.
Shoppers who fancy levelling up their lunch can pick up well-known brands such as Itsu, YO! Sushi and Pollen & Grace as part of the deal, as well as a wide range of Tesco Finest and Wicked Kitchen mains.  To mark the launch, Tesco invited two meal deal enthusiasts to be the first to try the new offering and treated them to a fine dining experience in the meal deal aisle of the Watford Tesco Extra.
Alessandra Bellini, Tesco's chief customer officer said: ''We know that our Tesco Meal Deal is hugely popular with our customers, and is a lunchtime staple for millions of people day in, day out. But sometimes you want to treat yourself to something a little special, and the new Premium Meal Deal gives our shoppers the opportunity to upgrade their usual lunch choices."
There are 33 different main choices and 10 brand new Tesco Finest and Wicked products on offer as part of the new meal deal. This includes new ingredients and flavours such as the Tesco Finest Roast Beef, West Country Cheddar & Truffle Mayo Tiger Roll, the Tesco Finest Chicken & N'duja Wrap and the YO! Rainbow Salmon Poke.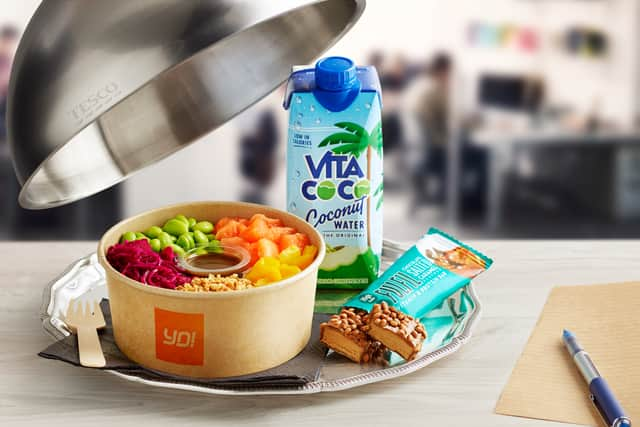 Customers can also choose any of the regular snacks and drinks to accompany their premium main including brands such as Walkers, Propercorn, Graze, Cadbury, Oasis and Coca-Cola. The Tesco Premium Meal Deal is available now in 1,200 stores, offering a range of quality options to suit all tastes for just £5 per head with a Clubcard or £5.50 without.
Comments
 0 comments
Want to join the conversation? Please or to comment on this article.