Ten signs your computer may contain malware and is being spied on, according to cyber security experts
Cyber security experts have revealed the ten signs your device contains malware as data shows over 2.8 billion malware attacks in the first half of 2022
Cyber security experts at VPNOverview have outlined the ten signs your device is subject to a malware attack. Data from Statista revealed that in 2022, there were 2.8 billion malware attacks in the first half of the year.
Currently, there are no programmes that indicate spyware on any given device. As technology evolves, malware is becoming even more tricky to detect, and determining whether your device is compromised is getting harder.
Luckily, there are signs your device can provide that may indicate that malware is present. These signs range from strange pop-ups, your device becoming slow, strange browser activity and more.
A spokesperson from VPNOverview  commented on the study: "Detecting a monitoring app isn't easy, even for the most tech-savvy user. It requires a deep understanding of your operating system and how spyware behaves.
"The best course of action is to install a reputable anti-virus such as Norton 360. This anti-virus can perform deep PC scanning that can identify suspicious files and malicious programs, as well as providing a firewall defence against future spyware infections. It is also important to be wary when clicking on suspicious looking email attachments, as these often transmit spyware."
10 indicators that your computer is being spied on
1. Your webcam is recording without your authorisation
If your webcam light is on and you are not using it, then someone else might be. Malware can be installed onto your device by hackers or someone you know, and they can spy on you via your webcam.
2. Your computer becomes slower
Malware such as trojans can make your computer become considerably slower. This is because they take up a lot of RAM, CPU and hard disk input/output on your computer.
3. Your task manager is disabled
If you can't open your task manager, it could be a sign malware is on your computer. This is because the malicious programmes disable the task manager so you're unable to view which programmes are running.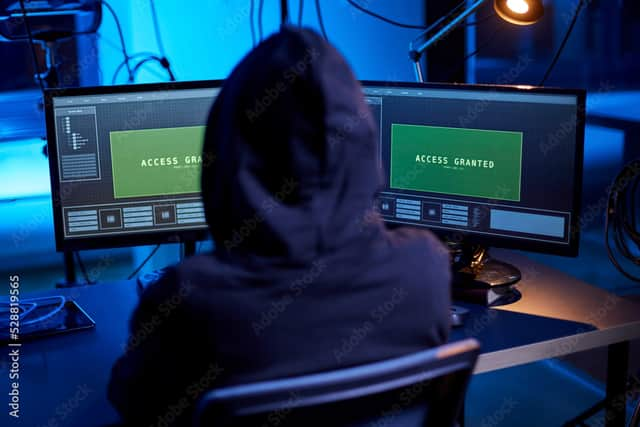 4. Your browser gets redirected 
Another indicator your device is subject to malware is if your browser gets redirected. For example, if you type in 'argos' but the search results come up with something different, then something has likely gone wrong.
5. Your computer heats up frequently 
Long use and certain programs can heat up your computer. But, if it heats up on a more frequent basis it could indicate malware. This is because this software is designed to execute numerous programs at once and is very resource-intensive.
6. You have strange browser activity
Hackers will browse the internet on your computer as a lot of sensitive information such as bank details, passwords and more are sometimes stored on websites. Keep an eye out for key signs such as: You have browser extensions you didn't install. Your browser's homepage has changed. There are toolbars on the browser you didn't install yourself.
7. You receive a ransomware attack
This is definitely the biggest sign that malware is on your device. A ransomware attack is where hackers will hold your files ransom in exchange for money, usually in the form of bitcoin.
8. You've been logged out of websites you automatically log in to 
If you have been logged out of websites that you usually just log in to, it may indicate malware. This is because hackers will log out of the website to try and reveal your password.
9. You have weird programs installed on your computer
Some hackers may trick you into downloading seemingly legitimate software to gain access to your computer. You may think that the software looks legitimate, but it is actually malware that you have accidentally downloaded through a torrent.
10. You frequently get strange pop-ups on your computer
A big giveaway of malware on your system is random pop ups on your browser or desktop. This is easy to do, usually being caused by clicking on an advertisement banner on a website which can cause malicious code to be allowed into your computer.
Comments
 0 comments
Want to join the conversation? Please or to comment on this article.