Stranger Things season 5: Duffer brothers confirm final season on hold as writers strike continues
The Duffer Brothers confirmed that production of Stranger Things final season won't go forward without their writers.
Stranger Things creators, The Duffer Brothers, have confirmed to fans that the fifth and final season of the Netflix series is delayed due to the ongoing writers' strike. The brothers shared the news in support of their writers, saying  'writing doesn't stop when filming begins'.
The Duffer Brothers took to the Stranger Writers official Twitter account to voice their support in a statement that read: "Duffers here. Writing does not stop when filming begins. While we're excited to start production with our amazing cast and crew, it is not possible during this strike. We hope a fair deal is reached soon so we can all get back to work. Until then -- over and out. #wgastrong"
The Writers Guild of America (WGA) strike has seen more than 9,000 members walk out after 98% of its voting members voted in favour of the action. This is the first time in 15 years that writers have taken strike action.
The strike action comes after writers clashed with the Alliance of Motion Picture and Television Producers (AMPTP) in demand of higher pay and a greater share of the profits from the modern streaming boom. The AMPTP represents major studios, including Disney and Netflix.
The WGA said the decision was made after six weeks of negotiations produced a "wholly insufficient" response to "the existential crisis writers are facing". Strike action officially began last week.
Writers have raised complaints about being asked to provide weeks or months of free rewrites of scripts. They have also said that streamers have cut way down on the number of episodes ordered per season with many getting just six-to-eight episodes which makes sustainable work harder.
The last writers' strike in 2007-2008 lasted 100 days and cost the California economy $2bn (£1.6bn) and led to the cancellation or delays of some popular shows. Some have also credited it with boosting the proliferation of reality TV.
How to watch Stranger Things
Stranger Things seasons one to four are streaming worldwide on Netflix and are available to watch now.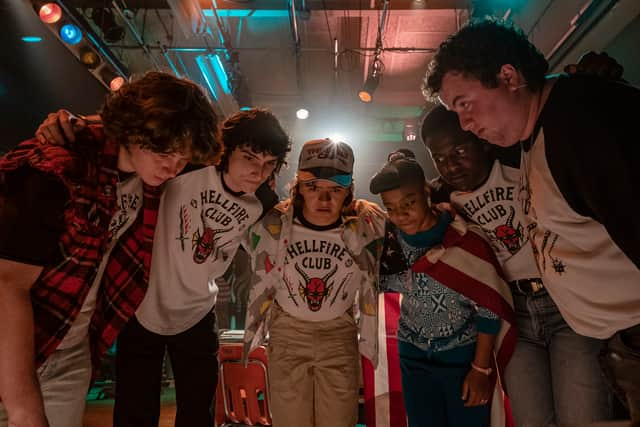 You can sign up for a subscription which starts at £6.99 per month on the Netflix sign up page. Upon signing up you will get your choice between three monthly plans. They are the following:
Basic Plan - £6.99 - 480p resolution
Standard Plan - £10.99 - 1080p resolution
Premium Plan - £15.99 - 4K+HDR resolution
DISCLAIMER: This article contains affiliate links. We may earn a small commission on items purchased through this article, but that does not affect our editorial judgement.
Comments
 0 comments
Want to join the conversation? Please or to comment on this article.