St Patrick's Day 2023: cheapest and most expensive pints of Guinness in the UK - including London & Edinburgh
New research has identified the cheapest towns and cities in the UK for Guiness- and those which are most expensive
New research has identified the cheapest and most expensive places in the UK for a pint of Guinness. The publishing of the research comes just in time for St Patrick's Day on Friday (March 17).
The analysis was carried out by personal insolvency provider Carrington Dean which looked at hundreds of pubs across the UK to reveal the cheapest, and most expensive places in the country for a pint of Guinness. The UK average was discovered to be £4.14.
Unsurprisingly, the most expensive place for the cold stout in the country is London, where you can expect to pay an average of £5.31 for a pint. This is a huge 52% more expensive than in Swindon - the cheapest UK town for a pint.
Layla Johnson, regional manager at Creditfix, said: "It's easy for big holidays and celebrations often associated with drinking alcohol to end up costing a lot more than anticipated - especially amidst the cost of living crisis.
"It's no surprise that inflation has pushed up the price of Guinness, one of the most beloved pints in the world, just like it has other beverages. It can be all too easy to dip into your overdraft or credit card to pay for an extra round, but it's important to budget properly for any social activities, and be mindful of how much you're spending this St. Patrick's Day - especially if you're celebrating in one of the more expensive cities."
Cheapest pints of Guinness in the UK- average prices
Swindon- £3.48
Stoke-on-Trent- £3.70
Coventry - £3.72
Swansea- £3.74
Middlesbrough- £3.77
Rotherham- £3.85
Southend-on-Sea- £3.85
Lincoln- £3.87
Sunderland- £3.88
Sheffield- £3.89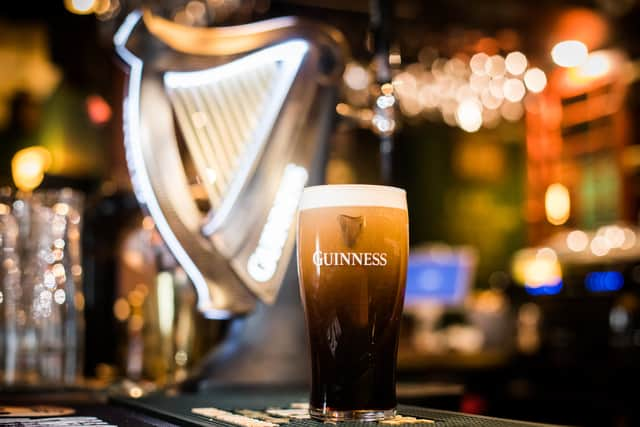 Most expensive pints of Guinness in the UK- average prices
London- £5.31
Brighton- £4.90
Edinburgh- £4.87
Cambridge- £4.58
Portsmouth- £4.52
Oxford- £4.51
York- £4.46
Blackpool- £4.45
Glasgow- £4.40
Reading- £4.40
Comments
 0 comments
Want to join the conversation? Please or to comment on this article.