'I've given my house a '00s makeover because I'm obsessed with the year 2000'
Obsessed mum Jemma Murphy has spent £1,000 to transform her home in Solihull into a noughties paradise
A mum who is obsessed with everything from the year 2000 has given her house the ultimate budget makeover. Jemma Murphy, 33, has spent £1k and used her own DIY skills to transform her home in Solihull into a noughties paradise. Her favourite room - the bathroom - is entirely Bratz Dolls themed, which were popular in the early 2000s.
The Y2K obsessive spent around £300 on the look, including paint, flooring, bathmat, shower curtain and vinyl tiles. In the hallway she spent four hours pinning 80 stuffed toys to the wall, the majority of which she found in charity shops.
She found noughties toys like Care Bears, Pokémon and My Little Pony to create the impressive looking mural. In her bedroom she has hand painted "psychedelic" daisies and rainbow hearts on the walls.
Jemma shares the three-bed semi detached house with partner Aaron, 27, and her three kids Brandon, 10, Cody, eight, and five-year-old Pixie.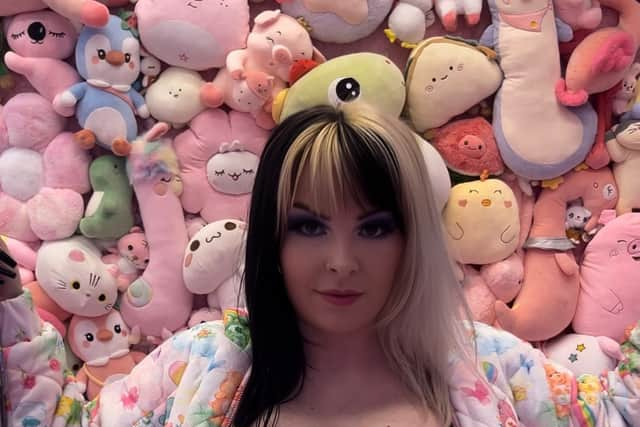 The mum of three calls her style "dopamine décor" – which she said is all about being "over the top" and "colourful". She said her daughter "loves" the look, but her boys are less keen, especially on the doll-themed bathroom.
Jemma, who is self-employed, said: "I'm obsessed with the Y2K look - it inspires my house and the way I dress and do my hair. I love a girly fem look which includes anything pink, flowers, hearts and butterflies.
"The kids love most things in the house - especially the teddy bear wall. But my eldest son isn't a fan of the Bratz bathroom and refuses to use it. He'll only use the downstairs loo!"
Jemma, who has lived in the rented house since July 2021, hated the "drab" plain, white walls when she first moved in. Jemma said: "I saw an article that said, we've currently got the least amount of colour in the world. Everything is so beige and neutral, which isn't mean. I couldn't wait to inject some colour into the house."
Jemma got started on the bathroom, which took her about three weeks to complete. She first found the bathmat and shower curtain on a US website called Dollz Kill – costing £24 each. After falling in love with the items, she decided to "run" with the Bratz theme.
She said: "I found Bratz doll head on eBay for £17. Wall paint was around £10, and I hand painted the flames on the wall. I did all the vinyl tiles myself – it was about £1 for an A4 sheet.
"The expensive bit was the cow print flooring which cost about £200 but was so worth it. Also the fluorescent cabinet paint was about £65. Most the accessories were from Primark like the face cloth and sponge – I love the final look."
The "teddy bear wall" in the hallway was inspired by a trip to Amsterdam in April 2023. Jemma went to a "indoor playground" called Wondr where they had a similar stuff animal display.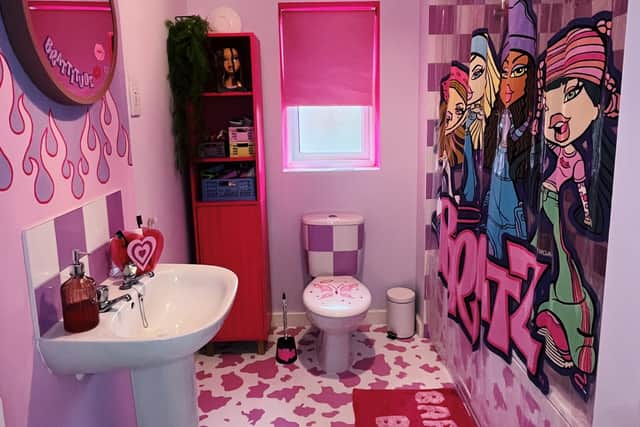 The mum trawled through charity shops to find noughties cuddly toys - like Care Bears, My Little Pony and Pokémon - that matched the pastel colour theme.
She said: "I didn't want to spend a fortune, so about 60 percent are from charity shops, others were once the kids didn't mind me using. I used old metal crates as the base, and attached the toys using zip-ties. It didn't take too long - about four hours - but I think the look is really effective and the kids love it."
Jemma share's her house decorating tips on Facebook pages like DIY On A Budget Official - getting 2.5k likes on her bathroom. She also posts on her TikTok page @jebsgaff where she's gathered 14.5k followers who love her wacky interior style. As well as the Y2K aesthetic, Jemma loves a "goth look" and has created a "darker" looking living room with black walls and furniture.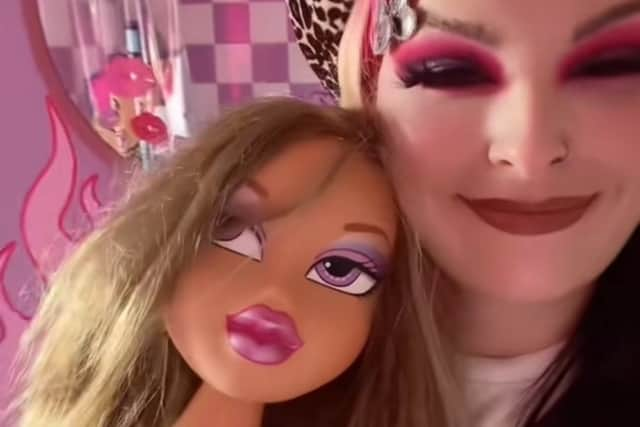 Jemma said: "I have so many more things planned for the house - it's just the start. I plan to do more to the living room and paint some colour rainbow arches on all the doorways.
"My advice would be to look in charity and vintage shops and check out eBay for finds. Also TikTok is a great place to get DIY tips - I get lots of inspiration from there. I've splashed out on a few things, but I always shop around for bargains." Follow her on TikTok here - https://www.tiktok.com/@jebsgaff
Comments
 0 comments
Want to join the conversation? Please or to comment on this article.