New portrait of the Queen and her dogs commissioned to mark birthday milestone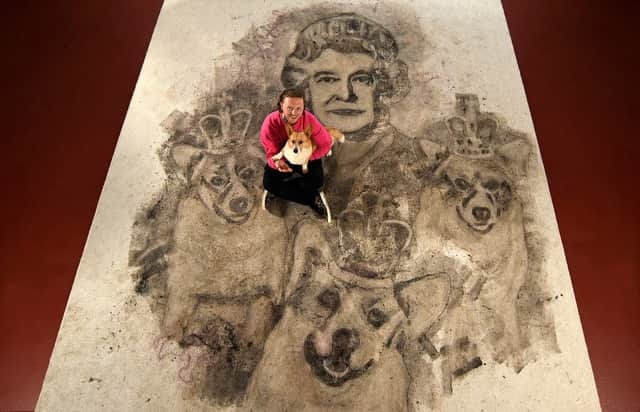 Acclaimed Welsh artist, Nathan Wyburn, created the incredibly detailed portrait in carpet, using Dr. Beckmann's hugely popular Pet Stain & Odour Remover, with the help of mud and other outdoor stains, he used the specialist stain remover as a painting brush to create the piece of 'carpet art'.
The huge 3 x 4 metre portrait was commissioned on the back of a lockdown spike in new pet ownership during the pandemic, resulting in a surge in demand of Dr. Beckmann's popular pet stain product.
In honour of the Queen
In honor of Her Majesty the Queen's official birthday on June 12th, cleaning and laundry experts, Dr. Beckmann have commissioned a new portrait of the monarch and her adorable dogs to mark the milestone.
Nathan, who rose to fame following his appearance on Britain's Got Talent in 2011,
said: "Over the years, I've experimented with various household substances when creating pictures, so naturally I was more than happy to be asked to mark the occasion – quite literally – in celebration of the Queen's birthday.
"As fun as it is using different items to create specific shapes, it isn't easy to get the outcome you want, which is why I'm pleased to be using Dr. Beckmann's Pet Stain and Odour Remover as my paintbrush to help remove the mud and make the perfect picture for such a special event."
"It wasn't an easy task, but I'm really pleased with the results and I think Her Majesty will be too - she clearly adores her dogs and was heartbroken when her corgi Fergus died earlier this year. So this should be a lovely reminder of happier times on her birthday. It's a great way to celebrate a traditional figure with a modernised touch, I can absolutely see this hanging on the palace walls!"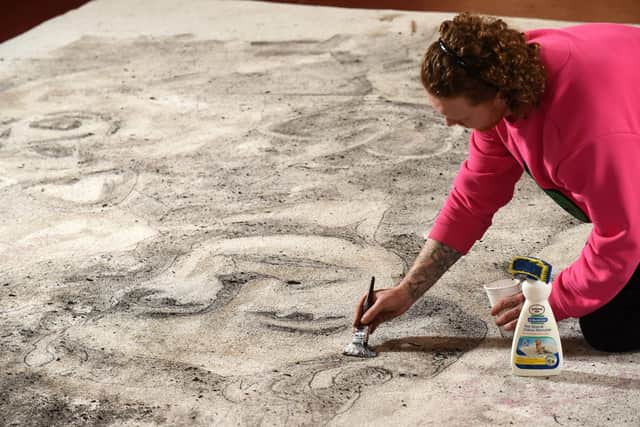 Dr. Beckmann spokesperson, Susan Fermor, said: "After a tough year of postponed celebrations and toned-down festivities, we couldn't be more excited to be celebrating such a momentous occasion in this way.
"We wanted to honour the Queen and her iconic dogs, so we commissioned Nathan to create this spectacular portrait because we knew that the marking of such an event required something innovative and exciting.
"The Queen's unwavering devotion to her people (dogs included) and her country is something that should be celebrated, now more than ever after a very tough year for everyone, including Her Majesty.
"We know The Queen is extremely fond of corgis, which is why Dr. Beckmann's Pet Stain and Odour Remover was the perfect product to assist in the creation of this portrait."
Royal competition
Now, the Bolton-based cleaning experts are giving one lucky 95-year-old the chance to be treated like a Queen (or King) for the day with a Royal competition. The winner will get to enjoy their very own royal-inspired afternoon tea party for two, complete with a full royal clean up afterwards, in true Dr. Beckmann style.
To enter the competition, simply email [email protected] a picture of your 95-year-old loved one with a description on why they deserve to be treated like a royal for the day. Entries close at 23:59pm on Saturday 19th June, one week after the celebrations.
Dr. Beckmann's Pet Stain & Odour Remover is available at a wide range of retailers and can be found via the Dr. Beckmann website: https://www.dr-beckmann.co.uk/