Top 20 'most dangerous roundabouts' in UK according to data revealed - see where your region ranks
The most dangerous roundabouts in the UK have been revealed - here's how each region ranks.
The UK's top 20 most dangerous roundabouts have been revealed according to car insurance data. And if you're a driver who hates busy roundabouts with multiple lanes, you might want to give these a miss.
Research carried out by a car insurance firm, MotorEasy, analysed 482 UK roundabouts and 18,900 thousand incidents to find out the worst offending roundabouts for accidents across the country.
The data listed the top 20 most dangerous - with five London roundabouts ranking at the top. MotorEasy's research discovered that the most dangerous roundabout in the UK is the Hammersmith flyover in London with 287 accidents taking place in 10 years. However, London also has some of the busiest roads in the UK with over three million registered vehicles.
Overall, nearly six thousand accidents occurred from 2010 to 2020 on London's roundabouts - making up a quarter of all accidents nationwide. Meanwhile, the North East and North West have ranked the safest regions for driving.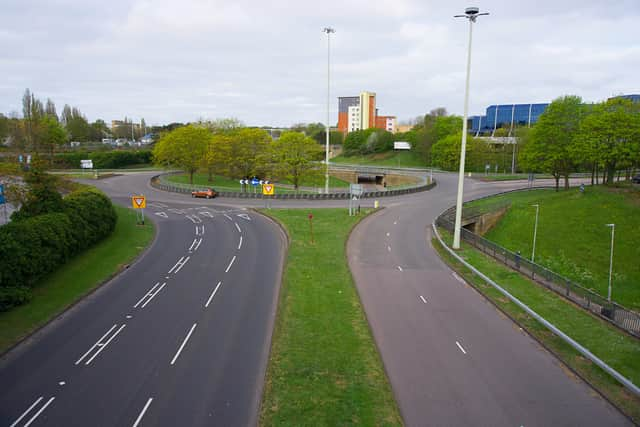 UK's 20 most dangerous roundabouts
Here's the full list of the top 20 most dangerous roundabouts in the UK:
Hammersmith Flyover - London
Redbridge Roundabout - London
The Crooked Billet - London
Staples Corner - London
Hyde Park Corner - London
Portsbridge Roundabout - South East
Mar Dyke Interchange - East
Bulls Bridge Roundabout - London
Bean Interchange - South East
Old Street Roundabout - London
The Great Cambridge Road Roundabout - London
The Green Man - London
Target Roundabout - London
Brook Street Interchange - East
Chiswick Roundabout - London
Denham Roundabout - South East
Brent Cross Interchange - London
Bricklayers Arms Roundabout - London
White Hart Roundabout - London
Regions ranked from most dangerous to safest roundabouts
London
South East
East
South West
Yorkshire & Humberside
East Midlands
West Midlands
Scotland
North West
North East
Comments
 0 comments
Want to join the conversation? Please or to comment on this article.