Monkeypox downgraded by World Health Organisation as UKHSA say focus remains on 'elimination'
The UK Health Security Agency have announced that the aim is to eliminate the monkeypox virus
The UKHSA has said that their focus remains on "eliminating" monkeypox. This comes following the announcement from the World Health Organisation (WHO) declaring the end of the disease as a public health emergency of international concern.
There have been over 3,000 cases of Monkeypox, also known as mpox, in the UK. Government data showed that this figure was 3,738 as of the end of February 2023. 
Dr Katy Sinka, head of sexually transmitted infections at UKHSA, said: "Last year UKHSA was the first in the world to detect the 2022 mpox outbreak and we welcome this news from the World Health Organisation that the incident has now been stepped down as a public health emergency of international concern, but we must not be complacent and our focus remains on elimination.
"Elimination is more likely to be achieved if those who remain eligible continue to come forward for vaccination. If you're eligible and still need to take it up, please come forward ahead of the summer months to ensure you have maximum protection. First doses of the vaccine will end on 16 June and both doses will cease at the end of July."
What is Mpox? 
Mpox (previously known as monkeypox) is a rare infection most commonly found in west or central Africa. There has recently been an increase in cases in the UK, but the risk of catching it is low.
According to the NHS, Mpox can be passed on from person to person through:
any close physical contact with mpox blisters or scabs (including during sexual contact, kissing, cuddling or holding hands)

touching clothing, bedding or towels used by someone with mpox

the coughs or sneezes of a person with mpox when they're close to you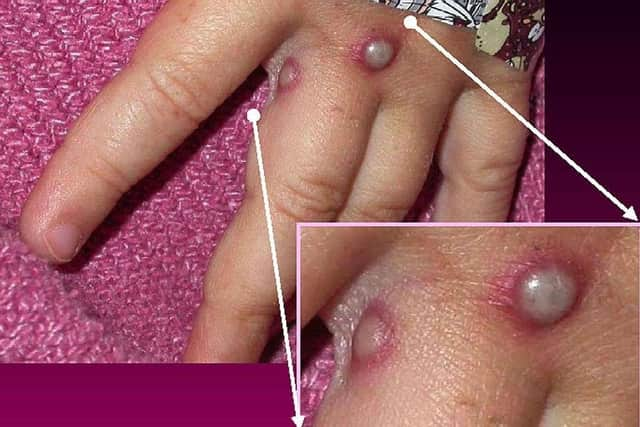 In parts of west and central Africa, mpox can also be caught from infected rodents (such as rats, mice and squirrels) if:
you're bitten

you touch their fur, skin, blood, body fluids, spots, blisters or scabs

you eat their meat and it has not been cooked thoroughly
Comments
 0 comments
Want to join the conversation? Please or to comment on this article.