Harry Potter's Miriam Margolyes rushed to hospital telling fans she "can't come home yet"
Miriam Margolyes has said she "can't come home yet" in a post where she thanked The Royal Brompton Hospital for their care
Harry Potter actress Miriam Margolyes has been rushed to hospital after contracting a chest infection. The beloved 81-year-old from Oxford has admitted her hospital stay has been extended, saying that she "can't come home yet."
Margolyes, most known for her role as Professor Sprout in the J.K.Rowling film series, shared an update on her health with a photo from her hospital bed. The actress and comedian thanked her "precious friends" on her "TAVI Day", an abbreviation for a transcatheter aortic valve implantation.
On her Facebook page, Miriam said: "I did survive and am still in The Royal Brompton Hospital certainly till Sunday. I am growing energy but it's still not quite me. I am putting this so you know how grateful I am for lovely messages."
The actress also shared  she will be "slowly" getting back to her various projects which includes a book tour. She then finished her post by sending her followers "loving hugs".
However, on Monday (May 8) she shared another message with her fans talking further about her hospital stay. Miriam Margolyes said: "Heartfelt thanks to all my wonderful friends who sent messages and to the very fine doctors and nurses at the RBHT who put up with me and put a TAVI in the LAVVY. HUGS. MM."
Later in the day, the actress updated followers saying: "I spoke too soon. Can't come home yet: I have a chest infection. Probably tomorrow. But at least I'm resting. Love to all. Thank you for your lovely messages."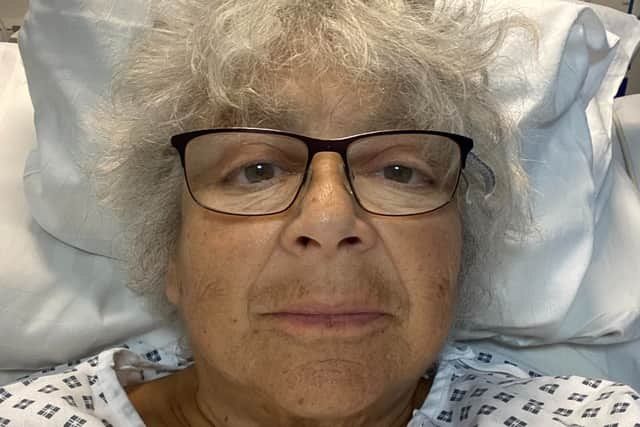 Fans have rushed to send their love and well wishes to the loose-lipped comedian, with one fan writing; "Thanks for the update, glad you are getting time to rest even if you are being made to do it. much love rest well and then onward"
Comments
 0 comments
Want to join the conversation? Please or to comment on this article.