Many have banned certain foods from being eaten in bed, such as curry – but will allow toast and biscuits
More than half of adults ban certain foods in bed – though 46 per cent think they're perfectly acceptable.
A study of 2,000 adults found 48 per cent have eaten snacks or meals in their own bed and 13 per cent have done so in a hotel, with toast biscuits and chocolate permitted in the bedroom.
But curry, a roast dinner and lasagne are the top food firmly off limits, as well as fish and chips, soups and burgers.
If any meal is acceptable in bed it's breakfast, according to 58 per cent, and the likes of croissants, cereal and yoghurt appeared on the 'allowed' list of foods.
Similarly, tea (67 per cent) and coffee (61 per cent) are justified.
This Valentine's Day, 23 per cent plan to make breakfast in bed for a loved one, while 13 per cent hope to be recipient of it.
A quiz has been created to categorise the fine diners from those who are happier to eat in front of the telly.
Diner personas also shine light on those who request breakfast in bed every weekend, but only if it's 'Instagrammable' or are easily impressed with a takeaway on the sofa.
Quiz reveals your diner persona
The research was commissioned by bakery brand St Pierre and found 19 per cent agreed the idea of eating under the duvet is nice – but not the reality.
And while three in 10 believe the concept is lazy, 29 per cent admitted they can't enjoy the experience because they're too worried about the mess.
St Pierre's spokesperson said: "There is clearly a divide when it comes to the idea of eating in bed,
"While some will allow a greasy takeaway box or messy sauce covered meal in the boudoir, others understandably draw the line at anything other than breakfast.
"Having the first meal of the day in bed, especially with a partner, has for a long time been seen as a romantic gesture and many of us plan to start Valentine's Day this year doing just that."
The study also found 31 per cent believe eating in bed is cosy, particularly in the winter months (31 per cent) and 14 per cent find it romantic.
But it took smitten lovers an average of five weeks together before taking their meals to the bedroom.
A quarter (24 per cent) have had to get rid of bedding due to food related spillages and 23 per cent have asked someone else to get out of their bed because they made crumbs.
As a result, many rely on trays (55 per cent), napkins (36 per cent) or towels (24 per cent) to avoid mishaps.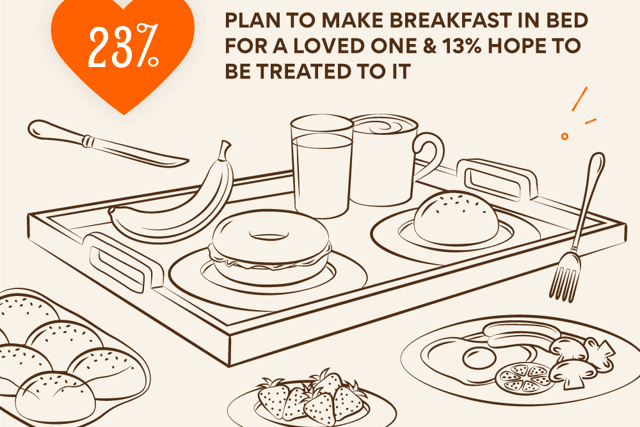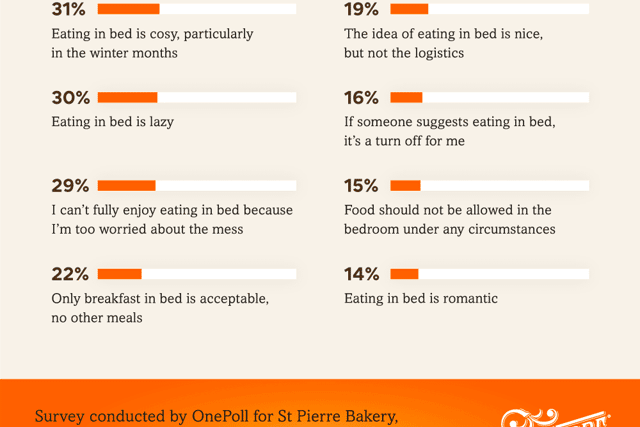 Romanticising breakfast this Valentine's Day
Other situations in which people are most likely to eat in bed are when they're ill (58 per cent), watching TV (42 per cent) or generally on weekends (40 per cent).
More than half of those surveyed via OnePoll opt for lounging under the duvet if eating (54 per cent), while 36 per cent prefer to sit on top of it.
And 44 per cent admitted they're more laid back about eating in bed if it's someone else's rather than their own.
St Pierre's spokesperson added: "Sharing food with a loved one is the perfect way to show you care, but the research suggests that such gestures can backfire, with 32 per cent having been asked to get out of bed for making a food or drink faux paus.
"That's why we're offering NAPkins to diners, to keep the love alive and prevent any cross words over croissants this Valentine's Day.
"While breakfast is the most popular meal to be enjoyed from the comfort of our mattresses, one in four have no preference on which meal they enjoy in bed.
"Whether it's burgers in bed or croissants under the covers, this Valentine's, we're hoping to make bedtime meals a little more manifique."
Top 10 foods allowed to bed eaten in bed
ToastBiscuitsChocolateFruitCereal/porridgeSandwichCakeCroissant/pastriesYoghurtIce Cream
Top 10 foods banned from being eaten in bed
CurryRoast dinnerLasagneChinese e.g. chow meinPasta and sauceFish and chipsStir frySoupSausage and mashFajitas