King Charles receives standing ovation in Bundestag, Berlin after historic speech in German
King Charles addressed the German parliament in Berlin, talking about the relations between Germany and Britain, and was met with standing ovations
King Charles delivered a speech in the Bundestag in Berlin on Thursday as the first British monarch to address the German parliament. Speaking both English and German, the monarch thanked the country for their "deep sympathies" following the death of Queen Elizabeth, and was given standing ovations.
During his speech, the King talked about cultural exchange between Britain and Germany, joking about how millions travel from the UK to experience Berlin's "vibrant culture", while comparing Beatles and Kraftwerk to older generations like Brahms and Byron, saying while modern generations might think of the first two, the "web of cultural connections is strong as ever."
"For the last 50 years we have laughed together – both at each other, and with each other," the King said, while praising German comedian Henning Wehn, saying he has "given us an understanding of German quirks, as Monty Python brought ours here". He also mentioned England winning over Germany at the 2022 Women's Euro, saying the football rivalry between the two countries is "just one example of how our countries offer a compelling example to the world".
Met with applause, Charles then went on to praise the German support for Ukraine, saying the Russian invasion was a threat to security  across Europe: "We are deeply shocked by the destruction, but we can be encouraged by our unity when it comes to defending Ukraine, peace, and freedom. Germany's decision to provide such military support to Ukraine is considered to be very welcome and very important by the world at large."
Continuing with his speech, King Charles talked about the joint fight against climate change and praised Germany's leadership in developing new sustainable energy by developing offshore wind capability and hydrogen, calling it "the fuel which could transform our future".
"This essential partnership between our two countries is built on the expertise, dedication, and ingenuity of countless people in both Germany and the United Kingdom," the King added. "To them all, I can only offer my sincere and heartfelt gratitude."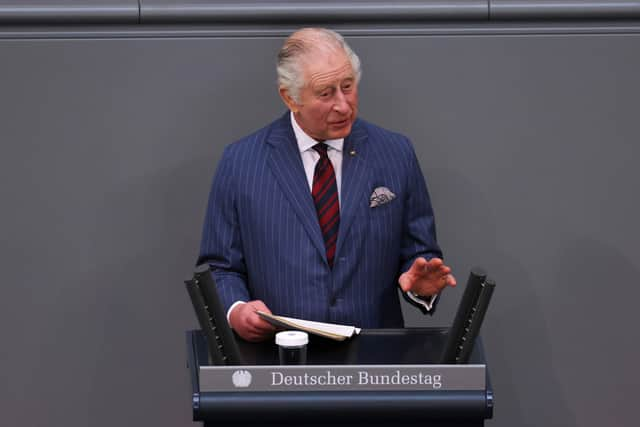 To standing ovations from the German parliament, the King concluded his speech: "In the long and remarkable story of our two countries, there are many chapters yet unwritten. Let us fill these with the restless pursuit of a better tomorrow. The legacy of our past, and the great promise of our future, demand nothing less."
Comments
 0 comments
Want to join the conversation? Please or to comment on this article.