Karen's Diner tour: UK's rudest restaurant is coming to a city near you - tour dates, how to get tickets
Karen's Diner is often billed as the rudest restaurant in the world and attracts celebrity customers including Big Brother's Davina McCall and strongman Eddie Hall. The spectacle is now on tour - here's how to book your seat.
A restaurant priding itself on providing customers with the worst service possible is coming to a city near you. The immersive foul-mouthed catering experience of Karen's Diner is touring the UK this year - so why not bring a friend or a loved one along?
Providing a menu boasting New York style food, Karen's Diner has risen in popularity over the last year with videos captured at its restaurants in Australia, America and the UK going viral on social platforms such as TikTok.
Whether it be the waiters or waitresses delivering your order to the wrong table, throwing stuff like menus on the floor or barraging you with an expletive rant - customers will not forget their visit in a hurry. But now Karen's Diner is being opened up to several more cities in the UK with dates in places like Bristol, York and Southampton.
Dishing out the details of what a visitor will experience during the Karen's Diner tour, managing director Ryan Blackburn explained: "Customers would need to expect plenty of sass, great food, and a sprinkle of bad attitude, so don't expect special treatment as it's all about Karen, and she won't be taking any nonsense! All will be able to have fun and wind the staff up to unleash their inner Karen and see their full Karen potential."
Are you hoping to taste great food while being screamed at by Karens at Karen's Diner? Here is everything you need to know, such as a full list of tour dates and how to book tickets.
How to get tickets to Karen's Diner 2023 tour dates
Tickets for most dates of the Karen's Diner UK tour are on sale now with prices ranging from £40 to £42.50. Visit the official Karen's Diner website to book and for further information.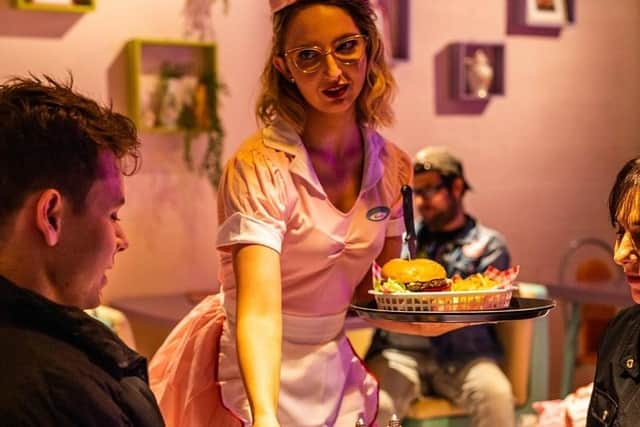 Dates where tickets are yet to go on sale include: Norwich, Leeds, Sunderland, York, Hull, Ayr and Southsea. Visit the Karen's Diner website to set reminders for when the general sale opens.
Full list of Karen's Diner 2023 tour dates
Huddersfield, Cedar Court Hotel: March 17 to March 18
Southampton, Orange Rooms: March 24 to March 26
Blackpool, Tiffany's Hotel: June 4, July 14 to July 16, October 6 to October 8
Aberdeen, Palm Court Hotel: June 30 to July 2
Edinburgh, The Biscuit Factory: May 12 to May 14
Glasgow, Corona Bar and Grill: May 26 to May 28, August 11 to August 13, November 17 to November 19
Bristol, Revolution: April 23, July 9, October 15
Brighton, Revolution: March 19, June 18, October 22
Newcastle, Collingwood Street: August 5 to August 6
Isle of Man, Woodbourne House: April 15, July 22, November 25
Bournemouth, Revolution: April 2, May 21, October 8
Norwich: Details TBC
Leeds: Details TBC
Sunderland: Details TBC
York: Details TBC
Hull: Details TBC
Ayr: Details TBC
Southsea: Details TBC
Comments
 0 comments
Want to join the conversation? Please or to comment on this article.