Job opportunity: Count penguins at the world's most southern post office and gift shop on Antarctica
If you love adventure, cold, and gift shops, this job counting penguins on Antarctica might be just what you're looking for
Would you like to work at the world's most southern post office and gift shop, with the daily task of keeping track of a colony of 1,500 gentoo penguins? Without running water or Wi-Fi, you could score a five month employment like nothing else on the remote Guidier Island in the Antarctic peninsula.
The UK Antarctic Heritage Trust has started recruitment for 5 positions, which last for 5 months at Port Lockroy, and the interest has been "incredibly high", say the trust. The local post office reopened in November 2022 after a 2 year closure, after a team of women from the UK were hired to operate it.
The outpost, only a 9,000 mile commute from Britain, celebrates its 80th anniversary this year since its founding as part of the secret World War II Operation Tabarin. It marked the start of Britain's scientific research on the frozen continent.
Recruiting a new team to operate the flagship site, including operating the post office and gift shop and look after the artefacts at the Bransfield House museum. The team will also have to count the nearby 1,500 strong gentoo penguin colony for protection.
The UK Antarctic Heritage Trust is looking for a base leader, a postmaster, a wildlife monitor and 2 conservation carpenters who will work on restoring the Bransfield House following heavy snow in the area. Since the climate may differ some from back home in the UK, applicants must be physically fit, resilient and environmentally aware, as well as adventurous and have a love for the most southern continent on our planet.
Last year, the trust experienced a record number of applications. Chief executive of the trust, Camilla Nichol told The Times: "We are excited to offer an opportunity like no other, living in a landscape that makes you feel pure awe and wonder and working at Port Lockroy — the birthplace of the British Antarctic Survey — where pioneering generations have gone before us making groundbreaking discoveries about our world.
"Last year we received a record number of applications for just four roles based on Goudier Island, so these positions are incredibly popular. This is also a really exciting season to be working at Port Lockroy as we will be celebrating its 80th anniversary."
The team currently working at Port Lockroy said: "We feel very fortunate to have had the opportunity to spend this time in Antarctica caring for this important heritage site and seeing the seasonal changes in the amazing scenery and wildlife.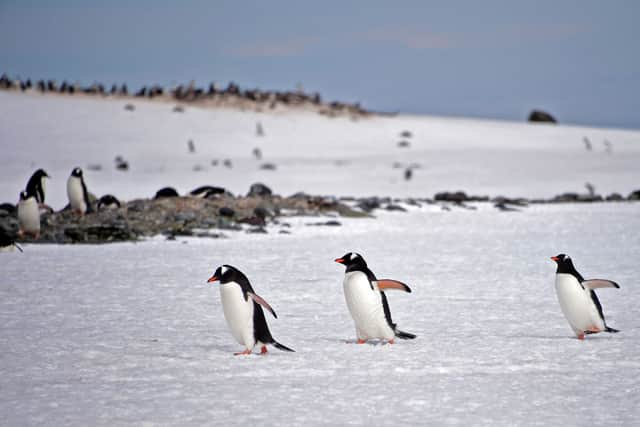 "It is a beautiful place that has inspired us all to reflect on the importance of protecting this unique landscape and its heritage, and to consider what impact our actions at home may have on this very special environment."
Applications for the roles close on March 26, with the conservation carpenter roles open until April 13. After online interviews a two-day shortlist event in Northampton and a training course in Cambridgeshire will be held.
If you succeed in getting the role, the job starts at Port Lockroy in November this year and lasts until March 2024. The conservation carpenters will arrive at base in January next year for 6 to 8 weeks.
Comments
 0 comments
Want to join the conversation? Please or to comment on this article.