Holi 2023: Festival of colours wishes and messages to share with loved ones
The Hindu festival of Holi is just around the corner, here's how to wish your loved ones the best
The Hindu festival of Holi also known as the "festival of love", "festival of spring" and the "festival of colours", is celebrated by many across the world. The festival signifies the triumph of good over evil, and is believed to be the welcoming of a new season.
Holi is acknowledged and celebrated in different ways globally, meaning there are lots of options for wishing someone the best this Holi festival.
Famously on Rangwali Holi, which is the second day of the festival, people will throw different colour powder all over each other and their surroundings. This is called gulal. According to National Geographic the flying multihued pigments serve as a reminder of the story of Krishna, saying: "Legend states that after being cursed with blue skin by a demon, Krishna worried that his fair-skinned consort, Radha, would no longer love him. When he complained to his mother Yashoda, she teasingly replied for Krishna to paint Radha's face whatever colour he chose, so he did."
The colours also hold powerful meanings for example, red signifies love and fertility, whereas Blue is seen as the colour of calmness. Food also plays a major role in the celebrations, particularly in India, where families will prepare gujiya, which is a dumpling-like sweet filled with dried fruits and nuts spiced with cardamom. Dahi Vada is another snack prepared for the festival with yoghurt and fried lentil balls. This originates from Karnataka in India.
In the same way there are many ways to celebrate Holi, there are also many ways to wish your loved ones the best for the festival. So, how can you wish someone the best this Holi? Here's everything you need to know about the festival of colour?
When is Holi?
Rangwali Holi falls on March 8, 2023.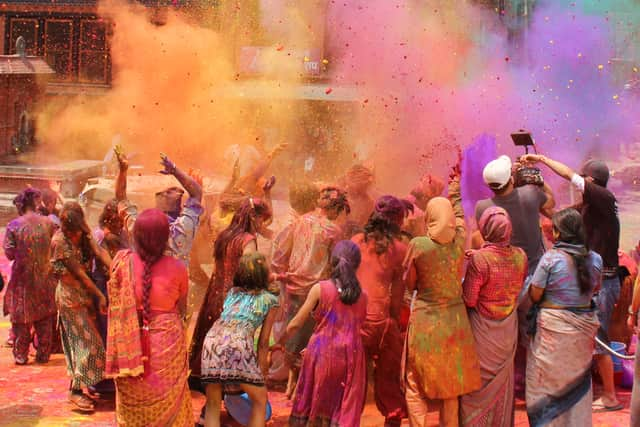 How to wish someone a Happy Holi
May you have the most blessed Holi festival than you ever had.
"Happy Holi! May your life be filled with colours and joy."
May God bless you with joy and prosperity on this auspicious day. Wishing you and your loved ones a very colourful Holi.
Have a great time with colours on Holi and the rest of the days filled with love. Holi greetings!
May the spirit of Holi bring you happiness. The warmth of Holi brings you joy, and the joy of Holi brings you hope. I wish you a joyous Holi!
Wishing you a Holi filled with colourful moments and sweet memories. Have a great day and year.
Let the colours of Holi in the air spread messages of peace, oneness and happiness. Happy Holi!
May the myriad colours of Holi bring you closer to those you love. Happy Holi!
Let this festival remind you of the divine and eternal love that Krishna and Radha shared. Let them be your guiding lights. Happy Holi.
May the festival of Holi bring you and your loved ones endless joy and prosperity.
Comments
 0 comments
Want to join the conversation? Please or to comment on this article.