Hocus Pocus 3 in development following success of Disney+ sequel starring Bette Midler
Gather round! The Sanderson sisters are set to return for Hocus Pocus 3 which has been confirmed as in development.
30 years after the release of the first instalment, Hocus Pocus 3 is officially in development. That's right, the Sanderson sisters are set to return and cause more wicked chaos with yet another sequel.
It's been reported that Disney+ is now developing the follow up and it will star Bette Midler, Kathy Majimy and Sarah Jessica Parker, despite the Hocus Pocus 2 ending. President of Walt Disney Studios Motion Picture Production, Sean Bailey, confirmed the news in an interview with The New York Times.
The news comes after Hocus Pocus 2 was a hit for streamers and set a new record with 2.7 billion minutes of viewing around the world. The news may come as a surprise, as spoiler alert, it seemed like the Sanderson sisters met their demise at the end of the second instalment of the franchise.
Hocus Pocus was first released in 1993 and directed by Kenny Ortega from a screenplay by Mick Garris and Neil Cuthbert and a story by David Kirschner and Garris. The film follows a trio of witches who are accidentally resurrected by a teenage boy on Halloween night.
Bette Midler opened up about possibly starring in a third film while promoting the sequel for Disney+. Midler told EW last year: "I don't know. I'm envious of other actors who have franchises, and I was hoping for a sequel to First Wives Club, but we never got that. After 30 years with no sequel to Hocus Pocus, I've always been envious of people who get to do their favourite character more than once.
"The fact that we got to do this finally, after 30 years of promoting the idea, I'm glad we got to do it. I'd love to have a franchise — especially a character I love playing."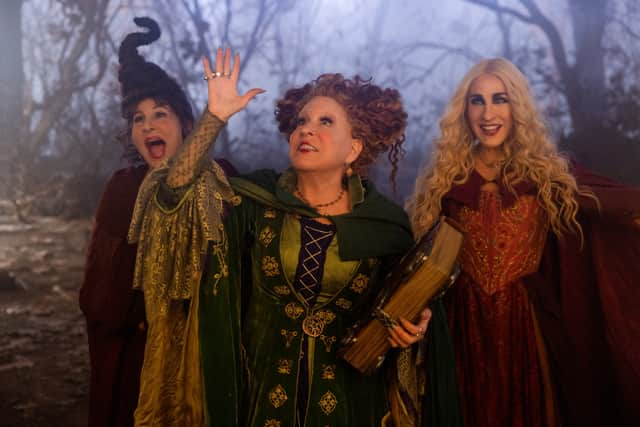 Midler added: "If there was a third one, of course I'd sign on, but I don't know how. I can't imagine what the story would be, but I love Winifred, Sarah, Mary, and our relationship. It's good for women. We stick together through hell and high water, but we do cause mayhem, and not many women cause that much mayhem!"
Comments
 0 comments
Want to join the conversation? Please or to comment on this article.