Gwyneth Paltrow ski crash trial: Why Hollywood actress is being sued and testimony as actress takes stand
Actress Gwyneth Paltow took to the stand to testify in a trial over Utah ski incident.
Gwyneth Paltrow has taken to the stand over a ski crash that took place in Utah back in 2016. The actress is being sued for $300,000 by Terry Sanderson, a retired optometrist who claims the star's recklessness caused the ski incident and left him with physical injuries.
The 76-year-old claims the crash has significantly affected his life and relationships. Ms Paltrow testified on March 24 in Utah, Mr Sanderson crashed into her slowly as she was making her way down the slopes.
Ms Paltrow said: "I was skiing and two skis came between my skis, forcing my legs apart and then there was a body pressing against me and there was a very strange grunting noise.
"My brain was trying to make sense of what was happening. I thought, 'Is this a practical joke? Is someone doing something perverted? This is really really strange."
However, Mr Sanderson and his legal team have offered a different narrative, claiming the award-winning actress "skied out of control", crashing into him on a beginner run "knocking him down hard, knocking him out, and causing a brain injury, four broken ribs and other serious injuries".
The actress denied she engaged in "risky behaviour" on the ski run. She added she skied as she normally would even though her children were present that day.
She testified: "I wouldn't engage with risky behaviour, with or without my children there." According to Ms Paltrow, Mr Sanderson skied directly into her, causing a fall.
Ms Paltrow said in court: "I said, 'You skied directly into my effing back and he said, 'Oh sorry, sorry, I'm sorry."
The actress then added she was yelling at the 76-year-old, stating she was "pretty upset". Ms Paltrow's behaviour following the crash then became the subject of a number of questions by Mr Sanderson's attorneys,  who asked why she would yell at the 76-year-old if she wanted to maintain a "low profile".
She responded: "I felt violated. I was upset. I was worried about my knee,"
"It felt violating to have somebody press their body against my back and I'm sorry I cursed."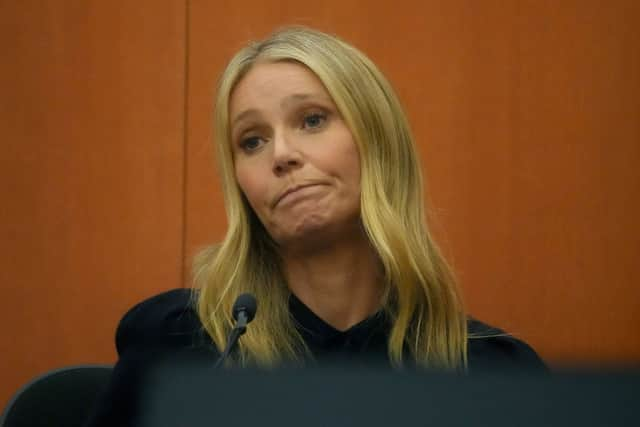 When asked about whether she inquired about any of the injuries sustained by Sanderson as a result of the accident, Ms Paltrow said: "I think you have to keep in mind, when you're the victim of a crash … your psychology is not necessarily thinking about the person who perpetrated it."
She then added she thought Sanderson's injuries were "very minor on the day".  The actress later contested testimony from one of Mr Sanderson's acquaintances, Greg Ramone, who claims to have seen Ms Paltrow crash into Mr Sanderson on the slopes.
"I don't know if he knows he's lying but I'm telling you what he said is unfortunately not the truth," she said.
So far, the proceedings have delved into Mr Sanderson's medical history as attorneys questioned whether his deteriorating health and relationships stemmed from the crash or the natural ageing process. The trial has also touched on skier's etiquette and what life is like as a celebrity.
While Mr Sanderson is seeking "more than $300,000 in damages", Ms Paltrow has countersued for $1 and attorney fees. The trial will resume on Monday, March 27, as Mr Sanderson takes to the stand.
Ms Paltrow's attorneys are also expected to call medical experts, ski instructors and her two children, Moses and Apple, to the stand.
Comments
 0 comments
Want to join the conversation? Please or to comment on this article.