Greggs launches 4 new menu items for Autumn 2023 - full list including chain's first Iced Pumpkin Spice Latte
Greggs has launched four new items for Autumn 2023 including, for the first time ever, an "iced" version of its Pumpkin Spice Latte
Greggs has launched three new menu items as Autumn 2023 approaches - including the return of its Pumpkin Spice Latte. The autumnal favourite hit stores nationwide on Thursday (August 24) - earlier than ever before.
The popular drink is made with a blend of freshly ground coffee, pumpkin spice flavour syrup and steamed milk, all topped with cream and a sprinkle of spiced sugar. And now for the first time, Greggs fans can also get their hands on the famed Pumpkin Spice Latte in an "iced" option - but only in a limited number of shops.
With temperatures having hit the mid-twenties in some parts of the UK this week, the iced alternative is the "perfect refreshing drink to help customers stay cool while also getting a hit of their favourite autumn flavours". The bakery chain has also revealed it will be adding two brand-new items to its autumn hot drinks menu this week - the Hazelnut Mocha and the Hazelnut Hot Chocolate, both available in all shops from £2.40.
The pair are both made with an addition of hazelnut flavoured syrup and finished with a dashing of chocolate powder on top. Here's the full list of new items that are available on the menu at Greggs.
Full list of new menu items at Greggs
Pumpkin Spice Latte - from £2.40
Iced Pumpkin Spice Latte (available in a limited number of Greggs stores) - from £2.40
Hazelnut Mocha - from £2.40
Hazelnut Hot Chocolate - from £2.40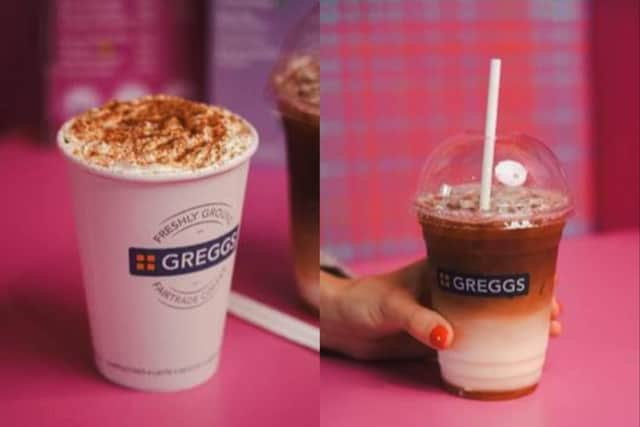 Where can I get an Iced Pumpkin Spiced Latte from Greggs?
Only a limited number of Greggs stores are offering an iced version of the chain's Pumpkin Spice Latte. These are:
Wigston, 29 Leicester Road
Worksop, 10 Bridge Street
Paddington, 10 Praed Street
London, U26 Liverpool Station
London, Canary Wharf Shopping Plaza
Newcastle, Unit 8 Eldon Square
Newcastle, Northumberland Street
Durham, Bowburn Drive Thru
Leeds, Unit C Bond Street
Liverpool, U14 Central Station
Birmingham, 41 High Street
Birmingham, U6 Cherry Street
Birmingham, U9B3 The Fort Shopping Park
Birmingham Airport
Gatwick Airport
Wednesbury, U2A1 Gallagher Shopping Park
Bristol, 87 Broadmead
Greggs @ Primark Oxford Street East, London
Greggs @ Primark Northumberland Street, Newcastle
Greggs @ Primark Bullring, Birmingham
Greggs @ Primark Bristol
Greggs @ Primark Liverpool
Greggs @ Primark, Leeds Trinity Centre
Comments
 0 comments
Want to join the conversation? Please or to comment on this article.