Great British Bake Off winner's top cleaning hacks including homemade washing detergent that costs 1p per load
Former Great British Bake-Off winner turned eco-friendly cleaning guru, Nancy Birtwhistle, has revealed her top cleaning hacks to help Brits save money
Nancy Birthwhistle, who won the fifth series of the baking show, has teamed up with Specsavers Home Visits to reveal her top cleaning hacks to help households save the pennies. From homemade washing detergent that costs just 1p per load, to giving your tea mugs a new lease of life and shifting stubborn pen marks on clothing, the hacks show people that you don't need to splash the cash for a clean, sparkly home.
The cleaning hack series forms part of the Specsavers Home Visits #GenerationWOW campaign, which shines a light on the wonderful wisdom that older people have to share with the younger generation. Commenting on the tips, Nancy said: "Doing these hacks is just about going back to basics, I remember my grandmother applying some of these methods and they're still as good today!"
Here's a list of Nancy's top cleaning hacks. Make sure to follow all the steps to get your home glistening without breaking the bank.
Nancy's Pennywise washing detergent
This easy method to make your own washing detergent will make you one litre of washing detergent and costs the equivalent of just 1p a load. Nancy pops this straight in with her washing and claims that it works at any temperature.
30g washing soda
Bar of soap
1tsp washing up liquid
Scented essential oil (optional)
Soap or food colouring (optional)
Blender or whisk
250ml boiling water 
Jug
Knife
Chopping board
Chop the bar of soap up finely and put it in a blender to grind into powder
Put the ground soap into a one litre jug and add 250ml boiling water and 30g washing soda
Grind the mixture with stick blender/ whisk until smooth
Add lavender essential oil to perfume detergent (optional)
Add soap or food colouring to add tint (optional)
Add a teaspoon of eco-friendly washing up liquid to emulsify
Add boiling water until you get the consistency desired, mix until thickened 
Leave for two hours
Add to litre bottle
Cleaning your washing machine
Nancy's second handy hack will help destroy mould spores, detergent build up and limescale that are all too often lurking in the detergent drawer. The result will be a sparkling clean detergent draw, free from unwanted smells.
White vinegar
Old toothbrush
Use an old toothbrush to loosen mould in washing machine tray
Scrub thoroughly with white vinegar
Rinse in sink
Getting rid of pen marks
Nancy says "this little hack will make a big difference to your life". If you put a shirt into the washer and pen marks don't come out, it could be ruined for good.
But with this easy pre-wash trick, you'll be sorted. Bonus hack: you can also use rubbing alcohol to remove makeup stains from a coat collar.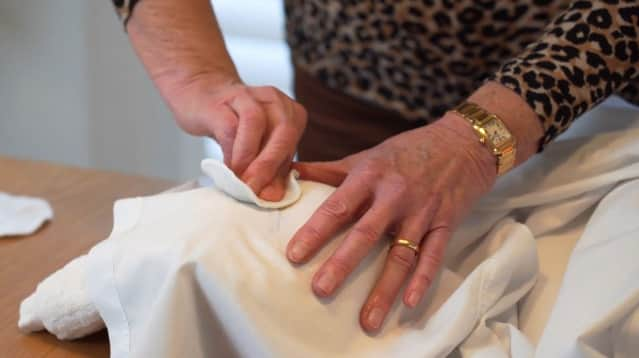 Small mixing bowl
Old towel or mixing cloth
Cotton pad 
Surgical spirit (rubbing alcohol or vodka is fine)
Upturn a bowl (to create a surface) and place a towel over it
Place ink-stained part of the shirt over the towel
Add your spirit to a cotton pad and dab over the shirt gently but thoroughly
Frequently swap pads in order to keep stain from moving to other parts of shirt
Tackling tough tea stains
There's nothing like a brew from your favourite mug, but has your noble chalice seen better days? If you're in need of giving your favourite china a new lease of life, you can restore it to its former glory with this quick hack.
Bicarbonate soda
Hot soapy water
Exfoliating glove/ pan sponge 
Cold water to rinse
Wet the inside of the mug
Add a teaspoon of bicarbonate soda into the damp mug and shake thoroughly so it sticks to the tea stains inside your mug
Once the mug is coated, dampen an exfoliating glove and clean the inside of the mug 
Rinse in hot soapy water
Leave to dry
Specsavers Home Visits offer comprehensive free eye tests in the home and in care homes for people who qualify for an NHS-funded eye test and are unable to leave their home unaccompanied due to a physical or mental illness or disability. For more information including more tips, tricks and tutorials, visit Specsavers Generation Wow.
Comments
 0 comments
Want to join the conversation? Please or to comment on this article.