Summer Game Fest: What was announced during showcase event including release date for Final Fantasy VII part 2
The first showcase event in the Summer Game Fest has wrapped with some big announcements - including the release date for Final Fantasy VII part 2
Summer Game Fest 2023 has officially begun, with the first showcase event being hosted by Geoff Keighley last night. The Summer Game Fest event kicked off the beginning of a week packed full of announcements across the gaming industry.
There's still a full schedule across the weekend including the Xbox Showcase, Capcom Showcase and Ubisoft Forward. The show was highlighted by some big announcements including the release date of Final Fantasy VII Rebirth, the second part to the remastered game, alongside some new gameplay for a new Sonic the Hedgehog game and Prince of Persia.
The two hour show was packed full with a variety of announcements, new gameplay footage and some interviews with both celebrity voice actors, including Nicolas Cage who is set debut in Dead by Daylight next month, as well as interviews with big developers, including the team behind Spider-Man 2.
During the showcase host Geoff Keighley also announced the Annapurna Showcase which will be broadcast live on June 29 with a little teaser trailer that hinted at a second edition to popular PS5 game Stray. In case you missed it you can still catch-up with Summer Game Fest on YouTube.
Here's a rundown of everything announced during the Summer Game Fest 2023 showcase:
What was announced at Summer Game Fest
Final Fantasy VII Rebirth
PlayStation exclusive - Early 2024
Final Fantasy VII fans finally got a look at the second instalment of Square Enix's remaster, Final Fantasy VII Rebirth. Cloud, Aerith and the rest of the team were seen riding Chocobo's through the expansive world outside of Midgar.
The team were seen exploring the lands as they discussed the inevitable return of antagonist Sephiroth. The team at Square Enix have been teasing a potential release date for the game and despite speculation that they would wait until the release of Final Fantasy XVI, an early 2024 release date was given for the game.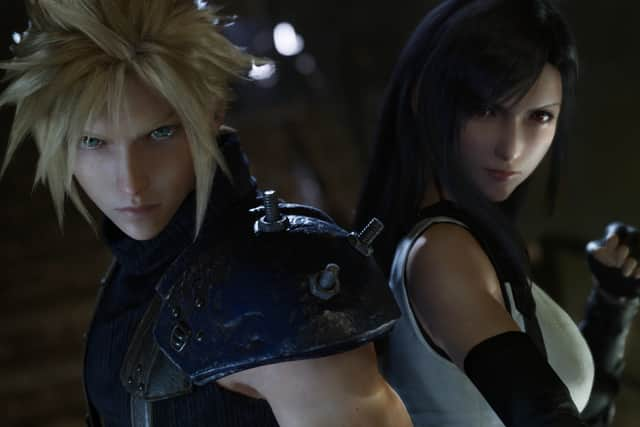 Spider-Man 2
PlayStation Exclusive - October 20, 2023
Just weeks after the Sony PlayStation showcase, which left fans disappointed, Summer Game Fest revealed the release date for the highly anticipated Spider-Man 2. The release date for the next game in the series was officially announced as October 20.
The box art for the game was also revealed, showing Peter Parker and Miles Morales swinging into action. New game artwork was also shown, including a sneak peak at Venom, although it was revealed that the game would be moving beyond the comic books and movies and Eddie Brock would not be inside the suit.
Sonic Superstars
Sega has revealed its latest game in the Sonic the Hedgehog series with Sonic Superstars. The game will come with four player co-op mode, with players being able to choose from Sonic, Tales, Knuckles and Amy Rose.
The game is a sidescroller and moves between 2D and 3D art styles, with the 3D version similar to Classic Sonic's appearance in Sonic Generations and Sonic Forces. The game has come with an expected release date of Fall 2023.
Mortal Kombat
A new gameplay trailer for Mortal Kombat 1 was shown as one of the first announcements during Summer Game Fest and will be the next entry in the long-running series. Fans were shown a new assist mechanic in action, where fighters will be able to call for help from a second character mid-battle.
A couple of new fatalities were shown, including someone's rib cage being broken, a heart being ripped out of a chest and a broken skull. Fans will be delighted to see that the game is sticking to the series roots with some great action gameplay.
Prince of Persia: The Lost Crown
Summer Game Fest kicked off with the announcement of a new Prince of Persia game that is set to release next year. Prince of Persia: The Lost Crown will be coming to all platforms including last gen PlayStation and Xbox at the beginning of next year.
Here's everything else that was shown during Summer Game Fest 2023:
Fortnite Wilds update - due June 9, 2023
King Arthur Legends Rise - out now
Fortnite - unreal editor - out now
Final Fantasy 7 Ever Crisis mobile game - in beta starting June 9, 2023
Marvel Snap - new competitive mode - June 13, 2023
Black Desert online expansion - June 14, 2023
Call of Duty: Modern Warfare 2 - new season trailer - June 14, 2023
Star Trek Infinite - More news due June 16, 2023
Crash Team Rumble - June 20, 2023
Immortals of Aveum - extended gameplay trailer - July 20, 2023
Dead by Daylight - Nicolas Cage gameplay - July 25, 2023
Remnant II - July 25, 2023
Twisted Metal - new TV series - July 27, 2023
Path of Exile 2 - Find out more July 28, 2023
Under the Waves - August 29, 2023
Baldur's Gate 3 - Jason Isaacs introduced as new character - August 31, 2023
Crossfire VR - August 2023
Wayfinder - this summer
Faefarm - September 8, 2023
Lies of P - September 19, 2023
Party Animals - September 20, 2023
Witchfire - early access release - September 20, 2023
Alan Wake II - Gameplay reveal - October 17, 2023
Like a Dragon: Gaiden - November 9, 2023
The Lord of the Rings: Return to Moria - Fall 2023
Street Fighter 6 & Exoprimal crossover - Fall 2023
Warhaven - Fall 2023
Warhammer 40k: Space Marine 2 - new co-op mode - Winter 2023
Honkai Star Rail - Winter 2023
Lysfanga: The Time-Shift Warrior - 2023
Banishers: Ghosts of New Eden - End of 2023
Palworld - January 2024
Yes, Your Grace: Snowfall - 2024
John Carpenter's Toxic Commando - 2024
Sandland - no release date 
The Witcher season 3 trailer - no release date
Throne and Liberty - no release date
Sandland - no release date
Stellaris Nexus - no release date
Space Trash Scavenger - no release date
Comments
 0 comments
Want to join the conversation? Please or to comment on this article.