Fruit and vegetable shortage: The UK cities most affected as supermarkets limit food sales
Fruit and vegetable shortages are currently gripping the UK, with one city particularly badly hit as more than 60% of its supermarkets are affected.
This week, supermarkets across the country have announced restrictions on tomatoes, peppers and other fresh produce as a food shortage grips the UK. Bradford is being hit harder than any other English city by food restrictions, according to a new study by online supermarket Britsuperstore.
The study, which ranked cities based on the number of different supermarkets, found that 62% of chain supermarkets in Bradford had placed restrictions on fresh produce. According to the research, Bradford is home to six ASDA stores, eleven Tesco stores, seven Morrison stores and four Aldi stores.
These stores have introduced restrictions on tomatoes, lettuce, raspberries and other fresh produce. 37.8% of large supermarket chain stores in Bradford, meanwhile, have not yet introduced restrictions.
These include Sainsbury's, Lidl and Marks and Spencer. Birmingham, Liverpool and Wakefield are also among the hardest hit by supermarket restrictions. Chichester, meanwhile, ranked as the city least affected by restrictions on fresh produce, with only 16.7% of stores affected.
The shortage is only expected to last a few weeks, but it's a frustrating time for shoppers greeted by empty shelves in scenes reminiscent of the pandemic. Here are the cities most affected by the current food shortages.
Cities most affected by the fruit and vegetable shortage
Bradford: 62.2% of supermarkets affected by restrictions 
Birmingham: 57.9%  of supermarkets affected by restrictions 
Liverpool: 57.7% of supermarkets affected by restrictions 
Wakefield: 57.7% of supermarkets affected by restrictions 
Hull: 54% of supermarkets affected by restrictions
Which supermarkets are currently limiting fruit and vegetable sales due to the shortages?
The following UK supermarkets are currently limiting sales of certain fruits and vegetables due to the shortages:
Other major UK supermarkets have also been hit by the shortages but have not yet introduced limits for customers.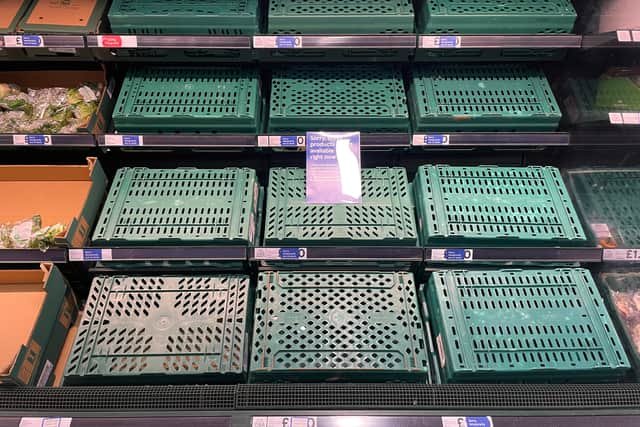 Which fruit and vegetables are currently running low?
Caps have been introduced on the following items across supermarkets:
Tomatoes
Peppers
Cucumbers 
Lettuce 
Salad bags 
Broccoli 
Cauliflowers
Raspberries
Aldi and Tesco have said they are putting limits of three per customer on sales of tomatoes, peppers and cucumbers. Asda has capped sales of lettuce, salad bags, broccoli, cauliflowers and raspberry punnets to three per customer, along with tomatoes, peppers and cucumbers.
Morrisons has set limits of two on cucumbers, tomatoes, lettuce and peppers. Tomatoes and peppers seem to be the worst affected but it's unclear whether that's just because they are popular items.
What's the reason behind the current fruit and vegetable shortage?
There are a number of contributing factors behind the current fruit and vegetable shortage, but bad weather in Europe and Africa is largely to blame, as is the high cost of electricity in the UK and the Netherlands where some of our produce is grown.
"During winter, we import an estimated 90% of lettuces and 95% of tomatoes. Much of our imported produce comes from Spain and North Africa," said Richard Price, director of Britsuperstore. "Morocco is currently being impacted by flooding, with storms exacerbating the issue and leading to the cancellation of ferries. In Spain, meanwhile, the weather is unusually cold."
Comments
 0 comments
Want to join the conversation? Please or to comment on this article.