Eurovision Song Contest 2023: Grand final running order including when UK's Mae Muller will perform
The highly anticipated Eurovision grand final will take place this weekend - but when will UK act Mae Muller perform?
The Eurovision Song Contest has begun and fans of the competition are eagerly awaiting the grand final following this week's semi-finals. The grand final will take place at the city's M&S Bank Arena on May 13, with the UK's Mae Muller striving to win the competition.
The UK was awarded hosting rights despite not winning last year's competition, with Sam Ryder's 'Space Man' finishing a close second to Ukraine's Kalush Orchestra. But due to Russia's invasion of the country, the honour had to be passed on.
Prior to their Eurovision success last year, the UK hadn't had much luck when it came to being in the top five of the competition. The last time the UK won the singing competition was back in 1997 with Katrina and the Waves' song "Love Shine a Light".
UK entrant Muller will perform her tune 'I Wrote A Song' as part of her Eurovision performance. The London-born singer said ahead of her performance: "I'm so excited to participate in Eurovision this year and represent the UK! I've loved watching Eurovision all my life, so to compete in such a massive music competition is simply brilliant. I'm a huge fan of so many of the artists that have found success at Eurovision, from ABBA to Måneskin!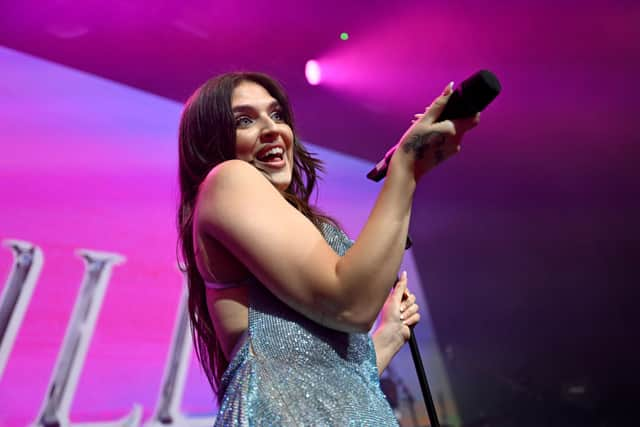 "Sam Ryder was so amazing last year and proved the UK can be back on the left-hand side of the leaderboard! I wrote the song 'I Wrote A Song' a few months ago when I was going through a hard time and wanted to feel empowered about relationships, so for it to be chosen for this year's UK Eurovision song is honestly a dream!"
Eurovision grand final running order
Here's a full list of the acts who have made it through to the Eurovision Grand Final, in the running order they will perform in:
Austria | Teya & Salena - Who The Hell Is Edgar?
 Portugal | Mimicat - Ai Coração
Switzerland: Remo Forrer - Watergun
Poland: Blanka - Solo
Serbia: Luke Black - Samo Mi Se Spava
France: La Zarra - Évidemment
Cyprus: Andrew Lambrou - Break A Broken Heart
Spain: Blanca Paloma - Eaea
Sweden: Loreen - Tattoo
Albania: Albina & Familja Kelmendi - Duje
Italy: Marco Mengoni - Due Vite
Estonia: Alika - Bridges
Finland: Käärijä - Cha Cha Cha
Czechia: Vesna - My Sister's Crown
Australia: Voyager - Promise
Belgium: Gustaph - Because Of You
Armenia: Brunette - Future Lover
Moldova: Pasha Parfeni - Soarele şi Luna
Ukraine:TVORCHI - Heart of Steel
Norway: Alessandra - Queen of Kings
Germany: Lord of the Lost - Blood & Glitter
Lithuania: Monika Linkytė - Stay
Israel: Noa Kirel - Unicorn
Slovenia: Joker Out - Carpe Diem
 Croatia: Let 3 - Mama ŠČ!
 United Kingdom: Mae Muller -  I Wrote A Song
Comments
 0 comments
Want to join the conversation? Please or to comment on this article.