Dawn French's dramatic weight loss journey: The health scare leading to Vicar of Dibley star losing 7.5 stone
Comedian Dawn French has shown off her incredible weight loss journey after losing 7.5 stone following a health scare.
Comedian Dawn French has opened up about her incredible weight loss journey after losing 7.5 stone. The Vicar of Dibley star was inspired to lose weight after going through a cancer scare in 2011.
Warned by doctors she needed to lose weight in order to have the operation with minimal recovery time, the comedian decided it was time to make changes. The 65 year-old showed off her dramatic weight loss as she appeared on the red carpet for the premiere of Oklahoma on the West End, on Tuesday (February 28). The show is running at London's Wyndham Theatre until September.
Opening up about her weight loss in 2014, Dawn French explained: "I became quite ill about three years ago, with all kinds of hell kicking off in here, where I keep my lady plumbing. I eventually went to hospital, and my doc was so convinced I had uterine cancer, that he ordered a second biopsy to be sure, when the first one was clear.
"Even before the result of the second one, I decided to be done with my old enemy, my defunct reproductive stuff. It was curtailing my life. So, my womb and I parted company. Goodbye. When I was due to have my hysterectomy, the doc told me that if I could lose some weight before the op, they would be able to do it via 'key-hole', and I would recover in three weeks or so. Otherwise it would be big open surgery, and three months to recover. So, I set about dropping a few stone."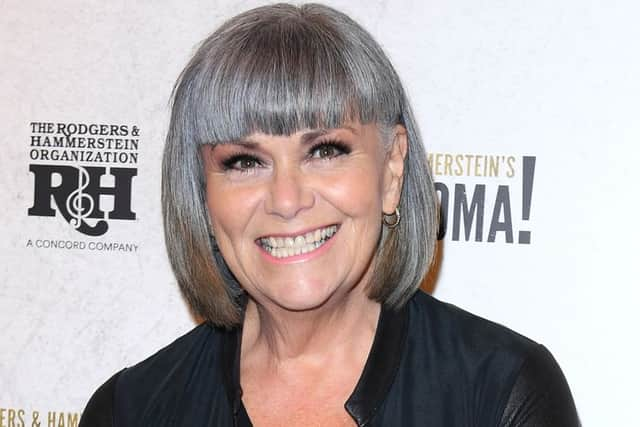 Dawn French is best known for her role as Geraldine Granger in BBC sitcom The Vicar of Dibley as well as writing and starring in sketch show French and Saunders. The comedian is currently touring the UK with her show 'Dawn French is a huge tw*t.'
Comments
 0 comments
Want to join the conversation? Please or to comment on this article.