Captain America 4 retitled 'Brave New World' - Marvel shows Anthony Mackie and Harrison Ford on set
Filming for Captain America 4 starring Anthony Mackie and Harrison Ford is well underway - and it has a new title
Marvel Studios has given fans a highly-anticipated first look at Anthony Mackie and Harrison Ford on set of Captain America 4. The studio also revealed that the project now has a new name.
Originally titled "Captain America: New World Order", the film is now titled "Captain America: Brave New World". The studio confirmed the news on social media alongside a photo of Mackie, in full uniform, and Ford on set. As well as confirming the name change, the caption confirmed that the film's release date was still May 3, 2024. This comes after Marvel has halted and delayed a number of their projects.
Mackie will star in the title role making his debut on the big screen as Captain America. The actor entered the Marvel Cinematic Universe as the character of Falcon, for which he became a fan favourite. However, he picked up the Captain America shield and stepped into the role in the Disney+ series "The Falcon and the Winter Soldier".
Mackie is taking over the role from Chris Evans who originated the role for the MCU, but departed in Avengers: Endgame which gave his character Steve Rogers a great send off.
Harrison Ford made his MCU debut as Thaddeus "Thunderbolt" Ross, who was previously played by William Hurt before his death. Ross is now President of the United States in 'Brave New World'. It's been reported that Liv Tyler and Tim Blake Nelson also star, reprising their roles of Betty Ross and Samuel Sterns from "The Incredible Hulk."
"Captain America: Brave New World" is directed by Julius Onah ("The Cloverfield Paradox," "Luce") and co-written by Malcolm Spellman, who was the creator of "The Falcon and the Winter Soldier."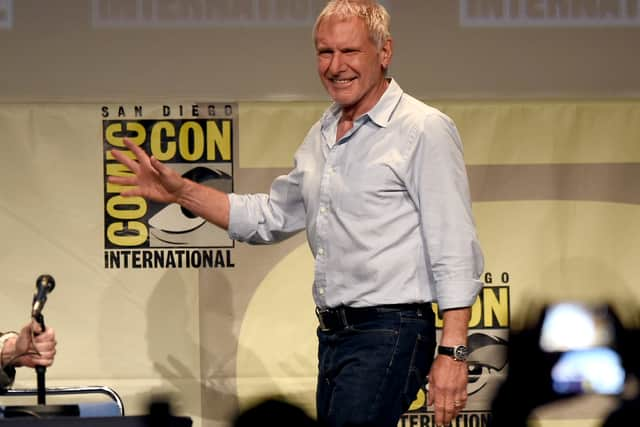 In an interview with Esquire Magazine, Ford was asked if he was having a good time and responded: "Uh, yeah. I mean, there are tough days and easy days and fun days and all kinds of days. It's a tough schedule and, yeah, it's fun. But it's not a walk in the park. It's not fun fun. It's work."
Comments
 0 comments
Want to join the conversation? Please or to comment on this article.