British Bake Off's Karen Wright talks about her love of Christmas pudding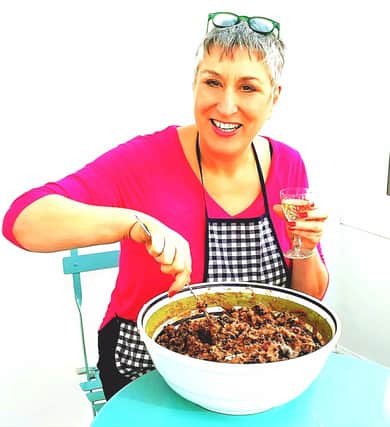 Who likes Christmas pudding? I love it, I especially love all the traditions that I associate with it.
The flaming of the brandy as it is brought to the table, the little sprig of holly that decorates it and when I was a child it was exciting because there were coins hidden in the mix, would you be lucky and find one?
I think these days we don't hide coins in our puddings any more for various health and safety reasons, like them being a choking hazard.
If you make your own pudding you need to get all the ingredients ready as it is "Stir up Sunday" this week on November 21.
Stir up Sunday always takes place on the last Sunday before the Christian season of Advent gets underway.
It is a festive tradition that started in Victorian times when whole families would get together in the kitchen to mix up and then steam their puddings.
The tradition is full of religious significance too, a traditional pudding has thirteen ingredients to represent Jesus and the twelve disciples. Each member of the family gives the pudding a stir, from East to West, which represents the three Kings journey to Bethlehem, as they stirred, they made a wish, which was of course the fun part!
The ingredients are generally a mixture of dried fruits, some chopped nuts, dark brown sugar, butter, an apple, orange juice and zest, some brandy, breadcrumbs, mixed spice, flour and a couple of eggs to bind the mixture together.
There are lots of recipes on the internet to choose from or of course you can buy one there is a great selection available in the shops.
Next Tuesday evening it is the final of this year's Great British Bake Off. I was a contestant on the show in 2018 and I had the time of my life.
This year I have been writing a blog each week for "The Ridings". I can't believe the ten weeks has flown so fast. Who will be crowned winner of the 2021 series, it's too close to call and for Bake Off fans it is very exciting indeed, Tuesday Channel 4 at 8pm!
I will be chatting on BBC Radio Leeds on Sunday lunchtime at around 12.15pm so tune in and see what the subject is this time, it could be Christmas pudding it could be pies, see you there!