Barbie Movie starring Margot Robbie drops full cast list including Helen Mirren - release date
The latest Barbie trailer has everything from 'Barbieland' to Margot Robbie's feet - yes, you read that right.
A brand new teaser trailer and the full cast for Greta Gerwig's Barbie Movie debuted this week, and the internet can't handle it. From Ryan Gosling's comedic genius shining through to Margot Robbie's Barbie pointed feet, fans are more excited than ever to see the film.
Over the past 21 years Barbie has released an array of iconic movies, but now fans are finally getting a live-action adaptation and it is coming to the big screen this summer.
The film has been in the works for a while, with Little Women's Greta Gerwig at the helm, fans' hopes were higher than ever. That was, until Warner Bros dropped the official cast list and it is star studded to say the least.
Margot Robbie and Ryan Gosling star as Barbie and Ken but, as had been confirmed, the latest trailer is filled with Barbie and Ken variants that are set to flood the big screen. From Issa Rae as President Barbie and Ritu Arya as journalist Barbie there are an array of Barbies on the way.
There's no doubt that you have seen a list, or a timeline full of customised Barbie character posters with the tagline "This Barbie is…" confirming the type of Barbie each cast member will play.
Each cast member has their very own Barbie character poster with their own tagline describing the type of barbie they are, much like the boxes for the popular dolls, and yes we absolutely want a Dua Lipa mermaid one. The drop sent the internet into a frenzy, with fans joining in on the fun and making their own posters with the official Warner Bros Barbie selfie generator.
However, one of the most surprising confirmations to come from the posters was that the one and only Helen Mirren will play the role of the narrator in this movie equipped with her own iconic poster.
So, who else is joining the Barbie movie cast? Keep reading because this Barbie…is going to tell you everything you need to know including the release date.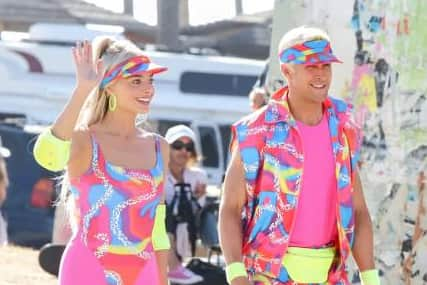 When is the Barbie movie out?
Barbie is set to hit cinemas on July 21, 2023.
Barbie movie 2023: full cast list
The full list of stars appearing in the upcoming movie is as follows:
Margot Robbie as Barbie
Ryan Gosling as Ken
Will Ferrell as the CEO of the toy company
Michael Cera as Allan
Emerald Fennell as Midge
Dua Lipa as Mermaid Barbie
Issa Rae as President Barbie
Jamie Demetriou as a toy company employee
Helen Mirren as the narrator
Connor Swindells as a toy company intern
Emma Mackey as physicist Barbie
Alexandra Shipp as writer Barbie
Kate McKinnon as gymnast Barbie
Ana Cruz Kayne as judge Barbie
Ritu Arya as journalist Barbie
Nicola Coughlan as diplomat Barbie
Hari Nef as doctor Barbie
Sharon Rooney as lawyer Barbie
Simu Liu as a different Ken
Scott Evans as a different Ken
Ncuti Gatwa as a different Ken
Kingsley Ben-Adir as a different Ken
John Cena as TBC
Marisa Abela as TBC
America Ferrera as TBC
Ariana Greenblatt as TBC
Rhea Perlman as TBC
Comments
 0 comments
Want to join the conversation? Please or to comment on this article.