Asda add more healthy food to Kids Eat for £1 cafe deal as research shows families worse off than in 2022
Asda has added healthier options to its in-store cafe children's meal deal ahead of the Easter school holidays
Asda has announced it is to add healthier options to its Kids Eat for £1 cafe meal deal. Also included in the menu shake-up are vegan options.
The supermarket is adding options which will provide a more nutritionally balanced offering. The new-look menu will be available at Asda cafes from March 20.
The deal will also be extended to include the Easter holiday period as it continues to help customers manage the cost-of-living crisis. The refreshed menu will see the addition of two new hot meals - Penne Pasta with Meatballs and a vegan Hidden Veg pasta meal.
The supermarket launched the offer for kids under 16 to enjoy a hot meal in any of their 205 cafes in June 2022 and has now served a staggering 1,300,000 million meals to kids from its cafes nationwide.
As an alternative to a hot meal, Asda Café's also offer a £1 cold pick and mix selection that includes a sandwich, drink and piece of fruit, the refreshed menu now includes new treats such as a jelly pot with whole fruit pieces or a jelly squeeze pouch as an alternative to a pack of crisps. The retailer is also including a free piece of fruit such as an apple, pear or banana when purchasing the hot kids £1 meal deal.
The existing hot meals on the menu will also have the option of swapping out chips with a salad or peas. The new deal and extension of the deal comes following new data from as the supermarkets Income Tracker revealed that families are worse off than in 2022.
The tracker shows that UK households were £91 a month worse off this January compared to January 2022, with the average family spending power at just £215 per week.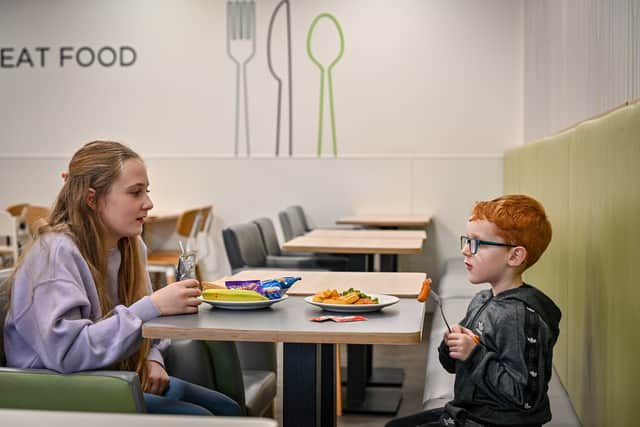 Kris Comerford, Asda's chief commercial officer said: "We know when families are preparing for the school holidays it can often mean an additional strain on household budgets. Our kids £1 café meal deals continue to provide a lifeline to families as we've served over 1,300,000 million meals since the launch. We hope by offering a new refreshed, great tasting and affordable and healthier balanced £1 kids' menu and the addition of a free piece of fruit it will help support many more families in the coming weeks."
Comments
 0 comments
Want to join the conversation? Please or to comment on this article.