Aldi launches new award-winning summer wine range with 95% of bottles under £10- how to buy
Aldi's hotly anticipated spring/summer wine range has arrived, and most of them are under £10
Spring is here, summer is coming and Aldi has launched the perfect wine collection to accompany any seasonal evening. The collection is made up of 120 wines, and that's not even the best bit, 95% of them are under £10. Almost a quarter of the collection is under £5, it just keeps getting better for wine enthusiasts.
The launch comes as Aldi's range of homegrown wines have beaten premium retailers and brands such as Waitrose, M&S and Simpsons which are 70% more expensive in the Which? English Wine Taste Test. Aldi's Winemaster's Lot English Sparkling (£19.99, 75cl) and Specially Selected English Bacchus (£9.99, 75cl) beat wines from Chapel Down, Hattingley and Nyetimber to be awarded Best Buy and Great Value accolades.
Julie Ashfield, managing director of buying at Aldi UK, says: "Aldi is growing rapidly and outperforming competitors like never before, and much of this is thanks to our successful wine ranges. The new seasonal range includes some of the best value alternatives to popular styles and flavours available at the moment. And we've included plenty of accessible price points for shoppers that will allow them to enjoy amazing wine in the sun without having to worry about the cost."
Wine expert and the face of Aldi's Wine School, Sam Caporn,added: "Aldi's new range is a treasure trove of affordable delights. From eclectic European finds such as the Baron Amarillo Monastrell Blanc de Noirs and to the New World with a stunning Riesling Blush and a smooth and soft Australian Malbec. These are all super quality wines typically costing a lot more than the prices you can expect to see on Aldi shelves this spring and summer. There really is something for every palate, purse, and occasion."
So, what are the top picks from Aldi's extensive line of spring and summer wines? Here's a full breakdown including the price of each one.
Aldi wine top picks
Contevedo Cava Rosado NV (£5.75, 75cl)
'An attractive salmon pink colour with gentle aromatics of raspberry and red cherry. The palate is lively and fresh with crunchy red fruits and an impressively long finish that reminds me of a cherry Danish pastry!'
Specially Selected Coteaux de Béziers Viognier Grenache 2022 (£6.99, 75cl)
'An attractive light gold colour with aromas of apricot blossom, banana, peach and jasmine. The palate is ripe, round and full with a pleasing texture and a long stone fruits length.'
Specially Selected Fleurs D'Eau NV (£7.99, 75cl)
'Attractive aromas of wild strawberry, raspberry, cherry, and watermelon greet your nose with this fabulous pink. The palate is pleasingly fruity but dry and fresh.'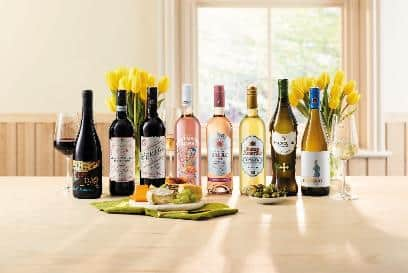 Specially Selected Adelaide Hills Sauvignon Blanc 2022 (£8.99, 75cl)
'A very pale colour with a youthful nose of pear, lemon sherbets, rhubarb and custard sweets. Dry, tangy and zesty with a herbal, green apple finish.'
Specially Selected Australian Malbec 2021 (£9.99, 75cl)
'A great depth of colour – young and dark – with plenty of plums, blueberries and chocolate on the nose and black cherries, currants, and black pepper on the palate. Full-bodied and packed full of flavour.'
Specially Selected Marlborough Riesling Blush 2022 (£9.99, 75cl)
'A pretty, pale pink with subtle notes of apples, limes, pear, orange and cranberry. The palate is tangy, dry and refreshing.'
'A deep, intense colour with suggestion of bottle age. The nose has red and black cherries, plums and some fairly tight tannins with a twist of cedary spice on the finish.'
Comments
 0 comments
Want to join the conversation? Please or to comment on this article.