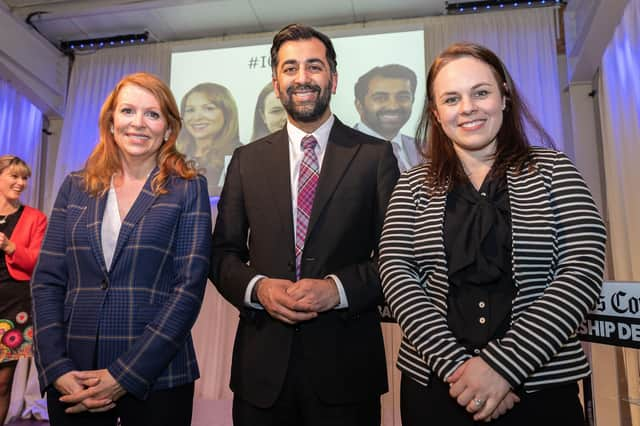 The SNP's problem is that the scales are now falling like autumn leaves from the eyes of the electorate. The vision of gleaming ferries plying the fair waters of the Minch is a far cry from the rusting reality. The "democratic election" asserted by Nicola Sturgeon and orchestrated by her husband more a tarnished "jewel" of rectitude, exemplified by one candidate reportedly seeking legal advice to challenge the electoral process.
The "Old Guard" Swinney, Robertson and Brown failing to throw their hats into the ring, aware that the faithful believers in the "Vision" will seek retribution from a leadership that led them down a road to nowhere.
Mr Yousaf is wrong, process is about delivering what people need to improve their condition. Visions are for prophets and cults.
Independence for Scotland was decided in 2014. It was a reasonable proposition then, it may be so again. The world was a very different place, eight years since have transformed political and strategic realities. SNP rhetoric over those years has not changed one iota to reflect those realities; Scotland has not been able to move on, we exist in a political Groundhog Day.
Visionaries, caught telling lies, shown to be incompetent. The impending and now inevitable SNP civil war and trashing of the "Ancien Regime" should clear the miasma over Holyrood to facilitate collaborative politics at Holyrood and more meaningful representation at Westminster.
Gavin Findlay, Boghead, Lanarkshire
Will Ms Forbes, Ms Regan and Mr Yousaf please tell me if you will honour the current SNP commitment against any new nuclear energy production in Scotland?
I am asking because Scotland is already paying a terrible price for being chosen as the UK "remote and expendable area" for experiments with nuclear technology and nuclear waste dumping.
In 1986, during the EDRP Public Inquiry in Caithness, the United Kingdom Atomic Energy Authority (UKAEA) was forced to release documents which showed that highly radioactive, potentially lethal fragments of nuclear spent fuel had been dumped on beaches and on the sea-bed at Dounreay.
These fragments were first discussed with shop stewards at Dounreay in 1983. At that first discussion the shop stewards were warned not to share the information "to avoid public panic". Most of the workforce at Dounreay were – in any case – bound by the Official Secrets Act. The public inquiry nevertheless encouraged some of these workers to share more information about appalling incidents within their community –caused directly by the nuclear industry.
Forty years later, those lethal fragments of nuclear spent fuel are still there: The Scottish Environmental Protection Agency has confirmed that they are irretrievable. The awful legacies of nuclear mistakes at Dounreay also include large tracts of land which will not be safe to use – in any way – for at least 300 years. Nuclear mistakes continue throughout the world to this day, including at Dounreay and at Windscale/ Sellafield.
It is important that your generation of political leaders is made aware of this awful history: it is now your responsibility to avoid such mistakes and to protect the well-being of Scotland's land, sea and people.
With its new policy of "Great British Nuclear", the Westminster Tory Government is defying the findings of a 1976 report on "Nuclear Power and the Environment" by the Royal Commission on Environmental Pollution. This report advised that no further development of nuclear power should be made until a safe method of nuclear waste storage was confirmed. No such method has been found.
More worryingly indeed, that same Westminster Government is currently attempting to evade international treaties which ban the dumping of nuclear waste in international waters by working towards a nuclear dump in the Irish Sea off Dumfries, Galloway and Cumbrian coasts.
Frances McKie, Evanton, Ross-shire
Last week, in a low-key move, the UK Government prevented the potential collapse of thousands of tech companies across the UK by engineering the takeover of the Silicon Valley Bank by HSBC. It was reminiscent of the actions of two Scottish politicians, Gordon Brown and Alastair Darling, in 2008 which saved the British banking system and led the global response to the financial crash.
HSBC was founded in Hong Kong in 1865 by 31-year-old Aberdonian Sir Thomas Sutherland, who also became the chairman of P&O and later a Liberal MP.
He's just one example of the thousands of Scots who took advantage of their education and strict upbringing to make their life across the UK and the world as a result of the 1707 Union, in the process cementing our great reputation.
Unfortunately nationalists airbrush out the Sutherlands, Livingstones, Graham Bells, Buchans, Logie Bairds and Carnegies, preferring to portray this period of our history by its racism and exploitatation. Instead, they celebrate Bruce, Bannockburn and Wallace or, these days, any mini-celeb who fits their bill such as Alan Cumming, Martin Compston and Val McDermott.
As the song says, when will we see their likes again?
Allan Sutherland, Stonehaven
Much newsprint has lately been given to the rights of football pundits to exercise their opinions, but what about the rights of others, including esteemed authors? From Dickens to Enid Blyton and Roald Dahl, original texts by past authors who can have no right of reply are being butchered by the woke diaspora.
From the BBC to London publishing houses altering classical texts, cultural vandalism is spreading apparently uncensured by those attempting to traduce an unsuspecting public into believing 'their truth'.
The warnings of George Orwell in his prescient book 1984 have now come to haunt us. Not only the cultural greats from the past, but the living, such as JK Rowling, are being pilloried for protesting at such distortions. Even Richard Dawkins, the great Oxford writer, has now been driven to have to defend the apparently undeniable science of biology.
What next? Is black now white, because we 'feel' it should be, because it is 'our truth?'
Ultimately, in a court of law, defendants might plead not guilty to fraudulent misdemeanours on the grounds of 'their truth' differing from the reality espoused by law enforcement. Are we now on the cusp of the age of anarchy?
Elizabeth Marshall, Edinburgh
"I'm going to bed and I don't know if I will wake up the next day." These are the words of a frightened Ukrainian woman frustrated with the repeated pounding of Russian missiles against civilians.
Using arms such as hypersonic missiles that travel faster than five times the speed sound as a terror weapon on innocent women and children or to cut their power should be formally declared as war crimes.
Now that Putin has been indicted for the forcible removal of up to 16,000 children from their families, 6,000 of which to what Yale University has described as Russian "re-education camps", we have to ask what has this megalomaniac got against innocent children, many permanently traumatised?
Putin's crimes and misdemeanours don't end with Ukraine. Russian state media recently declared food shortages here resulted in restaurants serving squirrel. State news announced "they are going to eat squirrels, but also send howitzers". It is Nazi-style propaganda trying to portray British citizens as destitute yet its government still sends arms to Ukraine.
As with Hitler, the only way to stop Putin is through strength and resolve. Let him be in no doubt that every time he abducts Ukrainian children, fires missiles on civilians or attempts to attack Europe's largest nuclear plant at Zaporizhzhia, it serves to increase the resolve of the West to support Ukraine and piles more pressure on Russia's allies such as China to disown Putin.
There are quite enough vulgarian drinking establishments in Edinburgh. I would hate it if the Filmhouse in Lothian Road became another. Yet the recent development bid, with plans for a Twenties-style 'speakeasy' bar and for using Cinema 1 to show Six Nations rugby, falls into that category.
No doubt the developers had other such sporting extravaganzas in mind, such as heavyweight boxing events or the Cheltenham Festival. Perhaps, too, they envisaged a total refurb of Cinema 1 with more bars and betting kiosks to cater to the punters. To think that Cinema 1 has hosted many of the great cultural film events of the 20th century
Alastair McLeish, Edinburgh
I read with interest, though hardly surprise, that TransPennine Express, which operates into Scotland, recently cancelled the equivalent of nearly a quarter of services in a month. It appears that the operator has been badly hit by drivers no longer volunteering to work paid overtime shifts.
A possible conclusion from this might be that if the drivers habitually work overtime the system operates adequately. If not, it doesn't. Surely the taxpayer should be entitled to expect the system to work well without the requirement of drivers working overtime and exceptionally well when they do? No way to run a railway.
David Edgar, Symington, Biggar
We welcome your thoughts – NO letters submitted elsewhere, please. Write to [email protected] including name, address and phone number – we won't print full details. Keep letters under 300 words, with no attachments, and avoid 'Letters to the Editor/Readers' Letters' or similar in your subject line – be specific. If referring to an article, include date, page number and heading.