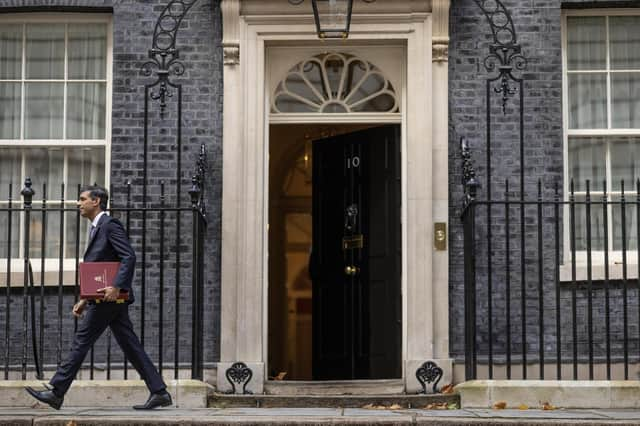 Yes, the new PM had entered number 10 as the Tories' ratings hit record lows but, despite their public insistence that voters wanted a change of government, cautious opposition MPs feared Sunak just might right his party's ship.
Labour leader Keir Starmer's reputation as a rather dull political figure had become quite the asset during the brief Truss regime. As she and her chancellor Kwasi Kwarteng wrought chaos, the boring man suddenly looked like a hugely appealing option. But how would their man play up against a new Prime Minister with a reputation for competence?
Where Truss had exacerbated the cost-of-living crisis with her reckless tax-slashing agenda, Sunak was the man who - as Chancellor - had introduced the furlough scheme during the coronavirus pandemic. He might have inherited a party in crisis but there was no denying that Truss's successor had a track record with some appeal.
Starmer's team recognised this and the Labour leader was at pains to insist colleagues did not allow themselves to get carried away on the basis of the polls. The Prime Minister, he warned them, should not be underestimated.
I'm not sure that warning applies any longer. In just three weeks as PM, Sunak has all but destroyed what reputation for decency and competence he might have had.
On the day he took over from Truss, Sunak stood outside 10 Downing Street and told us he would lead with compassion. His government, he
added, would have "integrity, professionalism and accountability at every level".
Since then, it has become abundantly clear that Sunak is a leader who puts self-preservation before all else.
The reappointment of Suella Braverman as Home Secretary, six days after she was sacked by Liz Truss for breaching the ministerial code, was more than a clue that this was so. Sunak's acolytes might have done the rounds of TV and radio studios to explain that Braverman was the best person for the job and that the PM believed in second chances but the truth was that the new Prime Minister had given her the job as the price for her support in the contest to succeed Truss.
Sunak did not put Braverman back in cabinet because he thought her appointment best for the country but because it smoothed his path to power.
What this appointment also did, however, was reveal an extraordinary weakness. Within hours of his speech about integrity, Sunak had undermined himself. Where was the integrity in appointing a Home Secretary who had, less than a week before, broken the strict rules by which ministers must abide?
Of course, the Braverman appointment was not to be the last example of Sunak's lack of judgement.
Despite being warned about allegation of bullying against former chief whip Gavin Williamson, Sunak brought him into his cabinet as minister without portfolio.
Troubling details of Williamson's "style" soon emerged. Angry messages sent to then Chief Whip Wendy Morton in which he raged about not being invited to the Queen's funeral became public.
This pathetic behaviour was part of a pattern.
Last Monday, it was reported that a current minister claimed that - while he was whip - Williamson had issued a "tacit threat" involving her private life while she campaigned on a "sensitive issue". Later the same day, a further report alleged that, during his time as Defence Secretary, Williamson had told an unnamed civic servant to "slit your throat" and "jump out of the window".
And what was Sunak's response? How did this champion of integrity react to these reports of disturbing behaviour? Why, he expressed his "full confidence" in Williamson, of course.
A day later, Sunak accepted Williamson's resignation.
Sunak's reckless decision to bring Williamson into government was the equivalent of handing Keir Starmer a bottomless barrel of fish and a blunderbuss.
At Prime Minister's Questions on Wednesday, the Labour leader tore into Sunak over the whole tawdry business. The Prime Minister admitted his regret at appointing Williamson.
Those Labour MPs who feared, just three weeks ago, that Sunak might prove problematic for Starmer needn't, it seems, have worried. In fact, the new Prime Minister has managed to enhance the opposition leader's standing. As Starmer questioned Sunak on Wednesday, his righteous fury will have chimed with anyone who's ever had to work with a bully.
Sunak has undermined whatever reputation he might have had for propriety and, in doing so, helped shape a new narrative around Starmer. The Labour leader might have struggled for some time under the perception that he was dull and uninspiring. Sunak has turned him into the energetic champion of decency and fair play.
The Prime Minister's woes are far from over. As this weekend arrived, so did new reports suggesting unacceptable behaviour by Deputy Prime Minister and Justice Secretary Dominic Raab.
When it was announced that Raab had been reappointed at justice, senior civil servants at the ministry were offered "respite or a route out" over fears that some had been traumatised by his past conduct. Sources in the department said Raab had created a culture of fear, that he was demeaning, and that he was a bully.
The floodgates are now open when it comes to revelations of this sort. And every new story about ministerial misbehaviour will further erode the idea that the Prime Minister is a man of integrity and good judgement.
Less than a month ago, senior Labour figures were a little unnerved by the arrival of a new resident in 10 Downing Street. Since then, Rishi Sunak's most significant accomplishment is to have made Keir Starmer look like a credible Prime Minister-in-waiting.