Harris stated in her victory speech on 7 November 2020: "We, the people, have the power to build a better future."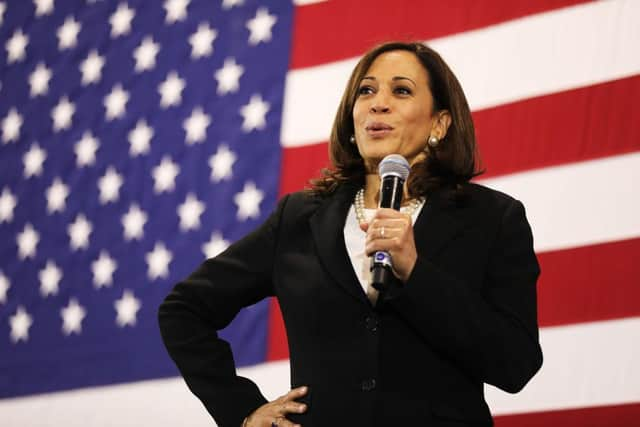 So, who is the new vice president and what is her background? This is what you need to know.
The new vice president is a 56-year-old Democratic politician who was first elected to the US Senate in 2016.
Harris is married to lawyer Doug Emhoff, and she is the step-mother of his two children Cole, 26, and Ella, 21.
Emhoff will become the first 'second-gentleman' of the White House, after leaving his job as an entertainment lawyer, which he held for 30 years. H
From Indian and Jamaican parents who emigrated to the US, Harris is second-generation American.
She grew up in Oakland, California where she took part in a racial-integration programme in her early years at school.
Harris was sent to a 95 percent white school in a more affluent neighbourhood, in order to begin desegregation - known as busing.
This 'busing' was not supported by Joe Biden, who worked to oppose desegregation efforts in the 1960s - actions Harris has since described as "hurtful".
Following her parents' divorce, Harris moved with her sister and mother to live in Quebec, where she graduated from high school in 1981.
She then returned to the US, where she enrolled in university and interned in the mailroom of Democratic politician, Alan Cranston.
Harris began her schooling at Thousand Oaks Elementary School, a state school in California, as part of the desegregation programme.
She then moved to Montreal, where she studied at Notre-Dame-des-Neiges, a French- speaking catholic school and F.A.C.E. school, a bilingual academy.
In 1981, she graduated from Westmount High School in Quebec and moved to Washington D.C. where she studied at Howard University - a historically black university which continues to have an 85 percent black population today.
Aged 22, Harris graduated from Howard in 1986 with a degree in political science and economics.
Harris went on to work as a deputy and assistant District Attorney in various Californian offices, before becoming the District Attorney of San Francisco in 2004. She was then elected Attorney General of California in 2011.
Harris is pro-choice, opting to allow for abortions at state hospitals and family planning clinics. She had supported all pro-abortion votes since being elected to the Senate.
However, Harris did previously vote in 2013 in favour of ceasing abortions at Hoag Memorial Hospital Presbyterian, as it entered partnership with a Catholic healthcare provider.
The vice president is against the death penalty, describing it in 2019 as "immoral," and "a gross misuse of taxpayer dollars."
Harris has been criticised for 'political opportunism' as she had previously defended the death penalty in court in 2014.
She is in favour of legalising recreational drugs, such as marijuana, despite previously opposing this in 2010.
In recent years she has largely supported efforts to decriminalise those who have been involved in possession and use of such drugs.
In a statement in 2019, Harris said she was in favour of the decriminalisation of historic convictions related to marijuana.
She said: "Everyone, especially communities of color that have been disproportionately impacted by the War on Drugs, (should have) a real opportunity to participate in this growing industry."
In the case against the right to bear arms - to own a gun - Harris has stated that there should be background checks done on anyone who wishes to have a gun.
In 2019, she told TV talk show host Jimmy Fallon: "First of all, let's be clear about what assault weapons are. They have been designed to kill a lot of human beings quickly.
"They are weapons of war with no place on the streets of a civil society."
What has she promised the people of the US?
In her victory speech on 7 November 2020, Harris spoke of her promise to defend democracy and serve Americans, striving to be "like Joe was to President Obama: loyal, honest, and prepared; waking up every day thinking of you and your family.
She added that her role as vice president was to support president Biden to "rebuild our economy so it works for working people, to root out systemic racism in our justice system and society.
"To combat the climate crisis, to unite our country and heal the soul of our nation."
However, she made it clear that this would be a concerted effort from her, the wider presidential team but also the responsibility of the American public.
Harris said: "Protecting our democracy takes struggle. It takes sacrifice. But there is joy in it.
And there is progress. Because we, the people, have the power to build a better future."
Where can I watch the inauguration?
The inauguration will take place on 20 January 2021, in Washington D.C.
Opening remarks tend to begin at 11.30am EST - 4.30pm in the UK - Joe Biden and Kamala Harris will be sworn in as president and vice president at 5pm.
Live footage will be available on BBC One and ITV from 4pm.