When Anna Russell-Martin left the Royal Conservatoire of Scotland in 2018, she moved straight into one of the most prized positions a newly-graduated actor in Scotland can win, as an intern with the Citizens' Theatre Company; and it was as part of her Citizens' work, in the spring of 2019, that she first encountered the character of 21st century Nora, in Stef Smith's brilliant new re-working of Ibsen's A Doll's House.
In Smith's version, presented by the Citizens' Theatre at the Tramway last March, Ibsen's heroine Nora - the young wife and mother who takes out an illegal loan to help support her family and save her husband's health, while all the while pretending to be nothing but the silly, empty-headed girl he imagines her to be - is divided into three characters, spanning the century since women were first allowed to vote in the UK. The first belongs to 1918, a time when women were still not permitted to sign financial contracts without the counter-signature of a male relation. The second lives in 1968, the year when credit cards came into use, and the first echoes of the women's liberation movement were beginning to cross the Atlantic; and the third is a 21st century working-class Nora, driven to the brink of despair by a marriage that isn't working, the demands of family life, and an ever-tightening network of high-interest payday loans.
Russell-Martin was born in Coatbridge in 1998; her dad is a psychiatric nurse, and both parents always encouraged her to follow her star into acting, after a childhood dance teacher spotted her dramatic talent. Her stunning performance as Smith's present-day Nora, in a powerful production by Elizabeth Freestone, was one of the highlights of her extraordinary first year as a professional actress, which also included breathtaking performances in Jack Thorne's monologue Bunny, in Umah Nada-Rajah's Toy Plastic Chicken at A Play, A Pie And A Pint, and - in November at the Traverse - in the thrilling National Theatre of Scotland production of Jenni Fagan's stage version of her own 2012 novel The Panopticon, about a brilliant girl called Anais caught in the toils of the Scottish institutional care system.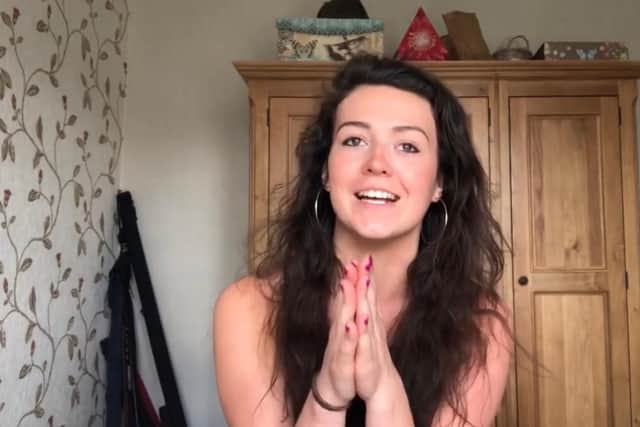 In this brief extract from Nora - which was in the final week of its London run at the Young Vic when coronavirus intervened - Russell-Martin captures the mounting despair and panic of a young woman caught in an increasingly impossible domestic and financial situation. For Smith, the story of 21st century Nora is about the colossal economic stress now experienced by families at the bottom of the income scale, and about the lengths to which women will go to try to keep a functioning home together for their children. And although the play was written before anyone had heard of Covid-19, it's hard to imagine a moment of recent Scottish theatre that more perfectly captures the agony of financial and emotional pressure many women are enduring under lockdown, right now.
The text of Nora is published by Nick Hern Books, £9.99.