Will Ukraine be able to hold a presidential election next year? Will a general election go ahead?
Will Ukraine be able to hold a presidential election next year?
In a different world, Ukraine would be preparing for a general election right now.
Its parliament, the Verkhovna Rada, would have been dissolved and candidates would be mid campaign, holding rallies and debates and plastering billboards with party posters.
On October 29, the country would go to the polls. Voting stations would be set up in towns and cities across the country. Ballot boxes would be brought to hospitals and even the homes of housebound people in the Ukrainian tradition of a fully in-person voting system.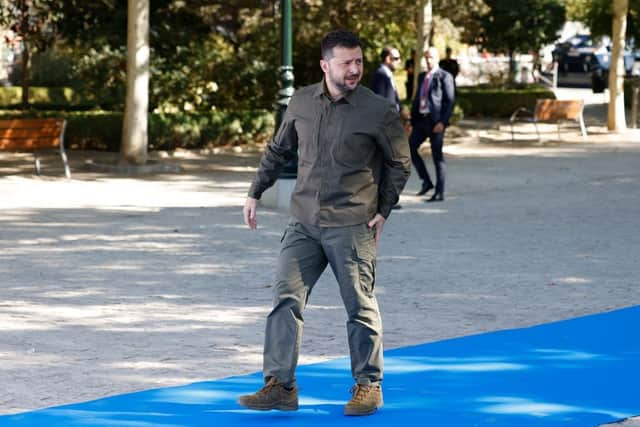 Yet, none of this is happening.
A declaration of martial law following the Russian invasion in February last year means elections cannot be held.
To do so, Volodymyr Zelensky's government would have had to temporarily lift martial law. Similar doubts remain over the presidential election, due to be held in March next year – which, in a slightly different scenario to that of the parliamentary vote, would require an amendment to the law to go ahead.
Article 83 of the Ukrainian Constitution states if the term of the parliament expires under martial law, it would automatically be extended until a new parliament can be formed after the end of martial law.
The problem is, how long martial law is likely to go on? The so-called counter offensive against Russia by Ukrainian forces has seen slow progress and a resolution to the conflict does not look likely to occur soon.
The governments of Ukraine's allies have not spoken publicly about whether they believe elections should go ahead in wartime. However, one US senator voiced his views on a visit to Kyiv in August.
Lindsey Graham, a Republican senator from South Carolina, said the country should go ahead with a vote despite the war.
"You must also do two things at the same time," he said. "I want this country to have free and fair elections, even when it's under attack."
Mr Zelensky himself appears to have suggested there is potential for a presidential election next year – and indicated he would stand for another term.
"In 2024, if the war continues and if elections are held, I will never in my life abandon my country," he said in a recent interview with Portuguese media. "Because I am the guarantor of the Constitution, and I will defend it in any case."
From a practical point of view, any election in Ukraine would be difficult. Its people are scattered around the world as refugees, meaning embassies would have to hold diaspora elections on a far larger scale than ever before. Meanwhile domestically, damage to infrastructure and buildings would pose problems for in-person elections, while any voting would be likely to be interrupted by air raids.
Ukraine is not the first country to postpone elections during wartime.
The UK delayed elections twice, during both the First and Second World Wars.
Meanwhile, South Sudan's transitional government delayed the country's first elections since independence by extending the transitional period by two years. The vote meant for early 2023 was pushed to December 2024.
Comments
 0 comments
Want to join the conversation? Please or to comment on this article.