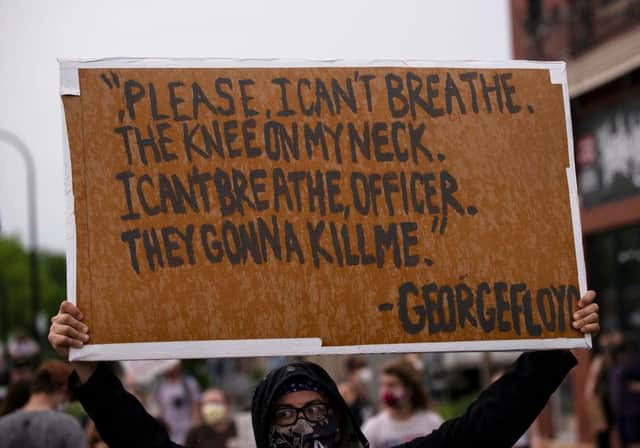 Protestors have been demonstrating against the death of George Floyd outside the 3rd Precinct Police Precinct (Getty Images)
The death of an unarmed black man in police custody sparked protests around the world.
Footage of George Floyd, a 46-year-old black man, saying "I can't breathe" while a white police officer kneels on his neck for several minutes has circulated social media since the incident.
In the distressing video bystanders could be heard urging the police to let him go.
Floyd was taken to hospital where he was pronounced dead.
The four officers involved in Floyd's arrest have been charged.
Why was George Floyd arrested?
Police approached George Floyd in his vehicle following reports of the use of counterfeit money.
According to a police report Floyd resisted arrest after being told to step away from his vehicle.
Surveillance footage from a nearby restaurant appeared to show no such struggle.
A police statement read: "Officers were able to get the suspect into handcuffs and noted he appeared to be suffering medical distress."
Once in handcuffs Chauvin continued to kneel on Floyd's neck.
Echoes of Eric Garner case
The FBI and state law enforcement are investigating Mr Floyd's death, which immediately drew comparisons to the case of Eric Garner, an unarmed black man who died in 2014 in New York after he was placed in a chokehold by police and pleaded for his life, saying he could not breathe.
In the Garner case, local prosecutors, the NYPD's internal affairs unit and the Justice Department all finished investigations into the case before the officer was ultimately fired. Mr Garner's family and activists spent years begging for the officer to be removed.