"We hadn't planned to do it at all," says Ms Allen. "We had gone to Nepal to see people and decided to do a trek. The guide we hired in Kathmandu persuaded us to go to the Everest region for a week's walk which didn't go over 4,000 metres.
"Then, about three days into it, the kids were loving it. Everyone we met kept asking them if we were going to the base camp. We just thought 'why not?'"
The family, from North Berwick, East Lothian, travelled to countries including Sri Lanka, Indonesia, Thailand, Morocco and Cambodia with their sons Sam, 11 and Oliver, 9.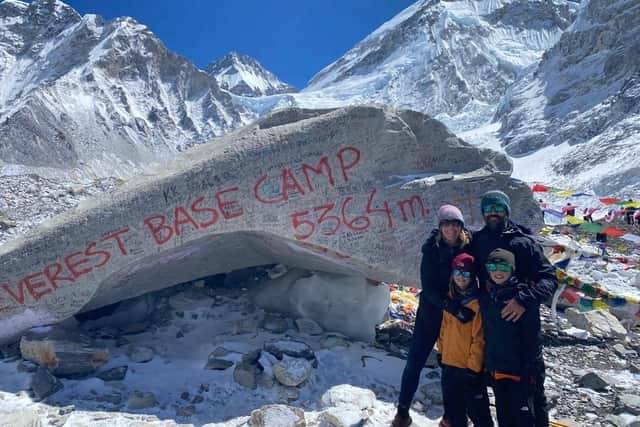 "You think about how can you put your family in that situation and how they will cope with it: how will they cope without school, how will we cope as a family spending 24 hours a day together?" says Ms Allen. "But actually, kids are amazing."
In Egypt – which the children had chosen as a destination after studying the Egyptians at school – they found a "world school hub": this one run by a British-Egyptian family living on a farm on the West Bank of the River Nile, who give children travelling the globe a chance to learn together for a minimal fee.
"The joy of it is, you've got someone local, who knows their local community," Ms Allen says. "If you asked the kids, 'what was the best bit of the trip?', they remember Egypt as an amazing experience."
In Cambodia, audiologist John, who had taken a sabbatical from his NHS job, worked for charity All Ears Cambodia, doing paediatric training in audiology, while they also spent time visiting friends in Nepal – where Ms Allen had previously lived and stayed with a Maasai family in Tanzania, due to a family connection.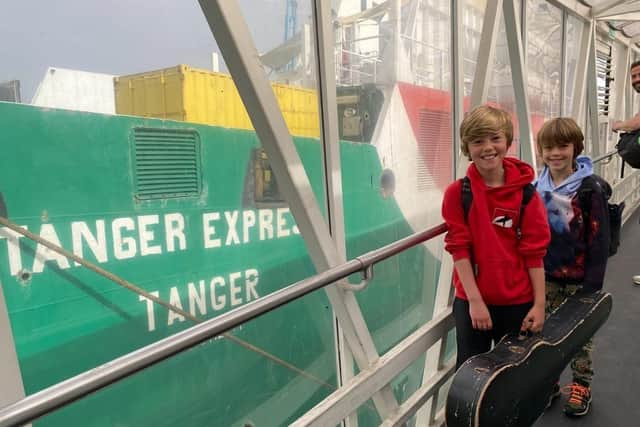 "We decided to centre the planning for the trip on an activity, or a skill we wanted to learn or people we wanted to visit," Ms Allen says, adding that Sam's love for surfing in East Lothian, where he is a member of Belhaven Surf Club, drove their decision to travel to Sri Lanka and Indonesia. "We budgeted for a specific amount of time. It wasn't indefinite and it helped us understand where we were. We would be in each place for at least a week, often longer, we weren't constantly travelling."
She says the children coped well with the change in pace.
"They had their Nintendo Switch – we're not saying we totally freestyled it, they had some screen time. They wrote journals every day and read a lot. It was really easy to fill up the day. When you're somewhere so different, everything is exciting. Getting a rickshaw to the supermarket is more exciting than getting in a car to go to Sainsbury's.
"There were days when they irritated each other, but generally it was fine. They really love travelling, putting their backpack on, they would get really excited."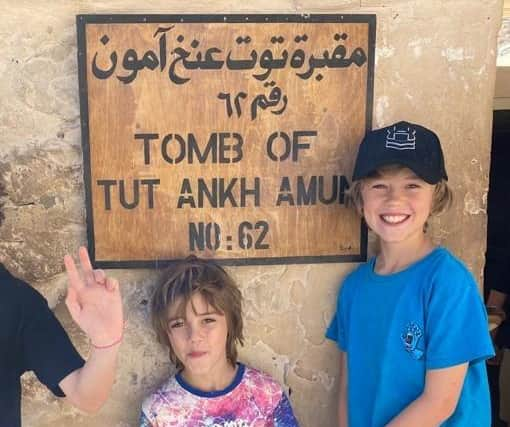 Their last stop was Nepal, where they planned to set out on a week-long trek at lower altitude, before being convinced to aim for Everest Base Camp.
"We asked our guide if he'd seen families do it and he said not that many, but he thought the children could do it," says Ms Allen. "He said we could just keep going and see what happened. We didn't tell anyone because we didn't want to put any pressure on ourselves. "
During the 14-day trek, they stayed in basic lodges in freezing conditions heated by fires fuelled by dried yak dung.
"There were points where it was really hard, but the kids just got into their heads they wanted to do it," says Ms Allen.
Just two hours away from base camp, however, Oliver began to suffer from altitude sickness.
"He had really struggled that day and when we talked about maybe not making it, Sam got really upset. We said to him that he and John could go, but he said he didn't want to do it without Oliver.
"We managed to do it and when we got back, we thought, 'that was a bit mad, but we did that'. It's amazing what your kids can do. I think if we'd planned it, we probably would have got quite nervous, but once we were there, it was fine."
Ms Allen says the whole family has developed throughout the trip.
"I think about Oliver, the most fussy eater, sitting with the family in Nepal, where everyone was watching him eat traditional food and he ate it, even though he hated every mouthful.
"By this time, we had been going for six months. At the start, there was no chance Oliver would have eaten that. But by then, he understood that the family had cooked for us and that was the most important thing."
Now home, the children have settled back into school.
"Going away makes you appreciate the things you've got here more," she says. "The kids are really excited about school now. We have constantly talked to them about how lucky we are to have UK passports, that their school supported our decision and that we had the opportunity to save money to be able to go on such a trip.
"We don't take any of it for granted and are all really grateful for the experiences we shared and it's definitely changed us as a family - in a good way.
"At home, I was one of those parents who felt like I needed to fill every minute of every day. Now, I would like to think – and I hope this will carry on – that as a family we're a bit more comfortable being more spontaneous. I don't know how long it will last."