Why relations between India and Canada are at 'all-time low' after Justin Trudeau intervention
Justin Trudeau's visit to India last week was less than cordial
When Canadian prime minister Justin Trudeau was pictured meeting his Indian counterpart, Narendra Modi, at the G20 summit in Delhi last week, it was clear something was not right.
The pair spoke for just a few minutes on the sidelines at the summit, during which time Mr Modi accused the Canadian leader of "continuing anti-India activities of extremist elements in Canada". Mr Trudeau had paused talks on a trade treaty with India just days earlier – and subsequently missed a dinner for G20 leaders hosted by the home nation.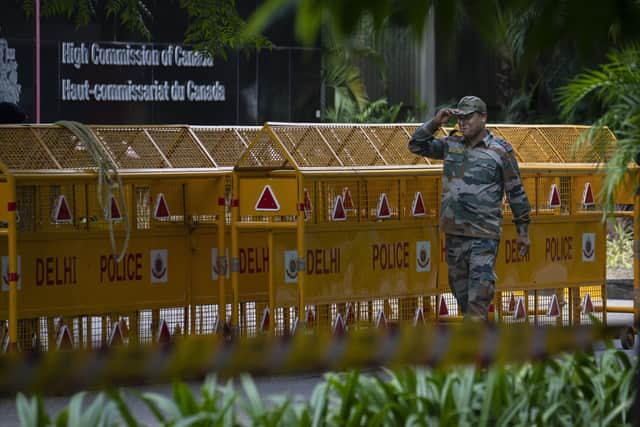 Claims of Canadian support for the creation of independent Sikh state Khalistan, which would include part of India's Punjab, have resulted in frosty relations dating back years. Separately, a public inquiry announced by Canada earlier this month into foreign interference in its elections included India, along with China and Russia.
Mr Trudeau has had less-than-cordial visits to India before. In 2018, on his first official visit to the country with his wife and children, observers claimed Mr Trudeau was being "cold shouldered" by Mr Modi, when the Indian prime minister failed to meet him at the airport, instead sending a junior minister. At the time, Mr Trudeau's government had several members with links to the Sikh independence movement.
Even so, such a public and serious spat is unusual for Canada, which has rarely taken steps to expel another country's diplomat.
In May, it expelled Chinese diplomat Zhao Wei, after an intelligence report accused him of trying to intimidate a Canadian lawmaker critical of China's treatment of its Uyghur Muslim minority. Before this year, its last expulsion was in 2018. Similarly, the last time an Indian diplomat was expelled was by Pakistan in 2019.
India is not going to take the allegations lightly. It responded, saying Canada has long provided shelter to "Khalistani terrorists and extremists" who threaten India's security. The diplomatic situation has ramifications beyond Canada.
Here, the allegations have reignited calls for a further investigation into the death of Sikh separatist activist Avtar Singh Khanda, who died in June in Birmingham following a sudden illness. Activists have also criticised the UK Government's failure to demand the release of Jagtar Johal, a pro-Khalistan and Sikh rights activist from Dumbarton, who has been held in prison in India for more than six years. British police have insisted there are no suspicious circumstances surrounding Mr Khanda's death.
Allies of the North American nation are having to consider their positions in light of the claims. The US has said it is "quite concerned" over the allegations, while Australia's foreign ministry said it had "conveyed our concerns at senior levels to India".
The UK has been less vocal, with a spokesman for No.10 saying only it is in "close touch" with the Canadian authorities over the issue. If Canada has proof India is involved in the shooting of Mr Nijjar, it will likely have far more to say.
Comments
 0 comments
Want to join the conversation? Please or to comment on this article.