Why New Zealand looks to Westminster far more than Scotland, as Maori contingent set to visit to learn about offshore wind power
Phil Goff, who became New Zealand's High Commissioner to the UK in January this year, visited Scotland this week
It is a country that has long been compared to Scotland for its similar size of population, socially liberal outlook and – until recently in both cases – female leader.
But on a visit to Edinburgh, Phil Goff, New Zealand's new representative in the UK, admits his nation has "less focus on the devolved parliaments" of the UK than on Westminster – and is keen to increase ties between the countries.
Mr Goff, who took over the role of New Zealand's High Commissioner to the UK in January, points to Nicola Sturgeon's resignation speech, when she in turn referenced Jacinda Ardern's departure almost exactly one month earlier. The former first minister was well known for her admiration of her Kiwi counterpart, yet Mr Goff struggles to find an equivalent political focus on Scotland from the New Zealand side, referencing stronger links to the UK parliament in terms of structure and format.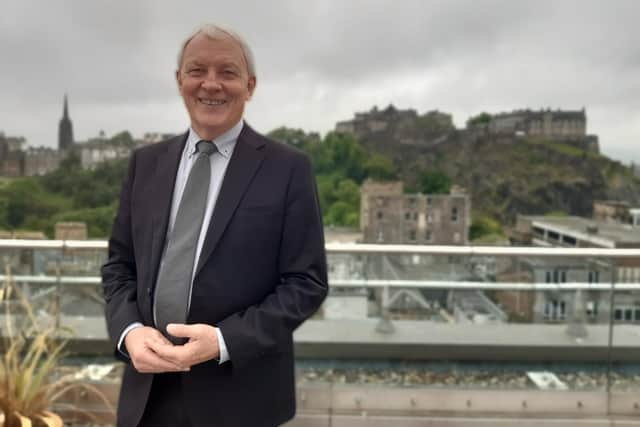 "Certainly there is an affinity [with Scotland]," he says. "But because we have Westminster systems, there is a closer understanding of what's happening here [in the UK parliament]. But there is probably, to be fair, less focus on the devolved parliaments.
"There is an awareness that there are devolved administrations and that there is a debate going on in the United Kingdom within Scotland about future politics. But not an intense involvement by New Zealand as to day-to-day issues."
He adds: "It's very easy, if you're in London, to think London represents the United Kingdom, and of course it doesn't. It's been really interesting being up here and getting an understanding of how Scotland is looking at the world at the moment and how its politics is and its industry."
One in five Kiwis, including Mr Goff himself, claims to have Scots heritage. Scots were among the first Europeans in New Zealand, making up around 20 per cent of the original European settlers. The southern city of Dunedin is twinned with Edinburgh, complete with a statue of Robert Burns in its central square. Meanwhile, New Zealand has its own tartans – and a burgeoning whisky industry.
Mr Goff has already visited Scotland twice in his five-month tenure. On this trip, he is not only holding meetings with senior politicians, but is also taking his wife, Mary, to the Highlands, where they spent their honeymoon 44 years ago.
In a four-day visit, he has met with First Minister Humza Yousaf, Scottish Conservative leader Douglas Ross and presiding officer Alison Johnstone – as well as a range of business people from groups including SCDI and the CBI, and individual companies. He has also met New Zealanders living in Scotland, including head of the Edinburgh Tattoo, Michael Braithwaite.
A new trade deal signed earlier this week between the UK and New Zealand promises to increase bilateral trade by 59 per cent a year. However, while New Zealand's biggest exports to the UK are in food and drink, the UK's largest trade market with New Zealand comes from the automotive industry, a field in which Scotland has no investment.
Mr Goff is keen to encourage the export of Scotch whisky to his country – he says he has developed a new "vice" in the form of neat whisky, plied on him during a meeting with the Scotch Whisky Association this week – but is cautious when it comes to the extent of potential for Scottish exports.
"There's an interest in seeing what each other's industries are doing," he says.
"It's not a huge market, because we're the same size as Scotland, but it's still a significant market and we do import other things in terms of biscuits and gin. I think what the free trade agreement does is it sends a signal to industries in your country and in ours, that our markets are open to the other and hopefully will stimulate that interest."
However, he is confident New Zealand's main beverage industry will not see competition from Scotland. "We don't think that the wine industry will take off in Scotland anytime soon, given the climate," he quips.
Mr Goff is also keen to learn from Scotland's experience of extending the vote to 16-year-olds.
"This is being discussed for the first time now in New Zealand, but there's a long way off having a public endorsement," he says, adding that public support for the initiative is running at around 20 per cent. "So I'd like to follow up on that, to see what the academic studies show. If you give young people that vote earlier, does that mean that they are more likely to be an active participant in a democracy? Is that a way of encouraging young people to get out and vote while they're still in school and have an environment where you can give that encouragement?"
Scotland, New Zealand and Iceland, as well as Wales, Finland and Canada, are members of the Wellbeing Economy Governments group, which looks at the social and environmental impact of economic changes in government.
"It makes sense for countries of a similar size with a strong commitment to democracy, to learn from each other," says Mr Goff. "And I think that this will apply to areas of science and technology and other areas where we can co-operate. Government in Scotland has a very strong interest in climate change and, likewise, New Zealand. We can learn from each other, so that we don't simply reinvent the wheel, but we can work closely together."
On that theme, a delegation of Maori business people are to visit Scotland next month to learn about Scotland's use of wind energy. The visit is important for Mr Goff, both in terms of future business links, but also culturally.
Last month, four months after taking up office, Mr Goff faced calls to resign after he failed to perform a karakia – a Maori prayer – at a High Commission event to mark King Charles's coronation in London. He went on to say that no one in the room had experienced a coronation before, in front of Maori Kīngi Tuheitia, who had previously attended three coronations.
Asked if he is likely to face any problems in meeting the Maori delegation during their visit to Scotland, he laughs off the incident.
"There's only a very small number of people that I might be in the doghouse with," says, showing off a picture of his part-Maori grandchildren on his phone. "No, there is no problem there."
Despite his gaffe, he is proud of New Zealand's Maori heritage and points to a rise in interest in its native languages.
"There's a lot of pride in that and a resurgence and more freedom in terms of language, which is interesting," he says. "There are maybe some parallels [to Scotland] here.
"Although we've got one or two people back in New Zealand politics, who still say 'why have we got bilingual traffic signs going up?' I felt like taking a picture of the windows anywhere in Scotland and saying 'look, it's not unique, you know'."
Like Ms Sturgeon, who regularly praised her Kiwi counterpart, Mr Goff, once a leader of New Zealand's Labour party, is a long-term admirer of Ms Ardern, having given her her first job out of university when he was foreign affairs minister in the government. New Zealand was the first country in the world to give women the vote, in 1893.
"She was, in my view, a good and strong leader for New Zealand, empathetic," he says. "And when she stood down, she got compliments from all sides of the house."
But he admits that even in his socially progressive country, equality is still a major issue.
"We do have to deal with the fact that sometimes people that look a little bit like me, in age and gender, can't cope with the fact that a young woman leader can be an extraordinary leader," he says.
"Despite the fact that we've had votes for women as long as we have had in New Zealand, that's not to say that we've dealt properly with misogyny and I think younger women leaders, get a harder time than then then equivalent male leaders."
Comments
 0 comments
Want to join the conversation? Please or to comment on this article.