Why does the UK owe Iran money? Nazanin Zaghari-Ratcliffe's husband links her detention to £400mn debt bill
Nazanin Zaghari-Ratcliffe's husband said Iran will detain his wife until the UK resolves a debt over military tanks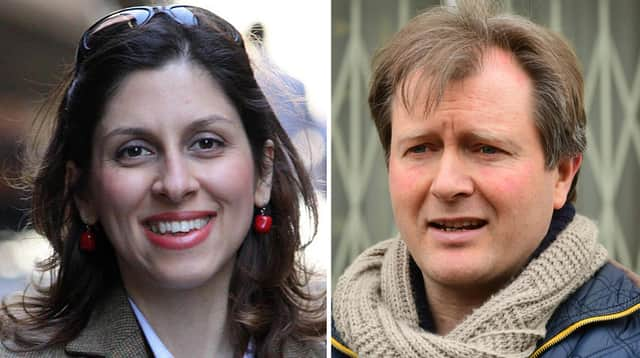 She has also been banned from leaving the country for a year, on charges of propaganda against the Iranian regime, the BBC has reported.
Mrs Zaghari-Ratcliffe, 42, of north London, was detained in Tehran in 2016 while taking daughter Gabriella to see her family, as authorities made widely refuted allegations of spying.
She completed a five-year sentence in March 2021, having carried out hunger strikes in protest over her treatment in jail as diplomatic efforts were made to secure her freedom.
But she and her family were delivered a fresh blow when she was given an additional one-year jail term after completing the latter part of her sentence under house arrest.
She was then tried on new charges of "propaganda against Iran", her MP Tulip Siddiq said.
What did Nazanin Zaghari-Ratcliffe's husband say about his wife's detention?
Nazanin Zaghari-Ratcliffe's fresh jail term is a signal that Iran will detain her until the UK resolves a long-running debt dispute with Tehran, her husband has said.
Richard Ratcliffe told BBC News on April 26 he fears his wife is facing an "open-ended detention" after she was sentenced to an additional year's imprisonment and a further year-long ban on leaving Iran.
The British-Iranian charity worker has already completed a five-year sentence on widely-denied allegations levied by Iranian authorities.
Her lawyer Hojjat Kermani said she received the second sentence on a charge of spreading "propaganda against the system" for participating in a protest in front of the Iranian Embassy in London in 2009.
Why does the UK owe Iran money?
The UK is thought to owe Iran as much as £400 million over the non-delivery of tanks in 1979, with the shipment stopped because of the Islamic revolution.
On May 2, Iranian state TV claimed that a deal had been struck over the long-running dispute, which has been suggested as a reason for the British-Iranian charity worker's detention.
The Foreign Office said "legal discussions are ongoing" over the debt despite the claim made on Iranian state TV, which cited an anonymous official.
The dispute concerns an Iranian payment in the 1970s for 1,500 Chieftain tanks and armoured vehicles.
The tanks were already paid for when the contracts were cancelled - leaving Iran to demand its money back.
On April 28 and 29, the Court of Appeal is to decide if any interest on the outstanding debt is payable.
Despite official denials from the UK and Iran, the UK's non-payment of the debt has come to be seen as the reason behind the release of Zaghari-Ratcliffe.
Former foreign secretary Jeremy Hunt questioned why the issue of an IMS (International Military Services) debt had not been dealt with.
"This is so distressing. Iran's cruelty seems to know no bounds," the Conservative MP tweeted on April 26.
"Impossible to imagine what the family are going through today.
"Key question is why the IMS debt issue is still not settled given the UK accepts that it owes this money?"
Mr Ratcliffe told BBC News on April 26: "It's certainly a hard place to be.
"I think it's a signal that is an open-ended detention until the debt-issue is solved."
He said his wife informed him of the latest sentence in a phone call on 26 April.
She is yet to be summoned to jail, with her lawyer appealing the verdict, Mr Ratcliffe added.
Ministers have said the UK continues to "explore options" to resolve the debt dispute, but insisted the "two issues cannot be merged into one".
Prime Minister Boris Johnson said the fresh sentence was "cruel, inhumane and wholly unjustified".
Mr Johnson tweeted: "Iran's decision to sentence Nazanin Zaghari-Ratcliffe to another year in prison is cruel, inhumane and wholly unjustified. She must be allowed to return to her family in the UK and we will continue to do all we can to get her home."
His comments were echoed by Foreign Secretary Dominic Raab, who said: "This is a totally inhumane and wholly unjustified decision.
"We continue to call on Iran to release Nazanin immediately so she can return to her family in the UK. We continue to do all we can to support her."
Mr Johnson also said that the Government will be "working very hard" to secure her release.
"The Government will not stop, we will redouble our efforts, and we are working with our American friends on this issue as well," he told reporters.
Additional reporting by PA.
A message from the editor:
Thank you for reading. NationalWorld is a new national news brand, produced by a team of journalists, editors, video producers and designers who live and work across the UK. Find out more about who's who in the team, and our editorial values. We want to start a community among our readers, so please follow us on Facebook, Twitter and Instagram, and keep the conversation going.