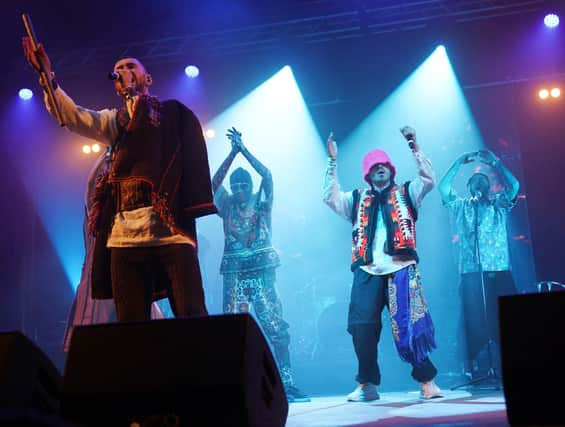 Last February, Russia invaded Ukraine and the ensuing conflict has resulted in the deaths of thousands, the Eastern European nations still remain at war with each other.
This is why, despite being the winners of Eurovision 2022 with their entry 'Kalush Orchestra', Ukraine had to forfeit the honour of hosting this year's song contest which was passed over to Britain after UK entry Sam Ryder took second place.
The BBC reported that a Ukrainian reporter covering the competition was even broadcasting from a bunker amid the warfare, so needless to say it would not be safe for the country to host an event that attracts huge international audiences.
In honour of the would-be hosts, a monument called the "Ukrainian Global Peace Monument" was recently unveiled in Liverpool at Strawberry Field; the place where John Lennon played as a youth.
The aluminium statue depicts a man carrying a book, a dove and Ukraine's flag, featuring messages 'in keeping' with Lennon's 'Give Peace a Chance' anthem.
What is the situation in Ukraine now?
The BBC reported in March that "Russia has targeted cities across Ukraine in a new wave of missile strikes." These cities include Kyiv, Kharkiv, Lviv and Odesa. These missile strikes have killed dozens and damaged buildings and other infrastructure resulting in power blackouts across multiple areas.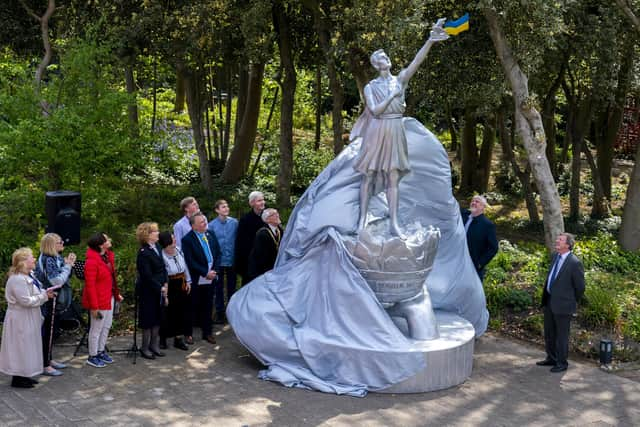 Recently, Sky News added that around 1,700 people have been evacuated from the Ukrainian city of Zaporizhzhia which holds Europe's biggest nuclear power plant amid fears it will be an upcoming target of Russian bombardment. A United Nations nuclear watchdog warned of the "threat of a severe nuclear accident."
The six nuclear reactors of the power plant have been shut down as a precaution while both sides accuse each other of carelessly shelling close to the facility. Reports indicate that the war could persist for a matter of years before a decisive outcome is reached.
Why is the UK hosting Eurovision on behalf of Ukraine?
The winning country of Eurovision would normally host the following year's competition but the ongoing conflict between Ukraine and Russia meant this was impossible. The European Broadcasting Union (EBU) thus decided that the UK would host on Ukraine's behalf as the British contest Sam Ryder was the runner up in the 2022 contest.
Then Prime Minister Boris Johnson spoke with President Zelensky and said the two "agreed that wherever Eurovision 2023 is held, it must celebrate the country and people of Ukraine." Johnson tweeted: "As we are now hosts, the UK will honour that pledge directly - and put on a fantastic contest on behalf of our Ukrainian friends."
Who is the Ukraine entry for Eurovision 2023?
Last year's competition was won by Ukrainian rap group 'Kalush', this year they will be succeeded by Tvorchi. Tvorchi are a two-person entry who were formed five years ago by vocalist Jimoh Augustus Kehinde and producer Andrii Hutsaliak. The pair have released four albums together including The Parts, Disco Lights, 13 Waves and Road.
What have Tvorchi said about representing Ukraine?
Tvorchi, formed of 27-year-old producer Andrii and 25-year-old vocalist Jimoh, have expressed their gratitude to their fans and pledged to "properly represent Ukraine" at Eurovision. They said: "People with burning eyes and truly steel hearts worked on our performance, in order to convey their message to the world.
"In limited conditions, underground, in the cold, no light, with constant noise, but we managed! We've been heard and we thank each and every one of you who voted for us to win this year's pageant."
The duo will represent Ukraine with the song 'Heart of Steel'.