The Splash Mountain log flume ride opened for the final time last weekend after 30 years at the Florida park. Now jars and bags of what is claimed to be the water from the ride have appeared on selling site eBay for up to $250 (£202).
Disney decided to close the ride – one of the most popular at the park over the past three decades – due to links to a controversial musical film, 'Song of the South', which was released in 1946 and won an Oscar for the song "Zip-a-Dee-Doo-Dah".
It will now be refurbished and characters from the film, including Br'er Rabbit, will be replaced by characters and themes from the 2009 Disney movie "The Princess and the Frog". It will be renamed Tiana's Bayou Adventure.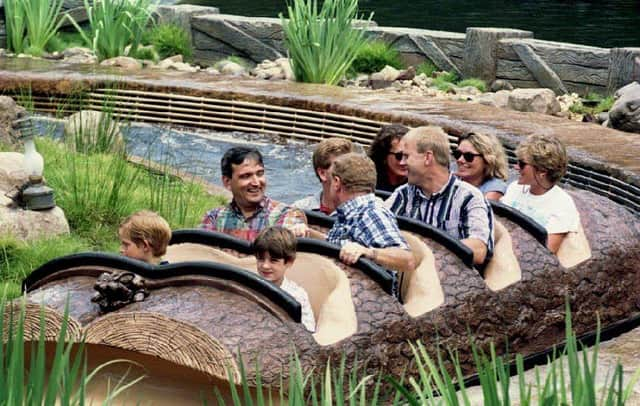 "The new concept is inclusive," Disney said two years ago. "It speaks to the diversity of the millions of people who visit our parks each year."
One eBay listing, showing water in a zippy bag, is on sale for $249.99 from a seller in New York state. "Water saved from the famous and landmark Disney ride the day it closed," it said. "Shown in bag, but will ship in a glass jar to ensure arrives safely."
Another seller – based in South Shields in the UK – has a plastic bottle of water on sale for £100.
"Collected this water from LAST ride ever of splash mountain," it says. "Collectors item. Bottle kept in fridge until sale!"
Song of the South, which is set on a Georgia plantation after the Civil War, has been criticised for romanticising slavery and promoting racist stereotypes.
Bob Iger, Disney's chief executive, said in 2020 the film would never appear on streaming platform Disney+, because it "was just not appropriate in today's world".
The ride has been a popular part of a trip to Disney World since it opened in 1992. Visitors to the park on the ride's last day on Sunday queued for five hours to have a last turn before its closure. The last ride was taken by Disney staff members.
In 1993, Princess Diana and her son Harry visited the park and rode on Splash Mountain.