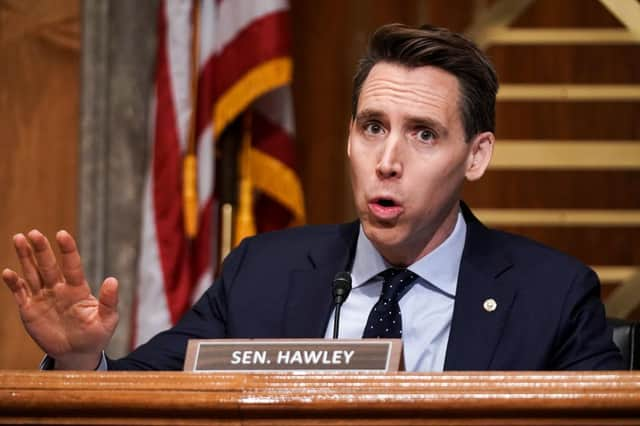 Senator Josh Hawley has been criticised for his support of Donald Trump's baseless election fraud claims (Getty Images)
Republican lawmakers, book publishers and American media have sought to distance themselves from Missouri senator Josh Hawley who was photographed showing support for Capitol Hill rioters on Wednesday.
Hawley cheered on and showed a fist of support to riled up pro-Trump supporters who went on to storm the Capitol Building on Wednesday afternoon.
Five have died as a result of the riots, including one police officer who was injured by supporters.
Hawley has emerged as an ardent supporter of Trump in recent weeks and objected to the Electoral College votes in several states on Wednesday. Some have even suggested that Hawley is attempting to align himself with Trump in the hope that he can run for the presidency in 2024.
But his support for Trump and Capitol Hill rioters has now seen donors, lawmakers and press calling for his punishment, with publisher Simon and Schuster cancelling a planned book by the firebrand politician.
Why has Josh Hawley been criticised?
Josh Hawley was the first senator to announce his intention to contest the results of the 2020 election, prompting several senators to follow suit.
On the morning of Wednesday's insurrection Hawley sent a fundraiser email to supporters criticising the "DC establishment".
He wrote: "many career politicians in the D.C. establishment want me to stay quiet. I suppose you can assume nothing I do will matter. That it won't matter if I object or not, so I should sit by and do nothing.
"But this is not about me! It is about the people I serve, and it is about ensuring confidence in our elections."
Claims of a stolen election are baseless.
As he turned up to the Capitol Building on Wednesday Hawley raised a fist in solidarity with crowds of Trump supporters who would storm the symbol of American democracy hours later.
Who has criticised Josh Hawley?
The Kansas City Star of Missouri was highly critical of the republican senator for his part in stirring up Wednesday's riot.
It wrote: "No one other than President Donald Trump himself is more responsible for Wednesday's coup attempt at the U.S. Capitol than one Joshua David Hawley, the 41-year-old junior senator from Missouri, who put out a fundraising appeal while the siege was underway.
"This, Sen. Hawley, is what law-breaking and destruction look like. This is what mobs do. This is not a protest, but a riot. One woman was shot by Capitol Police in the chaos and died while lawmakers were sheltering in place.
It added: "Hawley's actions in the last week had such impact that he deserves an impressive share of the blame for the blood that's been shed."
Former Missouri senator John Danforth was also critical of Hawley for his role, criticising him via the Associated Press.
He said: "Supporting Josh Hawley ... was the worst decision I've ever made in my life.
"He has consciously appealed to the worst. He has attempted to drive us apart and he has undermined public belief in our democracy. And that's great damage."
Book publisher Simon and Schuster meanwhile cancelled a book by the disgraced senator. In a statement it wrote: "After witnessing the disturbing, deadly insurrection that took place on Wednesday in Washington DC, Simon & Schuster has decided to cancel publication of Senator Josh Hawley's forthcoming book, The Tyranny of Big Tech.
It added: "As a publisher it will always be our mission to amplify a variety of voices and viewpoints: at the same time we take seriously our larger public responsibility as citizens, and cannot support Senator Hawley after his role in what became a dangerous threat to our democracy and freedom."
The 41-year-old was elected to the US Senate in 2018, having previously served as attorney general for Missouri where he was raised.
Hawley graduated from Stanford University in 2002 and Yale Law School in 2006, and is regarded as an expert on constitutional law.
Hawley is the youngest senator in America and was regarded by a rising star of the republican party prior to Wednesday's violence. His role in Wednesday's riot and his support of Trump's baseless election claims could well have killed off any future political ambitions.