Which golf courses does Donald Trump own? Full list of 17 Trump courses, including Aberdeen and Turnberry
The PGA has moved the 2022 Championship from Bedminster after the US Capitol riots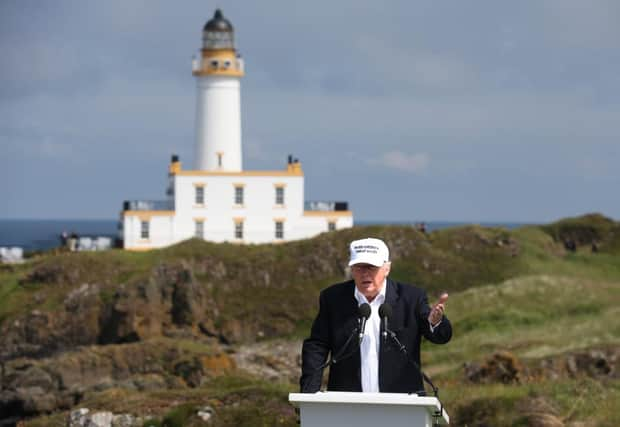 He has often been pictured playing golf all over the world while his interest in the sport has led to him acquiring a number of courses.
His organisation, Trump Golf, owns a vast collection of golf courses across the world from right here in Scotland, to Ireland, America and Dubai.
How many golf courses does Donald Trump own?
Trump, a keen player and follower of golf, owns no fewer than 17 golf courses across the world, including ones in Aberdeen and Turnberry.
Trump-owned golf courses:
- Aberdeen, Scotland
- Doonbeg, Ireland
- Miami, Florida
- Ferry Point, New York
- Los Angeles, California
- Turnberry, Scotland
- Trump International Golf Club, Dubai
- Bedminster, New Jersey
- Charlotte, North Carolina
- Colts Neck, New Jersey
- Hudson Valley, New York
- Jupiter, Florida
- Palm Beach, Florida
- Philadelphia, Pennsylvania
- Washington DC
- Westchester, New York
- Trump World Golf Club, Dubai
- Lido City, Indonesia
- Bali, Indonesia
His Aberdeen course, designed by Martin Hawtree, possesses views of towering dunes, vast valleys and the jagged coastline of the North Sea.
While Turnberry has been home to four memorable Open Championships, including 1977's Nicklaus vs. Watson 'Duel in the Sun', and its ocean holes are set next to an iconic lighthouse.
Why has the PGA 2022 Championship moved from Bedminster?
Organisers have moved the tournament from Bedminster because hosting it there would be "detrimental" to the PGA brand, a statement read.
PGA of America president, Jim Richerson, did not explicitly reference events in Washington DC in his statement.
He said: "It has become clear that conducting the PGA Championship at Trump Bedminster would be detrimental to the PGA of America brand, it would put at risk the PGA's ability to deliver our many programmes and sustain the longevity of our mission.
"Our board has thus made the decision to exercise our right to terminate the contract to hold the 2022 PGA Championship at Trump Bedminster."
What has Donald Trump said about the decision?
Trump, the 45th president of the US, has never been shy about coming forward with his opinion, and his representatives published a typically bullish response to the PGA of America's decision.
The Trump Organisation said: "We have had a beautiful partnership with the PGA of America and are incredibly disappointed with their decision. This is a breach of a binding contract and they have no right to terminate the agreement.
"As an organization we have invested many, many millions of dollars in the 2022 PGA Championship at Trump National Golf Club, Bedminster."
The move from Bedminster does not mark the first time the PGA has moved an event away from a course owned by Trump.
The Trump National in Los Angeles was stripped of the 2015 Grand Slam of Golf due to controversial remarks about Mexican immigrants made by Trump.
Where is the PGA being held in 2022?
The Bedminster course was awarded the tournament in 2012, before Trump's presidential campaign.
The PGA Championship - one of four major annual tournaments - is being held at Kiawah Island, in South Carolina in May 2021.
An alternative venue for the 2022 championships is yet to be decided.
The other three majors in 2022 will see The Open return to St Andrews, the US Masters to be played at Augusta National and The Country Club Brookline, in Massachusetts, hosting the US Open.